Whether you're cruising up the river with your family, travelling to the next fishing spot, soaking a bait or trolling for your favourite species, for me, a quality sound system is an essential part of the boating experience.
FUSION was founded in New Zealand in 1998 and acquired by Garmin in 2014. It's now firmly established as a global dedicated marine audio entertainment brand with products suitable for multi-million dollar super yachts to stand up paddle boards.
Long gone are the days when marine audio systems only played CDs and required a hefty area of console real estate to accommodate your control unit. This restricted the ability to have a high quality sound system on smaller tiller steer boats or, as in my case, a 4.6m tinny with limited console space. The compact FUSION BB100 Black Box and 6.5" XS Series Speakers combined with the ability to play and stream music through smart devices now makes this possible.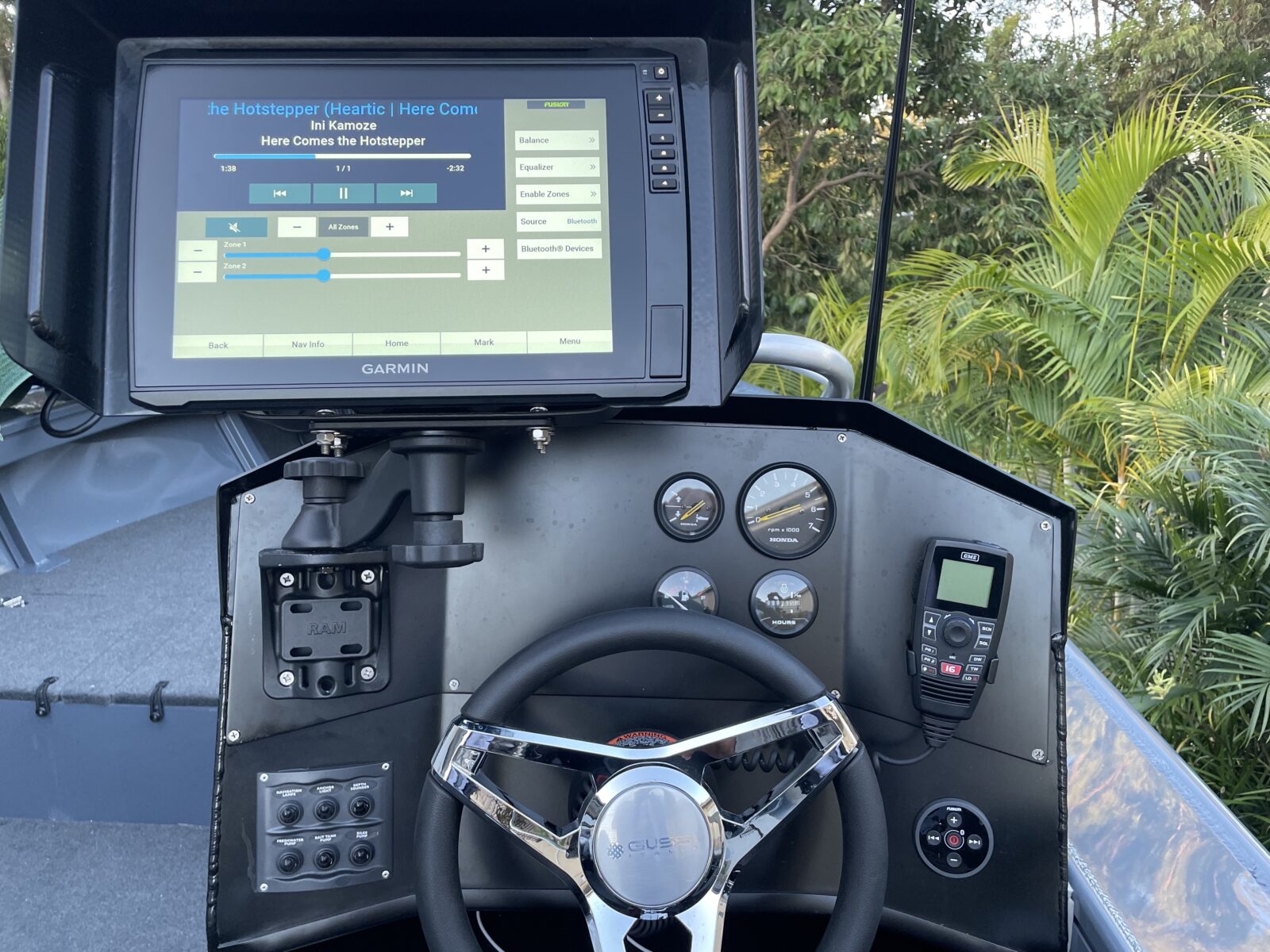 FUSION BB100 Black Box
As the name suggests, the BB100 is a separate "Black Box'"(155mm x 94mm x 60mm) with built in amplifier that can be fitted underneath a console, bench seat or concealed area shielded from the weather, and a compact low profile 65mm diameter Bluetooth wired remote control mounted on the console or where convenient. When properly installed, the Black Box is IPX3 (protection against spraying water) and remote control is IPX7 (can be submerged in water to 1m for 30min) waterproof rated which is reassuring in rough conditions and when washing down your boat.
The wired remote is easy to operate with on/off, volume and track selection buttons, however, when the remote is connected via Bluetooth to my smart device (iPhone), I rarely need to use the console mounted control. The BB100 has fully integrated connectivity via WiFi to compatible Garmin fishfinders/chartplotters and to other brands via an NMEA 2000 cable port. Downloading the FUSION-LINK app to your smart device provides additional functions such as an equaliser and two zone control. The unit can also be controlled via GARMIN Quatix smart watches that come with a FUSION LINK app. Other supported sources include AM/FM radio, USB audio and iPod. Software updates can be downloaded from the Garmin website and installed via USB memory card. In addition to standard speakers with crisp treble and solid bass sound, a FUSION sub-woofer can be added for the full "doof-doof" experience.
Being able to set up playlists and stream music or podcasts through your phone with a visual display is a really simple and effective way of enjoying your time on the water.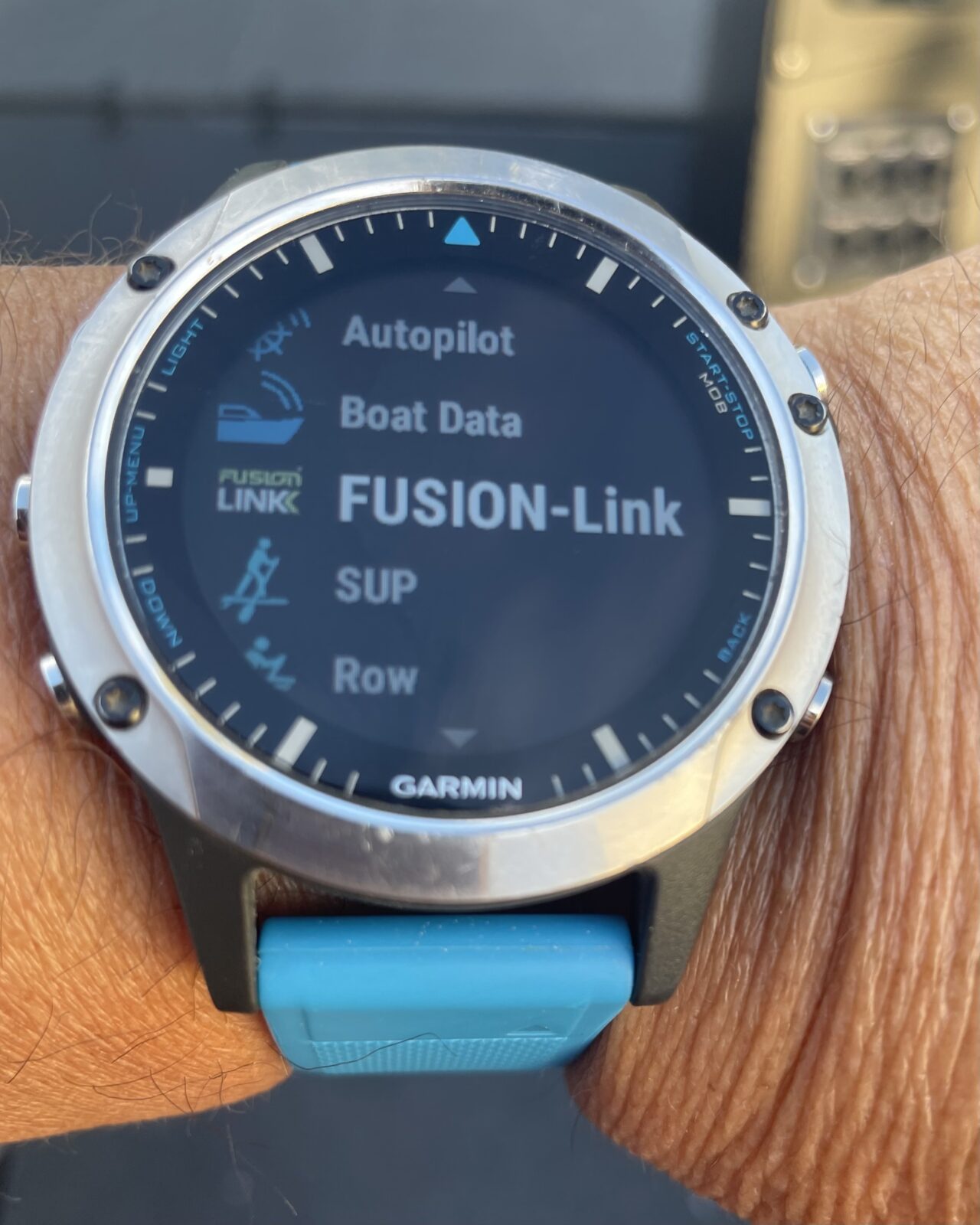 FUSION 6.5" XS Series Speakers
I selected the FUSION 6.5" XS Series "mid-range" price point speakers to match the BB100 as they fitted perfectly on the bulkhead above the top casting deck and projected hi-quality stereo sound back towards the interior of the boat. With 200W peak power, and 50W RMS they perfectly match the 200W peak power of the BB100 and are supplied with black and white classic style covers – I use the black to compliment the grey boat. 7.7" & 4' diameter sizes are also available in the classic, sports and sports with multi-colour RGB LED illumination "disco effect" option more suited to the ski boat market. Being IP65 water rated, they are suitable for light spray, rain and outdoor use in moderate sea conditions.
The FUSION BB100 with XS Series speakers is compact in size but does not disappoint in delivering premium sound in an innovative and convenient package via your smart device. It gives small boat owners the opportunity to enjoy clean, clear distortion free audio performance in a product engineered specifically for the marine environment and fully integrated with compatible Garmin marine and wearable devices at a reasonable price. If you have a boat with limited mounting space, and appreciate quality acoustics when out on the water, it's well worth checking out. For more information visit:-https://www.garmin.com/en-AU/c/marine/fusion-audio-entertainment/