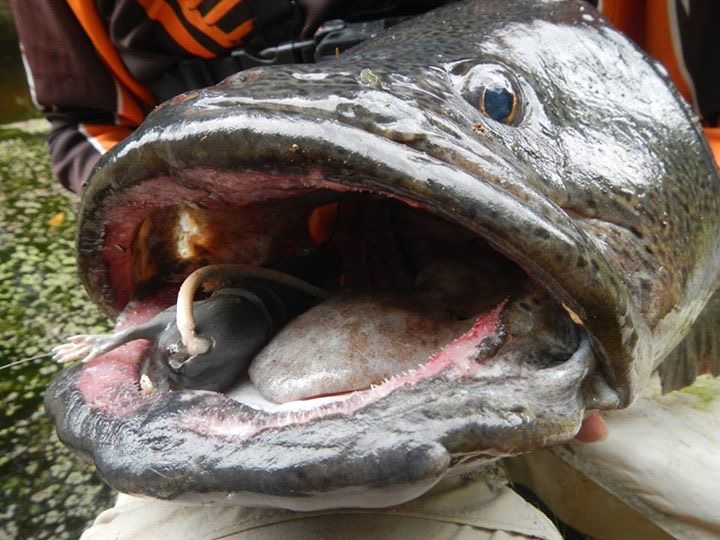 IT'S big, it's ugly and it swims with an s-curve action that leaves anglers weak at the knees. There's no surprise the latest offering from European tackle giant Savage Gear has found itself down the throat of quite a number of metre fish so far this Murray cod season.
The 3D Rad, named after its radical properties, is designed to appease the biggest, greediest, most daring predators worldwide. In Australia, it's victims have not been limited to Murray cod, but also barramundi and bass – bucket mouth predators have an inherent attraction to this large noisy lure.
With a wide bib set at an almost vertical angle, the lure pushes out an impressive wake action when attached via the lip towpoint. A well measured, quick upward jab of the rod will bring out a booming popper noise and forward splash. Attach the lure at the nose, and the 3D rad will dive and swim with movement extending through the jointed hard plastic body and soft thermo polymer elastic tail.
The wide bib also assists in making the lure almost weedless, pushing surface obstructions such as weed or lilies out of the Rad's path. If you are firing into very heavy terrain, the two belly trebles may be removed, with a clip position made for a back treble to afford a snagless setup.
Based on a 3D scan of a real rat, the detail on the Rad is impeccable, from soft ears to veins in its feet. Each lure also comes packaged with a spare soft tail.
Available in a 20cm, 32g model and a 30cm 86g size (with lengths including the tail), the smaller rad can be thrown on average tackle, with the larger lure commanding a serious rod, such as the new baitcast Black Savage swimbait sticks purpose built with the Rad in mind.
The Savage Gear 3D Rad is available in BCF stores, starting from $26.99. More information can be found at Savage Gear Australia's Facebook and Instagram pages.