NOTHING'S a sure thing in fishing but when the best laid plans pan out it makes the pre-trip effort worthwhile. This was the case recently when Pat Brennan and I managed to get away bass fishing for a few days after weeks of planning and hoping. While I had a work deadline to navigate, Pat was on extended leave and only had to fit a bass trip with me in between other fishing adventures he had planned! We eventually locked in a four-day window and found ourselves hitting the road for a six hour drive to the Hunter Valley, tinny in tow. It was around 39 degrees when we finally started setting up camp before our planned evening assault on the lake's bass population. Going by past experience the hot conditions were ideal for topwater fishing, with plenty of dragon and damsel flies on the wing and a hot northwest breeze ruffling the water. Fingers crossed.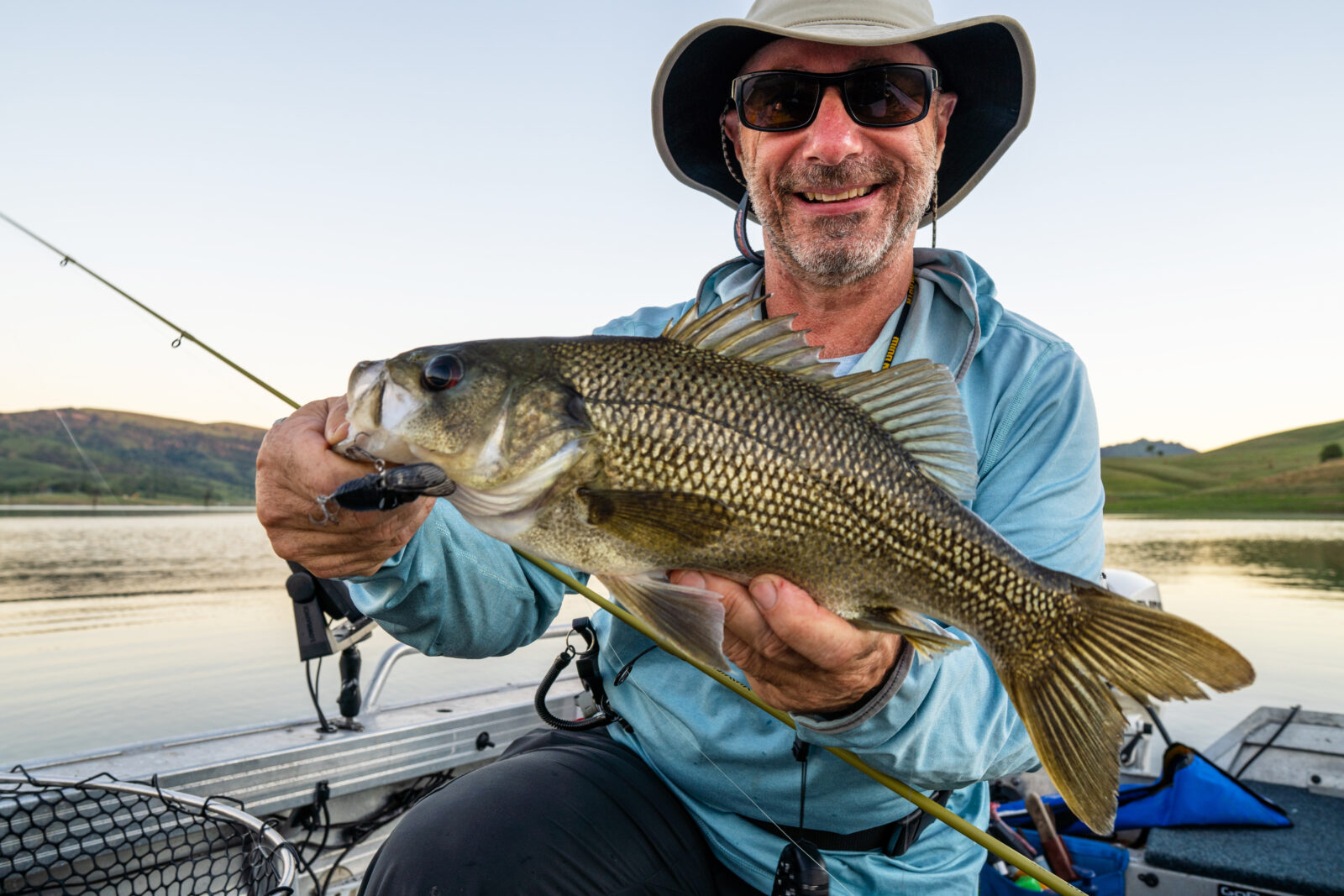 Up for it
We'd only been fishing for about half an hour when the sky to the southwest turned darkly threatening. We'd seen this scenario here before. There was no forecast of rain but a small front was set to pass through and by the look of it, soon. Pat unfortunately remembered his swag back at camp was open to the elements and he also didn't have a rain jacket so in case things turned nasty we raced back to camp in the Hornet. While still 300m from the camp site a huge hot wind gust whipped up a dust cloud high above my van and the side awning and tarpaulin we'd poled up were flapping wildly. Incredibly, before we could pull in to shore over some impressive white caps, nearby caravanners Marty and Peta had run uphill to our camp and grabbed hold of the awning and tarp before they could seperate from the iLoad. We managed to land and help amidst introductions as table cloths and plastic bags from other camps flew by. And as fast as it came the wild wind passed. After thanking our good Samaritan neighbours and tidying up, conditions got eerily still. It was still stiflingly hot and with an hour till dark our hopes were still high for a night bass session.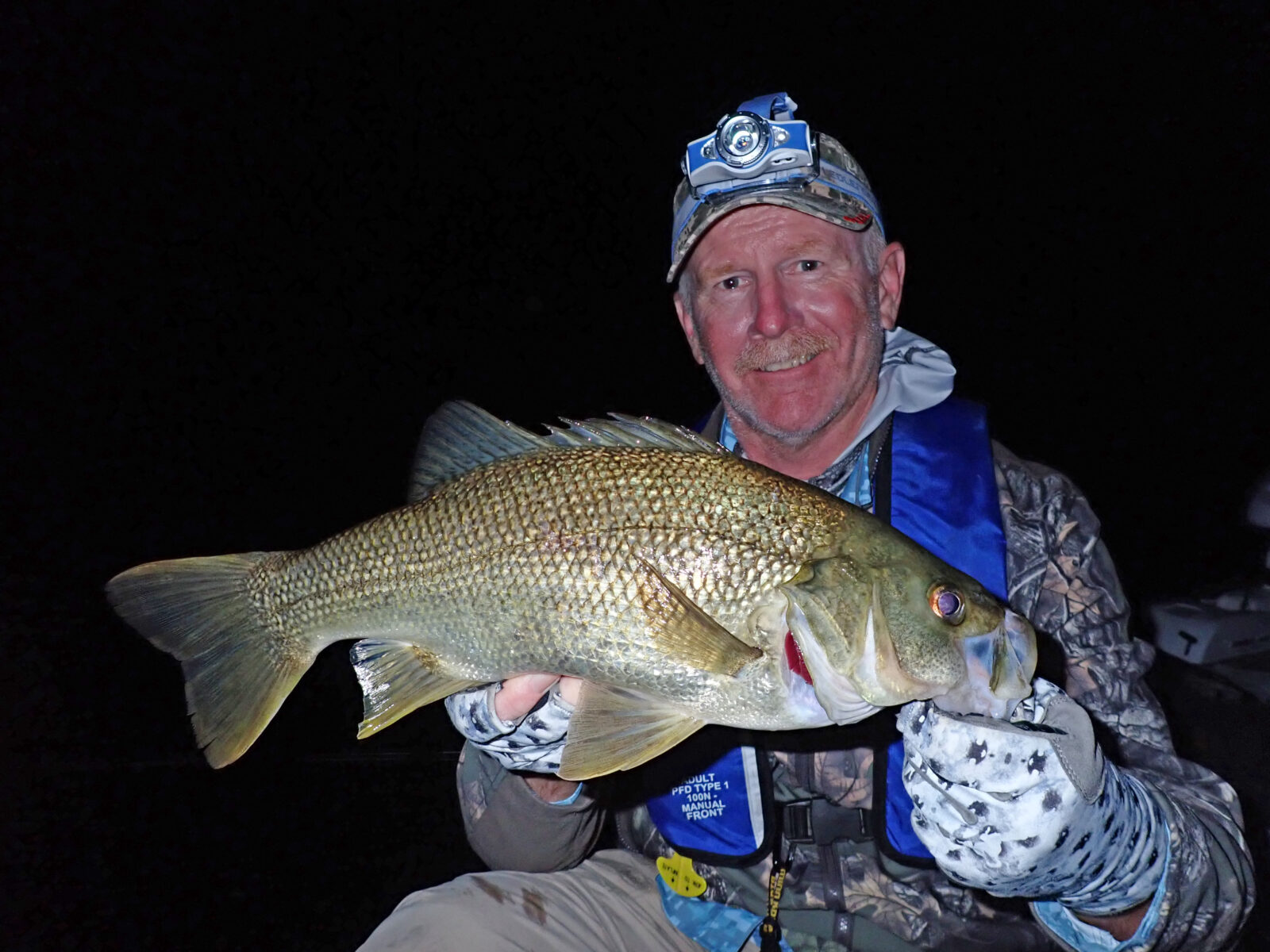 Zing in the night
Just on dusk on the other side of the lake came the first surface bites. Pat was fishing his favourite Jackall Pompadour Micro, me, a Tiemco Soft-shell Cicada. I don't remember who got hit first but the sound of a crashed lure and zinging spin reel drag never gets old. While we savoured these sounds the young residents of a couple of boats fishing nearby started hollering and carrying on about their own surface action. The serenity returned as they moved on as the curtain of night dropped. If they knew what was to come they might've hung around instead of heading back to camp for fireside drinks.
It was safe to say the ensuing bite was one of the best I'd experienced on that waterway. Noisy surface strikes came fast and often and bass smashed things on the top all around us. They were quality fish too, with many around or over 40cm – an indicator of the quality of the fishery.
We hooked plenty and lost more to the rich green weed mat laying just under the surface in the shallows of a wooded bay we worked over thoroughly. An indication of how switched on the bass were came several strikes a rod length or less from the boat. It was heart in the mouth stuff. On one occasion, Pat laughed loudly as a bass struck his Pompadour boatside and between us, scaring the hell out of me and making me jump!
The bite raged on for a few hours before slowing around 11pm. We pulled the pin with big smiles on our dials. As far as numbers go it was a bit hazy but by my reckoning Pat cleaned up with around 20 solid bass landed, several dropped and a couple busted off. Being a couple of lures down it'd been an expensive but memorable night. In comparison I'd probably only landed a handful, but put that down to casting surface flies for an hour at the peak of the bite for only a couple of fish. It was clear the bass much preferred the shape and walking action of the lures than the "blooping" action of the flies tried. Lesson learnt.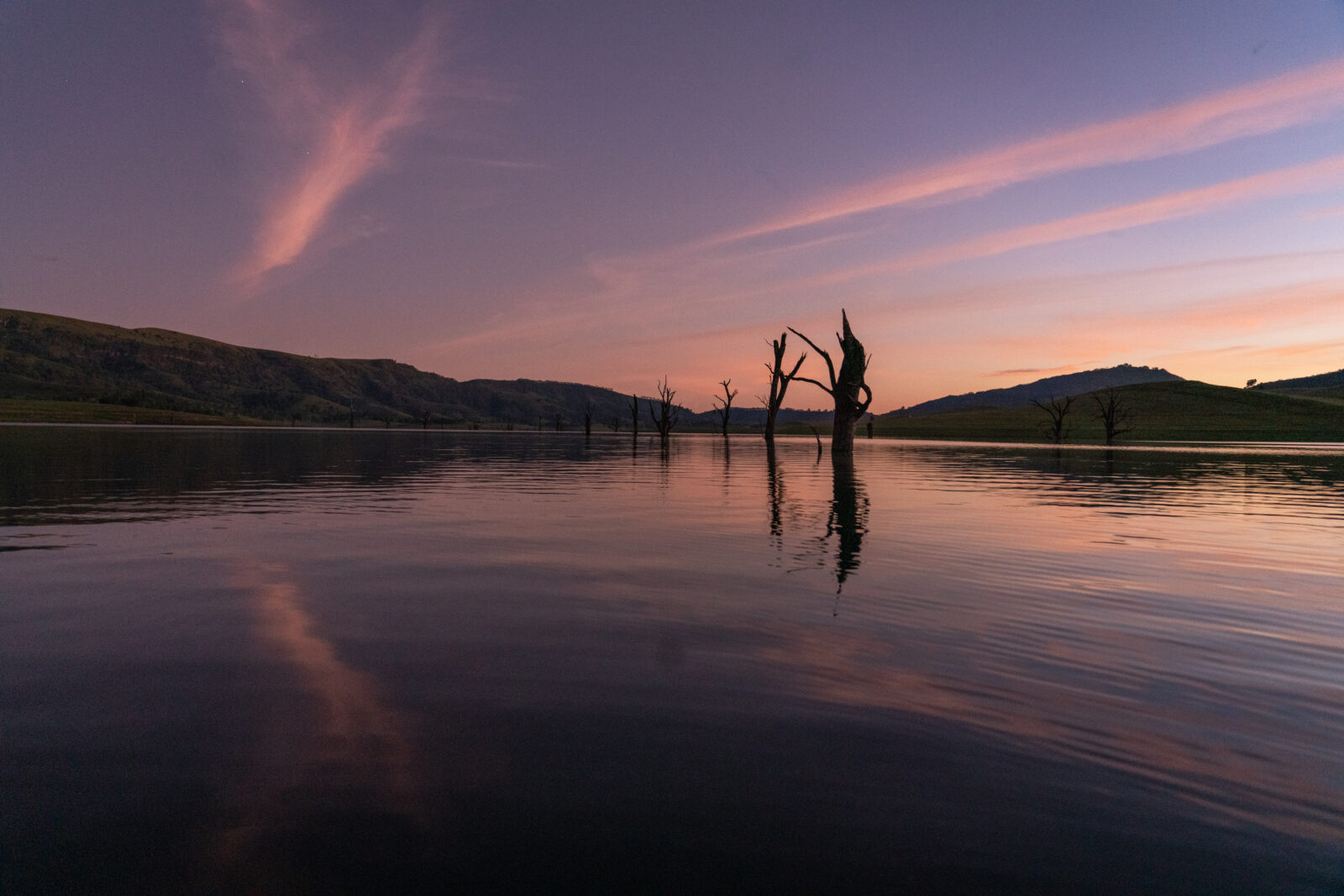 Feast from the east
The next morning the forecast fresh easterly wind arrived and the air temperature dropped by 10 degrees or more. We persisted with casting lures around the weed edges during the morning for a few fish while hoping for another cracking night bite. Pat did well on a small green and white TT Lures spinnerbait. My usual go-to of a beetle spin/Slider soft plastic combo wasn't proving as effective as it had on previous trips. A switch to a black/clear Samaki soft vibe produced a couple of fish before I tried another switch to the fly. Perseverance with the long rod eventually paid off as a few good fish fell to a bend-back style fly fished on the fringe of the shoreline weedbeds. One fish in particular proved to be a tough customer, ripping its way back through the weeds and looking like a lost cause. It stayed connected but was hard to budge from its green sanctuary. As a last resort I eased the rod pressure and the fish slowly began to move. I worked the fish out to open water and Pat and waiting net. At a healthy 42cm it was a nice fly capture.
After a good break back at camp during the middle part of the day we returned to the boat hopeful of a chance at another night bite. The cool easterly had been blowing consistently all day but hopefully had concentrated surface food items like bugs and cicadas along the stretch of bank fished the previous night. Once we got into range with the outboard I cut the motor as Pat deployed the electric. Around 10m from the bank edge we started a drift into the familiar wood bay as the sun began to drop over the hill. The first strike came a metre out from the bank about half an hour from last light. It was another splashy strike like many we'd savoured. From there it was game on as the bass took over from where they'd finished the night before. Our surface walkers were once again the standout lures of the session. At one stage I reluctantly replaced my favourite Soft-shell Cicada that had a broken treble after catching a bunch of bass over the last two trips. Tying on an old school Crazy Crawler proved you can't discount a proven lure as the strikes kept coming. It was another memorable night of surface action with plenty of bass landed and lost.
With another night still to go could we be so lucky as to score a trifecta of hot surface action? Amazingly the last night proved a mirror copy of the previous with the cool easterly breeze not proving a hindrance to a hot bite. We scored another bunch of good bass with Pat landing the fish of the trip with a prime 45cm beauty that had boofed the Pompadour cod-style and doing its best to bury itself in the weed before Pat managed to haul it out. The wind whipped up soon after, calling time on a memorable three nights of explosive bass action. I can't wait to do it again.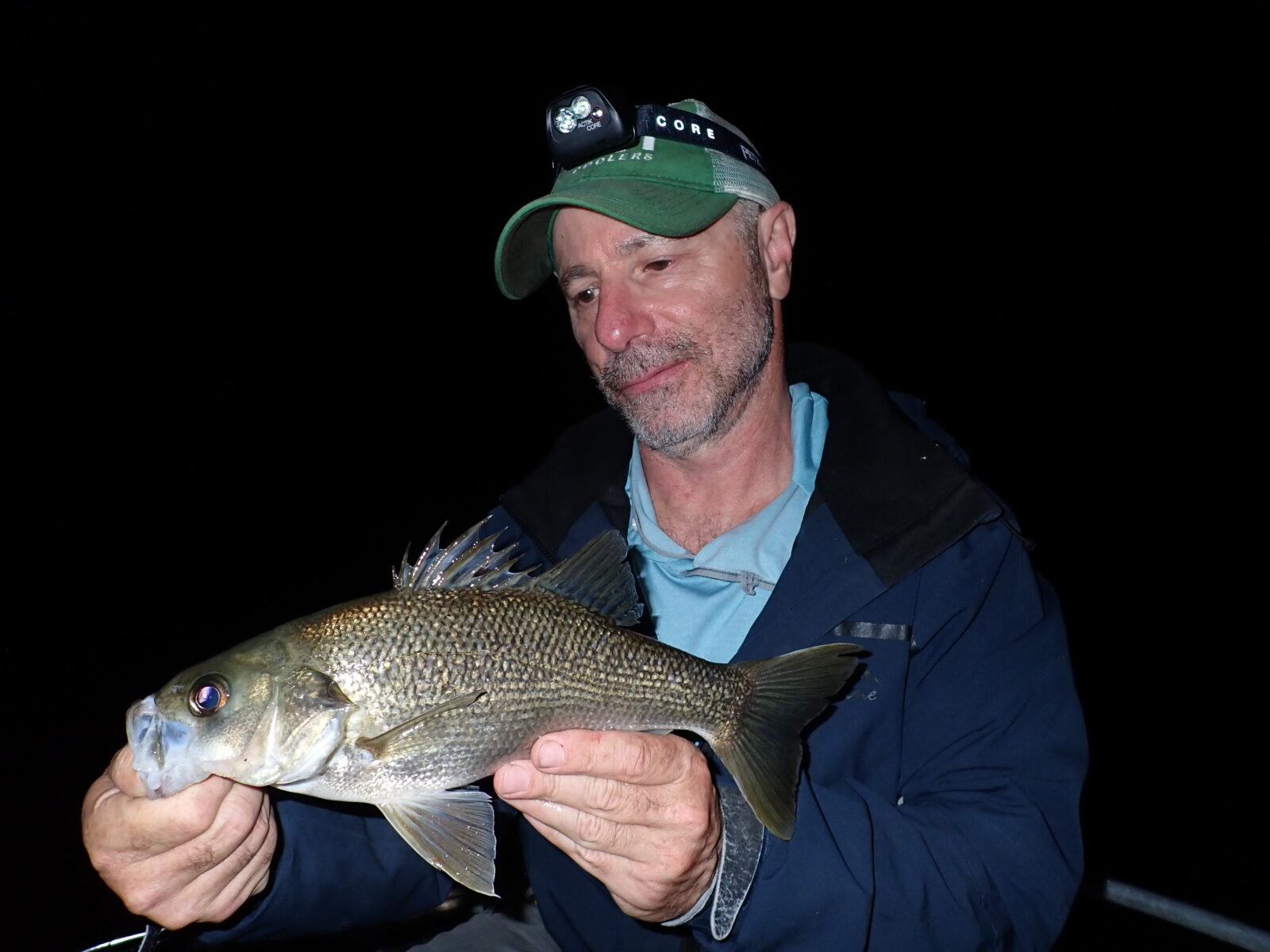 Walk the walk
Much has been written about successful techniques for targeting bass on the surface. Having loved this form of fishing since catching my first bass on a Jitterbug many nights ago I never get tired of it. For mine, nothing beats a walking style lure for surface bass fishing, albeit the original hard bodies like Arbogast Jitterbugs and Crazy Crawlers through to the contemporaries like Jackall Pompadour Micro, Tiemco Soft-shell Cicadas, Megabass Siglett, Halco Nightwalker, River2Sea Buggi Pop and many more. The great thing about this style of lure is that they don't require a lot of angler input to get results. That said the thinking angler will often get the most out a walker. They are also versatile and can be fished a number of ways. They will catch fish with a "do nothing" approach where the lure is just cast out and left to drift while keeping the line under tension. I've lost count of how many times a bass has struck a stationary walker lure while I've been distracted by something else – probably my mate landing a fish! Walkers can also simply be slow rolled back to you, just fast enough as their wings get up a slow paddling blip blop blip blop pace. Bass will often strike after you stop winding and commonly right next to the boat or kayak/canoe. It's heartstopping stuff when it happens, especially from an obviously big fish that sounds more like a cod!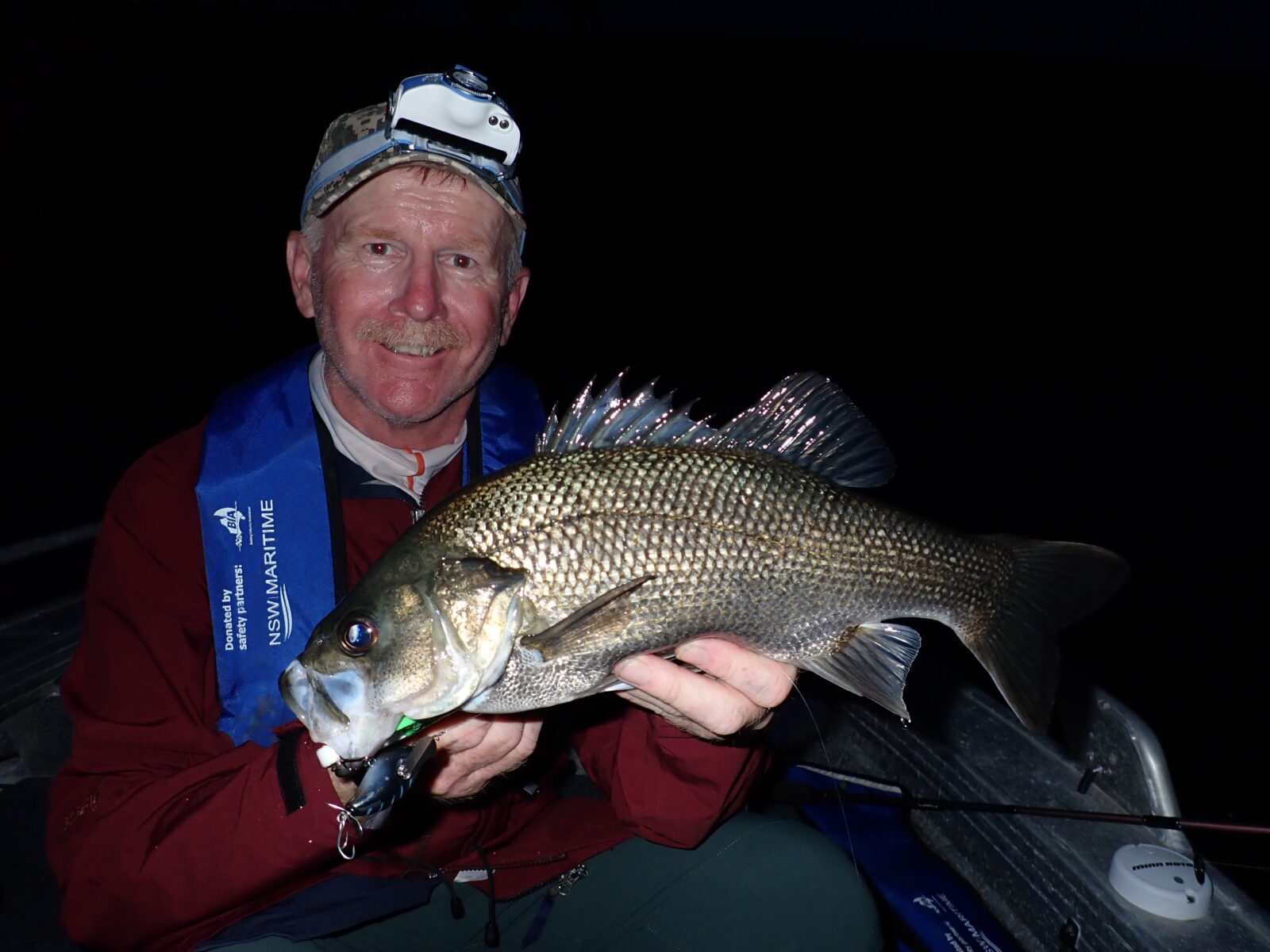 Mixing up your retrieve with walkers too can produce results when things slow down. I like to use the rod tip to impart an extra bit of action and move more water which can produce a reaction bite from uncommitted fish. If you haven't tried them, get yourself a few walkers and don't be afraid to experiment, you might be happily surprised by the results.
And depending on where you target bass will dictate the sort of gear to use. For the fishing described above I fished extremely light, using the same gear I would for bream, namely a 2-3kg spin rod, 1000 size spin reel loaded with 4lb braid and heavier (than for bream) 8lb fluorocarbon leader. While this extra light approach is risky for targeting bass near thick weedbeds I have found the gear adequate (so far) and have suffered minimal gear losses. That may be more good luck than good sense but taking the risk of fishing light has paid off so far. You have to be well aware of your surroundings when fishing light gear and fight the fish as efficiently as possible from the outset.
In contrast, Pat fished slightly heavier with 8lb braid and 10-12lb leaders that obviously had no detrimental effect on his results. Fish whatever you're comfortable with to minimise lure losses and maximise bites. If the bass are in a surface bite mood chances are whatever you're confident throwing will probably get eaten! Highly recommended.