THE Gulf of Carpentaria is one of the most remote sections of coastline in Australia. There are few towns on the western side of Cape York, and if you have watched the documentary on Netflix called "The Cape", you will get an insight into some of the people who live in this wild and remote part of Queensland. Unlike most coastlines of Australia, the Gulf of Carpentaria is very shallow, rarely reaching depths of over forty metres. It is fertile water, the epicentre of prawn trawling in Queensland. Tons of barramundi, threadfin salmon and Spanish mackerel are also commercially caught in this area, and due to the remote nature and difficult access few recreational anglers get to fish there. There are a number of mothership operations that seasonally fish in this area. In warmer months catches of over one hundred barramundi in a day are common. Unlike the Northern Territory, most of the rivers on the western side of Cape York are short, and while there are billabongs up behind these rivers, most of the good fishing is in the saltwater parts of the rivers.
On this trip we stayed on the mothership "Eclipse". This boat is a veteran of this area, having worked this coastline for many years catering for lure and fly anglers. The boat has three magnificent tenders, well fitted out state of the art barra boats. Wade, Lee, and Joey were our guides, and they were excellent and very experienced. They were all great company and the banter on board was always upbeat. I had not fished in a guided operation for many years, and it was a bit weird getting back into guided fishing. I am just not used to having someone doing all the spadework for me! Our group had well over a hundred years of barra fishing experience. Noel Jones was the leader of our group and was well experienced in Gulf waters. For a bloke in his eighties, he was quite amazingly nimble and sharp.
To get to our destination took a while. We first flew into Weipa and stayed overnight. I caught up with Scott and Trish Amon and Dave Donald in the Weipa Caravan Park where we stayed overnight in the lodge accommodation. The next morning at 5am we boarded a bus heading to Aurukun. It was June, well past the end of the wet season, and the road was surprisingly good. Aurukun is an Aboriginal community situated at the mouth of the Archer River. On arriving at the township after a two-hour drive, we soon were ferried onto the Eclipse, and after a safety briefing, we were on the barra boats and ready to fish. I had recently come back from a month fishing on the Daly River, and my barramundi gun sights were already well adjusted after catching several hundred barramundi in the NT a month earlier. I was knife edge keen. Barramundi are the most addictive fish species I have ever chased. To me catching them is a passion that borders on infatuation.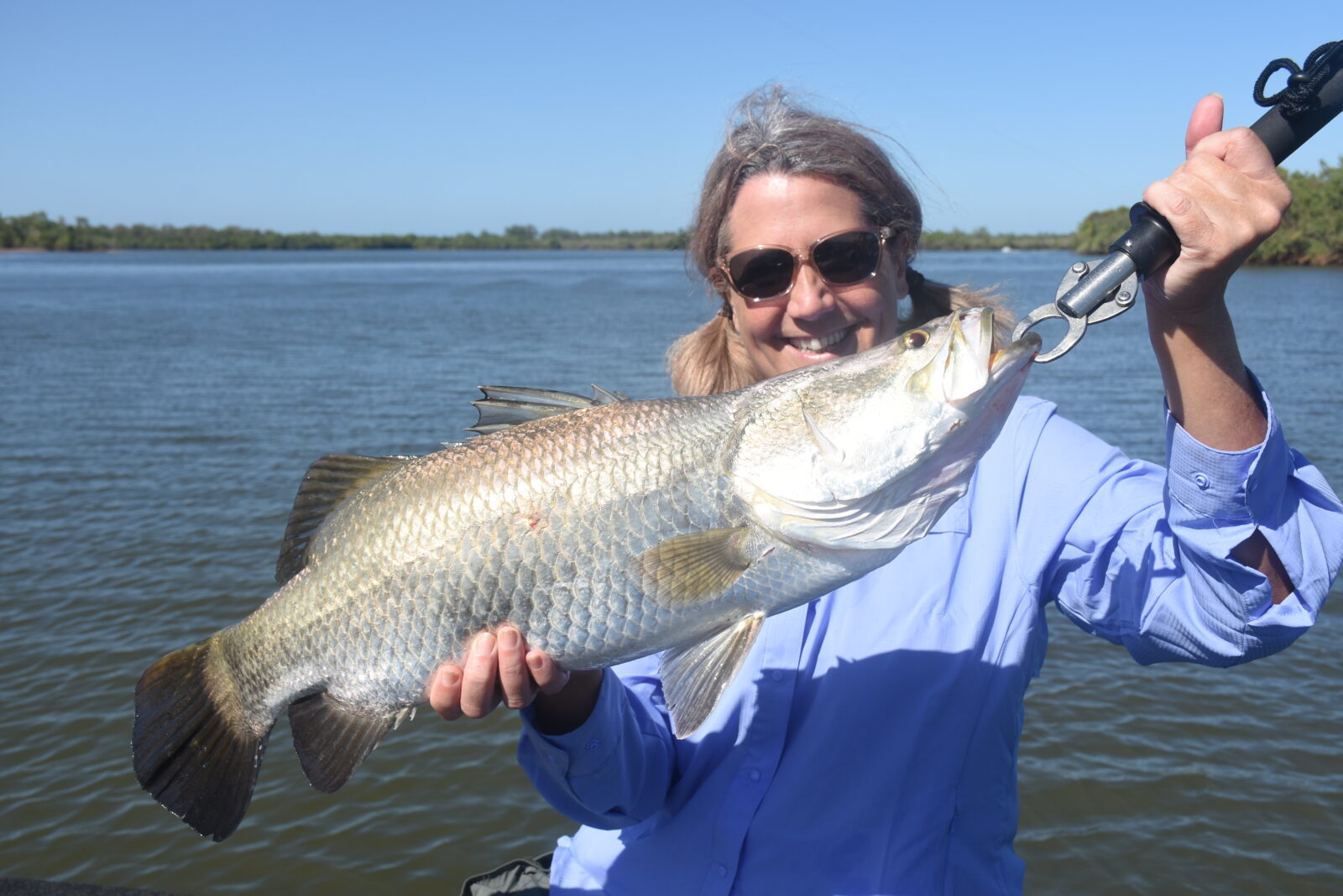 The Archer River is shallow, sandy, and relatively snag free. In the time I was there I saw no mullet and there was very little bait. Despite this, the side imaging on the big Humminbird unit clearly showed twenty or so barramundi mooching along close to the bottom amongst a series of flat rocks. They were across the river. When barra are moving close to the bottom they usually sit so their heads face down, looking into the cracks and holes in their search for food. It is a perfect scenario to use soft plastics and vibes. Noel and Sue were casting deep diving hard bodied Jonesy's lures, and I started with my favourite 95mm Zerek Fish Trap in the bronze cherry colour. We had a couple of hits before my vibe was inhaled as it sank back to the bottom. Fishing vibes is tricky and it takes a bit of practice, as the bites always come on a slack line. On this occasion I felt a tiny little "tic" and struck hard to see a nice 70cm barramundi leap clear of the water. The vibe had been inhaled and it took a bit of skilled dental work to remove it. There was minimal tide and the water depth was three to five metres. Noel caught a nice 83cm barramundi on a soft plastic swim bait, and Sue caught her first ever barra on a vibe. We finished fishing after a two-hour session that produced twenty-five barramundi between 60 and 83cm. Lee described the fishing as "slow". Eighteen of these fish ate my vibe.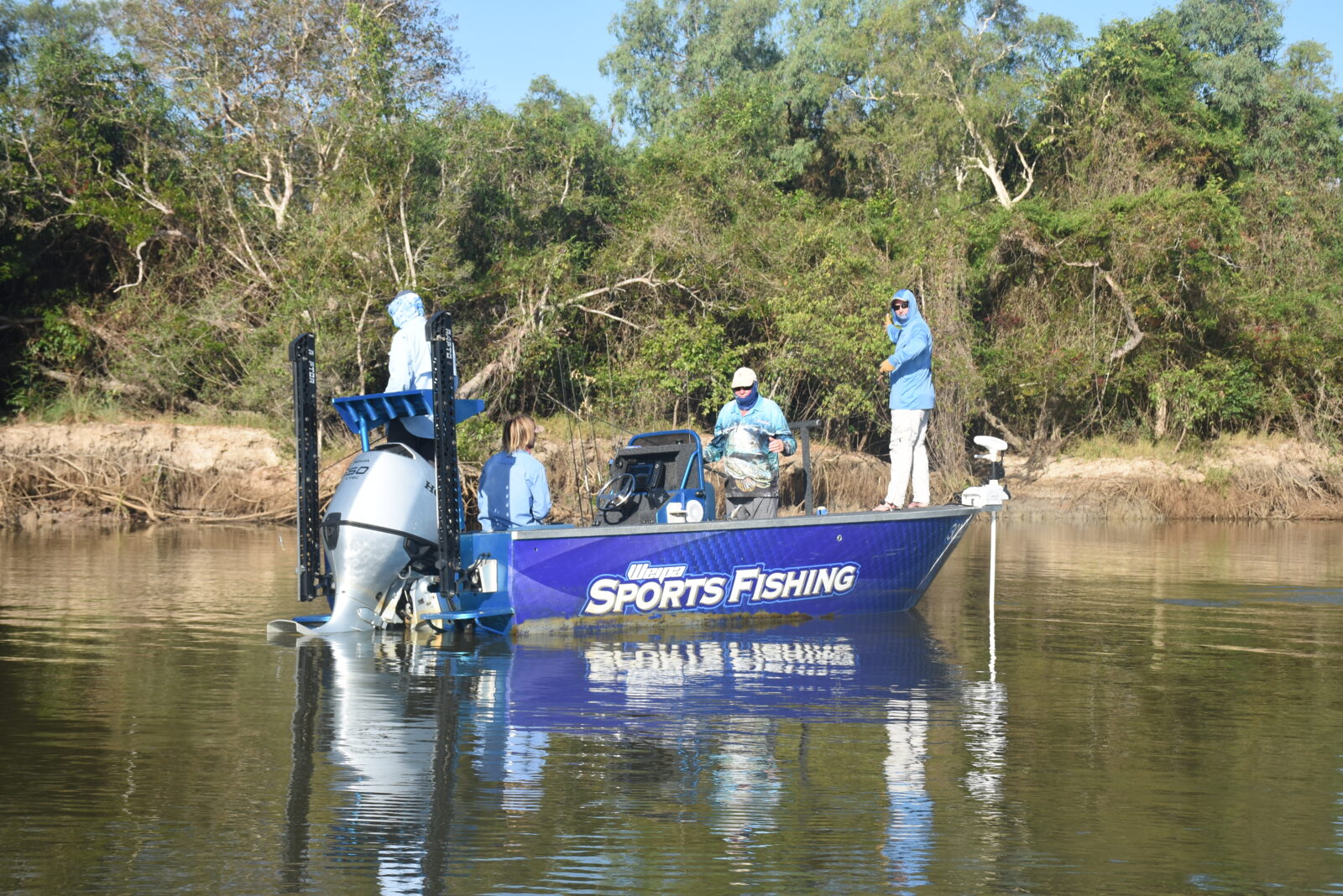 The group were clearly very barramundi focused. There was only one fish species in town! Threadfin and blue salmon, mangrove jacks, queenfish and fingermark were all considered "rubbish" by this group of veterans. Throughout the trip we caught plenty of these great fish, but they were treated with disdain, relegated to the same category as catfish and toads. I was quite happy to stay barramundi focused, but for those considering a trip like this it is important to remember that there are many excellent offshore options chasing a wide range of species including giant trevally, Spanish mackerel, longtail tuna and queenfish. The offshore grounds are like a type of fish soup!
After a great lunch on board the Eclipse, we returned for the afternoon session. There was little tidal movement and it took a while to find the fish. The river was tricky to navigate on low tide as it was particularly shallow and the channels were narrow. We found the fish on the edge of a long sandy gutter, and once again they could easily be seen on the side imaging. Hopping a vibe across the gutter brought instant results. Jackall Squirrels were another lure that caught a lot of fish, as did small deep diving bombers. The barra in the Archer River are not monsters, with fish over a metre being uncommon, but they are willing biters when you get the lure in the right spot. It was quite cool when we were there in June, and this may have accounted for what the guides considered "slow" fishing. (Despite this our overall tally of barramundi for the group was over three hundred fish!).
As the days rolled on the tides got bigger, and the fishing improved. Most of the group seemed quite perplexed that I was using a threadline reel most of the time. I find that when fishing with vibes I get much better results with a threadline reel. The weight is under the rod, it is much easier to hop the vibe from a simple wrist flick and when you hook up you have a faster retrieve speed. Threadline reels are an essential part of barra fishing. Barra fishing techniques evolve every season, and while casting hard bodied lures has been the main method used by a lot of anglers for decades, it is important to understand that it is not always the best method.
The most popular lure used by the guides on the Eclipse is the four-inch Gulp Prawn in white fished using a jig head. Prawns are a major food source in the rivers on the western side of Cape York as they are prolific throughout the area. The secret to using these lures is to wind them in slowly. Do not twitch them or jig them, just use a slow steady retrieve. They are a perfect lure for inexperienced anglers as they get eaten using a simple cast and wind. On the Eclipse, the guides buy these lures a hundred packets at a time! On our trip the barra smacked these lures hard and I was quite surprised how "prawn focused" the fish became in shut down situations. Sue caught her best barra on a Gulp prawn, a fish around 90cm long.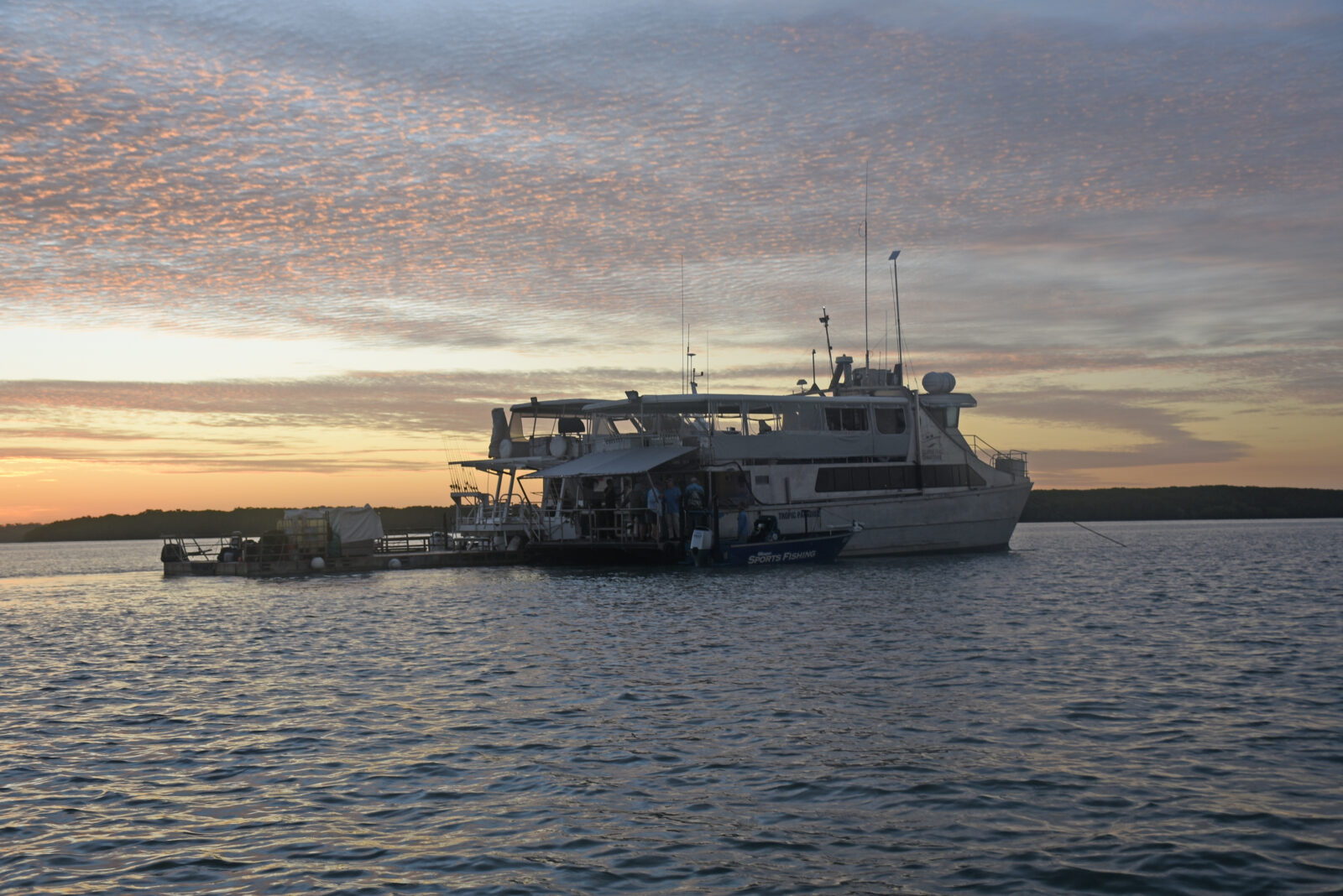 We headed south one morning to fish the Kirke River, about two hours south of Aurukun by boat. The western side of Cape York often has a south easterly airstream that blows right across the cape, generated by high pressure systems in the Pacific Ocean. On the western side of the cape this makes the inshore waters quite flat and calm, particularly early in the morning. As the land warms up during the day it generates an onshore sea breeze that can make the shallow gulf waters quite rough. On this morning we headed south on a flat sea and arrived at the mouth of the Kirke River after an easy passage. This is a typical sandy Cape York River. A few hundred metres inside the mouth there was a junction and a big tree lined snag on the corner of this junction. There was also a colour change where the two outflowing currents intersected. The sounder showed plenty of fish, most close to the bottom but a few mobile in the current. It did not take long to get hooked up, and over the next few hours we caught a swag of barra up to 90cm long, a stack of good threadfin salmon and a nice fish very similar to a black jewfish. The secret was to cast up current and bounce the lure back downstream with small hops. In the fast-flowing water the fish slammed the lures hard. I found I could bounce my vibe off the bottom and as I dropped the rod the slack line would just take off at speed as the fish raced away. I absolutely love this type of fishing. The threadfin salmon were stacked up close to the snag pile and their bites were fiddly and fumbled, unlike the barra. They like to play with the vibe with their elongated finger like pectoral fins. When hooked, they took off like a rocket. Some of them were close to a metre long.
In the Archer River the open sections near the river mouth continued to produce fish for all three boats. There was one big snag adjacent to an old, abandoned shed that held a lot of big fish. It was covered in an abandoned trawler net which made it almost impossible to escape from when a lure inadvertently fouled it. This 'death snag' produced some of the biggest barra of the trip, with quite a few fish in the mid ninety-centimetre range being caught there. When you have a big, isolated snag in a shallow sandy river it always attracts fish. There were plenty of great back eddies, tree lined banks and shallow rock bars to work over in the Archer River. This river would be a fantastic place to go to if you love flyfishing for barramundi and threadfin salmon. The Love River is an adjacent system that requires access on high tide and holds a lot of fish. We did not get to fish in the Love River during our trip but one of the other boats had an excellent couple of sessions there and caught quite a few barra on surface lures. The Love also has an excellent population of mangrove jacks.
I really enjoyed my trip onboard the Eclipse. Every variable that you can control was well done. The food was fantastic and we ate a lot of fish. The three barra boats are spacious, well fitted out and quite fast. Wade, Lee and Joey are all excellent guides with a passion for their work. They are just all love fishing. I learnt a lot on this particular trip and am very keen to go again next year, where the knowledge I gained on this trip can be put to good use. The scenery is very different to the Northern Territory, and the sunsets over the water after a day's fishing make a beautiful end to the day. We fished in one of the slowest weeks of the year, according to the guides. In a good week it is not uncommon for the three barra boats to catch over a thousand fish!