"WHEN I first started lobstering on September 12 1971… I saw a lobster industry that was virtually collapsed." 
Meet Noel Gogerly, mid-north coast commercial lobster fisherman for more than 50 years.
During this time, he has seen the lobster fishery bounce back from the early days when getting one lobster per 10 traps set was "a good day".
"That's how bad the industry was," Noel says.
This is the story of how a fishery has turned around through the eyes of the fishermen and scientists who have seen it recover. It's also the story of the science behind the hard management decisions that have helped the industry find its feet again.Government worked with industry to make management changes resulted in improving stocks and economic sustainability of the industry. The great work culminated in the development of a harvest strategy which guides the recreational and commercial harvest of NSW Eastern Rock Lobster.
Danny Stewart has been a commercial fisherman for 32 years on the north coast of NSW. He says things have changed a lot since he started in the early '90s when it was, "pretty much a wild west type of affair."
"Every trap was being pulled once, twice, three times sometimes. There were a lot of issues," he says.
Mark Cranstone agrees. He's been a lobster fisherman for the last 22 years and is a member of the Commercial Fishing NSW Advisory Council.
"We weren't managed properly. We got down to 6% biomass."
"We really needed to do something pretty drastic and pretty fast."
It was time for some serious intervention to save the fishery.
This is where NSW DPI Fisheries stepped in with some "major management measures."
Geoff Liggins, the scientist responsible for monitoring and assessing the lobster fishery in NSW for DPI Fisheries explains.
"Major management measures that came in the mid and late 1990s included the introduction of a total allowable catch for the commercial fishery, size limits and …the introduction of individually numbered management tags," he says.
The introduction of tagging commercial catch also helped Fisheries compliance reduce the amount of illegal fishing.
Sydney spear fisher and recreational lobster fisher for over 40 years, Ian Puckeridge has seen the changes over the years.
He thinks one of the most important decisions made was to "trust the research."
"Which they did in the 90s, that was when they protected the oversized lobsters," he says.
Senior fisheries manager Nicholas Giles agrees that adding a maximum size limit was a crucial decision in helping lobster stocks recover.
In NSW lobsters, unlike many finfish, have both an upper and lower size limit.
"This provides important protection to juvenile lobsters so they can reach spawning age as well as protecting the larger lobsters that can produce a much higher number of eggs," he says.
"It is fantastic to see the number of spawning lobsters these days."
"The biggest strength of this fishery is that changes in total allowable catch are directly linked to scientific assessments of stock health, which has allowed effective management and rebuilding." Nicholas says.
Both fishers and NSW DPI Fisheries staff concur that cooperation between the partners was key to the success of the revival of the lobster fishery.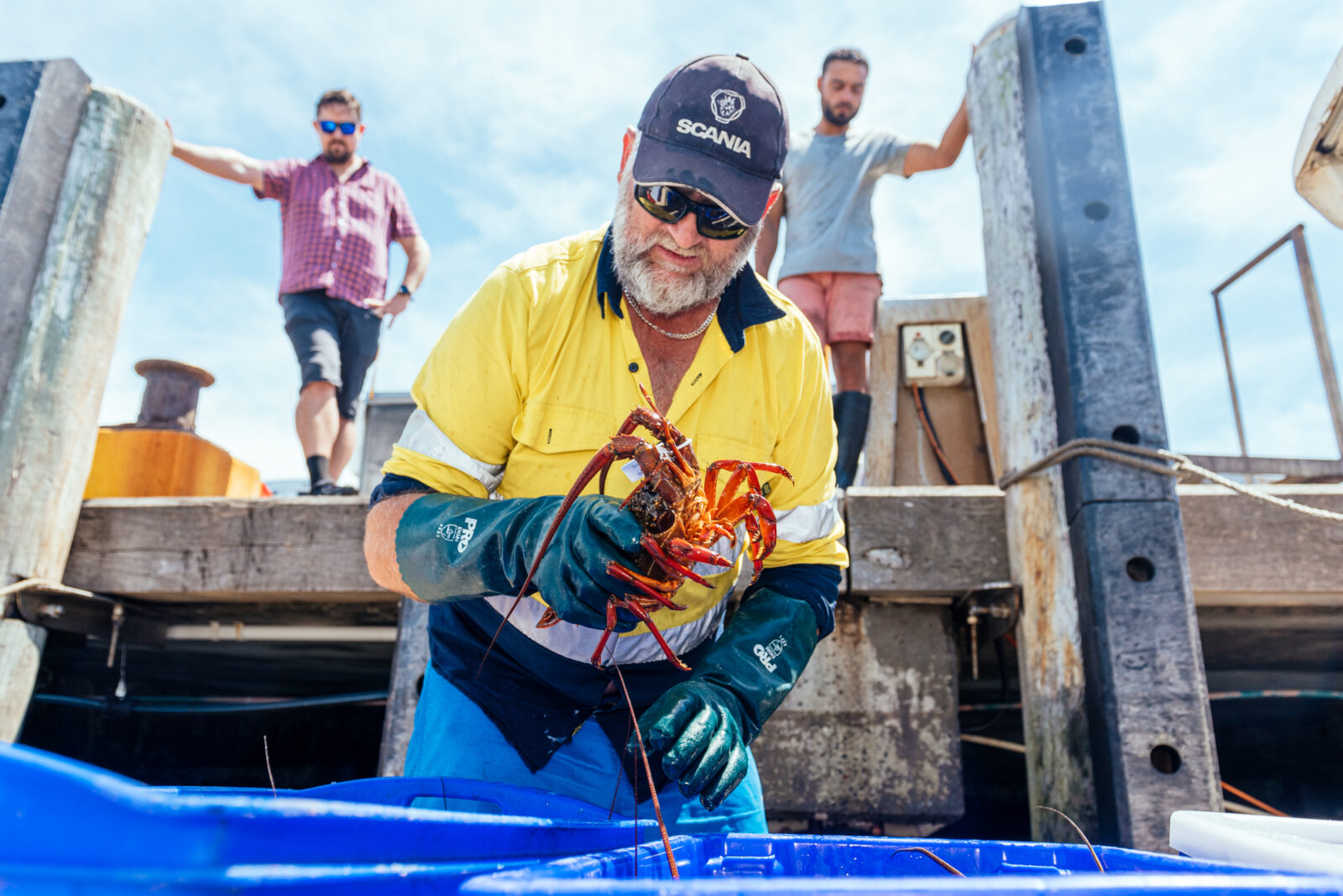 Commercial Fisher Danny Stewart says he thinks this "is one of the strengths of the lobster industry."
"We've always been traveling in the right direction, which has not always been the case in other fisheries," he says.
The proof is in the pudding according to Mark Cranstone.
He says improved lobster stocks have made fishing easier and more profitable.
"Back in the 90s they were struggling to catch one tonne for one business, now my business, we are catching about 17 or 18 tonnes a year and returning to the water up to 7 or 8 [tonne] as well."
Noel Gogerly has also noticed the impact of the improved lobster stocks on his catch.
He's been able to more than halve the number of traps used and reduce the number of days out at sea.
For Lobster Fisherman Danny Stewart, it's pleasing to see how things have improved.
"It's 100% better than what it was back 10, 15, 20 years ago," he says.
"That's a result of good management and making some hard decisions in the early days."
He says he's so confident about the future of the lobster industry in NSW now, that he "encourages his sons to go into the fishery."
"Knowing that they'll have a future there because of sustainability, and the steps we've put in place to look after the fishery."
NSW DPI Fisheries has also developed a new Lobster Harvest Strategy in partnership with commercial, recreational and Aboriginal fishers – to find out more about this go to: https://www.dpi.nsw.gov.au/fishing/harvest-strategies/nsw-lobster-fishery-harvest-strategy
Fishery Harvest Strategies are being developed by DPI Fisheries and are partly funded or supported via the Marine Estate Management Strategy. Find out more about this project here.