THE 2013 Berkley Evinrude Team Series kicked off in Sydney Harbour last weekend when 92 entered teams battled it out on the picturesque waterway.
The first proved a challenging session for competitors with calm and glassy conditions to start, big and blustery to finish. A quick lap of Sydney Harbour in the BETS Skeeter found teams in all the usual haunts but the calm conditions were doing anglers no favours. Fish were sporadic and not of the usual quality associated with some of the locations.
A breeze soon stirred things up and not long after the BETS team was back on land, they were hanging on to the BETS tent as boats fled back into the relative safety of Hen and Chicken Bay!
Brad Biddleston and Mick Smith from Team Chaos spot hopped from the Harbour Bridge to the bridges on the Parramatta River to graft out a bag. Their plan to knock off five quick fish early in the session didn't quite come off and the team moved around from one fishy looking location to another slowly accumulating fish that would provide that quality bag needed to finish well on the the Harbour arena. Appropriately for the Ecogear supported Round One the pair used a variety of Ecogear product, ZX blades in the deeper water, SX40LC hard body's on the shallower edges to secure their fish.
It was to be one solid fish, however, that took the teams' bag in to winners territory – a 1.27 kg cracker. Looking a little weather beaten the team appeared at the scales in typical understated fashion with a 3.49kg bag that set the standard.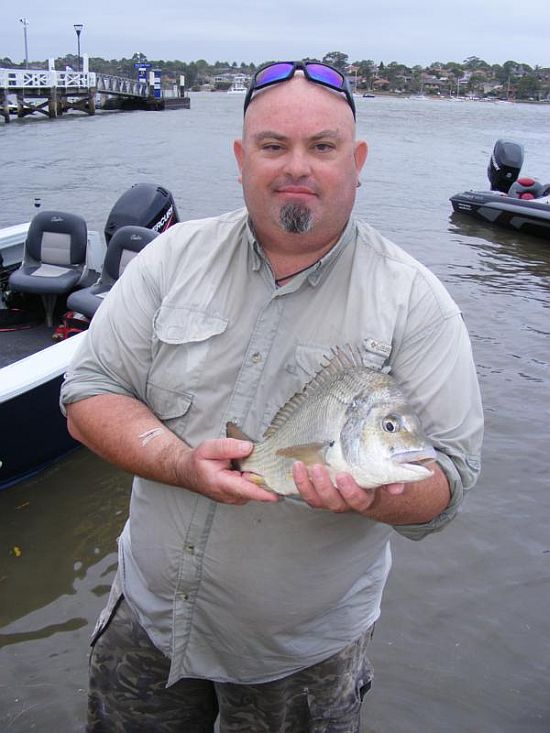 As the weigh-in progressed the wind increased significantly and after a quickfire session at the scales as teams weighed and ran, Round One was complete. Amidst the chaos was Chaos, their 3.49kg bag was never bettered and the BETS regulars took out the first event of the season. A nifty $4500 and an Engel Spectator pack was the reward for fighting the good fight in pretty grubby conditions.
That big blue nose also chipped in, being best bream for the day and earning the pair first cab off the rank status for the next round courtesy of the Evinrude Big Bream award.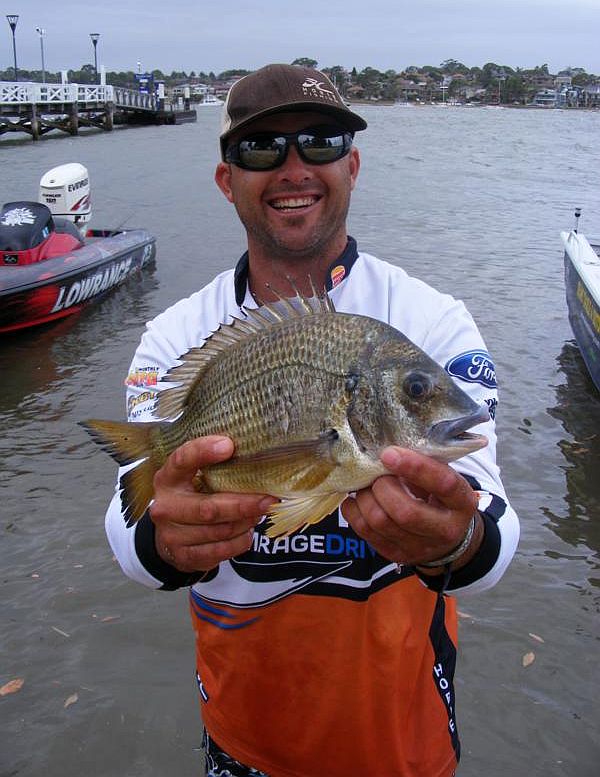 Close behind in second place the ever dangerous Team Hobie paring of Kris Hickson and Daniel Brown. The pair presented a bag to the weigh master that demonstrated just how important that kicker fish can be, the team falling just 150 grams short of the target. It was enough to hold second place and earn a prize of $3200 and a Mako Eyewear Prize Pack.
Third place getters Jason Mayberry and Trevor Parmenter of Compleat Angler Batemans Bay/Shimano made the long journey with third place, $2400 and $300 in Tacklepower Vouchers under their belt.
Next stop is Lake Macquarie on January 13 for Engel Round Two.
More info at: www.betsbream.com.au