THE Grand Final of the 2012 Berkley Evinrude Bream Series has provided an enthralling weekend of tournament bream fishing. Held in conjunction with the Sydney International Boat Show at Darling Harbour, the BETS GF saw the top 20 teams from the series fight it out on Sydney Harbour for a $20,000 First Prize.
Competing over two days the outcome looked in little doubt when on Day One the Team Skeeter Boats/bassboatshop.com.au pairing of Josh Batterson and Matt Webb posted a bag of five bream that took the scales down to a massive 5.5kg – a BETS record and one of the biggest bags caught on Sydney Harbour. It gave the team a lead of nearly two kilos going into the second day, prompting many spectators to say the game was over.
That was not the view of the other BETS competitors who know it's not over 'till it's over … teams left Taplin Park on Sunday morning with every intention of reeling in the lead. Team Lowrance HDS, Mark Healey and Adrian Neoh came the closest, backing up their 3.55kg Day One bag with a cracking 3.93kg collection that put the pressure on Team Skeeter Boats, requiring them to post a two kilo plus weight to take the title.
With just three fish to weigh it was going to be very close and the crowd fell silent as the numbers on the scales ticked over. The display settled at 2.30kg and the crowd erupted. With a total of 7.80kg, Team Skeeter Boats/bassboatshop.com.au had held their lead to take out the 2012 BETS Grand Final. A cracking fish of 1.61kg helped the pairing secure the $20,000 First Prize. A delighted Josh Batterson said, "A win like this has been ten years in the making and we're absolutely stoked!"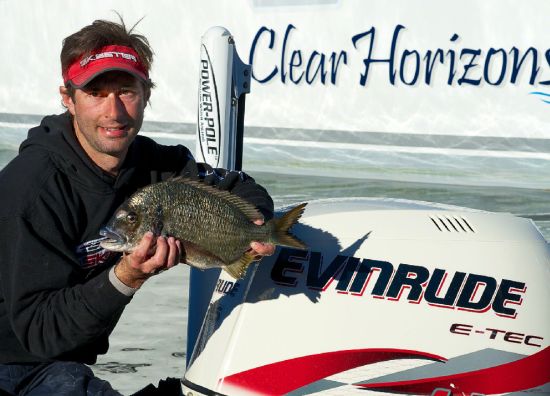 Josh Batterson with one of his winning team's point scoring bream.
Team Lowrance HDS held on to second place and a prize of $6000 with their 7.48kg bag and Queensland visitors Scott Butler and Josh Kirkness of Team Simrad posted a weight of 6.48kg for third, earning a tidy $4000 for the long drive home.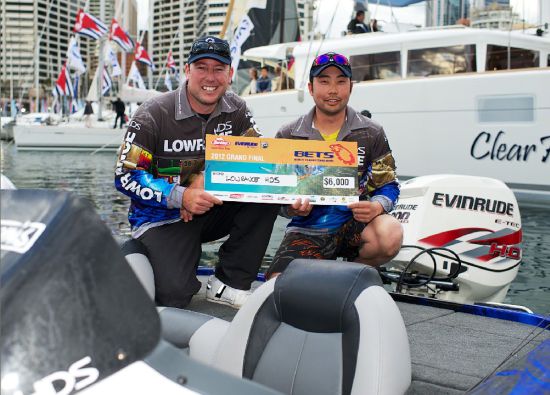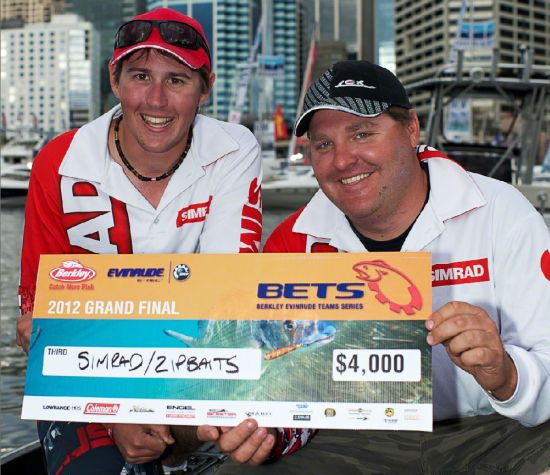 It was an enthralling end to what has been a sensational BETS event. The Series will kick off again later this year – check the BETS website in coming days for a Video Wrap of the Grand Final and keep an eye out for the details of the 2013 Series.