Another week has passed on the reef and the fishing has stepped into overdrive!
Last Wednesday we marked our first grander milestone of 2009 with a solid fish at Linden Bank. Since then the fishing has gone from strength to strength.
After a period of fabulous weather, which was something we could easily get used to, a big high in the bite caused the south-east trade winds to ridge up the Queensland coast resulting in 20-30 knot winds for the last five days. At its peak, several boats chose to sit out the marlin fishing, rather concentrate on bait fishing in the lee of the reef. But for those who did get outside the protective barrier, they were rewarded with some big fish.
The marlin, like dolphins, like to tail – swim/surf downsea along the face of the waves – and the tradewinds give them a free ride right into the edge of the reef. On Sunday, when the strong winds arrived at 30 knots, captains up and down the Ribbons reported good numbers of fish tailing.
That day, two fish in the 900lb range were released as well as a number of middle range fish. That began a flurry of action. By Wednesday this week, five more grander marlin had been recorded.
The giant black marlin come to this area of the reef to spawn and it is the hot water of the East Australian current that triggers the spawning. If you take a look at the picture below (I've super-imposed the Ribbon Reefs over the water temperature output from SeaSurface.com), you can see the hot water, up to 26.8 degrees Celsius pushing into the hard line of the reef. This is where the fish are being found.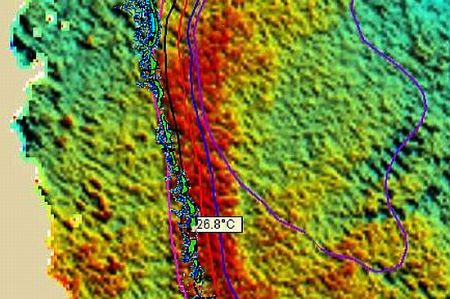 This weekend is the start of the Shell Cove Lizard Island Black Marlin Classic. Hopefully the good fishing will continue right through the tournament and we'll have a few more inductions into the Lizard Island Thousand Pound Club.
Read more from Kelly Dalling in Reports.