THE boys had climbed out of their bunks on Viking 11, looking very ordinary after the proceedings the night before. They'd still been celebrating Stuart Wright's grander – our first for the season.
A lunch and swim behind the reef, got everyone back in shape. Baits in the water, we headed down to the Ribbons. The water turned nice at the top of No 5 Ribbon Reef, and it was already busy with other boats working. A look around revealed some good markings below. I tried my luck to see if I could get a bite amongst the pack, and not too long before a fish took the stinger bait. The size was not clear, but it was showing all the signs of being the extremely large fish that had caught my attention on the Furuno.
Shane, the angler on his first time marlin was in the chair and getting pulled around, but the fish was lazy and not far from the boat she came up and did a couple of large spectacular lunges towards the boat. Randy Baker grabbed the leader, and this very large fish lay there for all to see … the screaming and yelling was crazy!
I called the fish for 1100 lb, and the atmosphere was electric!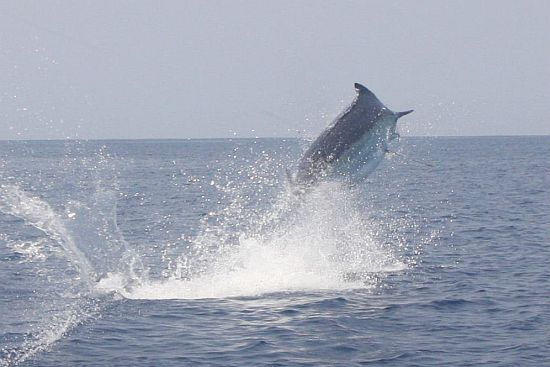 Two more bites for the day and we got the boys a 500lber and a 350lber. It was another amazing day on the Great Barrier Reef.
We are all on such a high after this charter it's gonna be hard to come down!