THE decision by Tiwi Island land owners to seek to exclude anglers from significant areas of Bathurst and Melville Islands has created a major furore in the Northern Territory.
NT fishos are up in arms about the move, which they see as an infringement on their rights to fish. The exclusion – which Fisho understands is based on a business decision to protect a $7 million investment in three high-end fishing lodges owned by the Tiwi people – is a direct result of a 2008 ruling by the High Court which gives indigenous people the legal right to manage access and fishing activities along much of the NT's coastline and rivers.
As far as Fisho is aware, this move by the Tiwis to ban anglers from visiting the northern parts of the islands is one of the first times the controversial "Blue Mud Bay Decision" – as the High Court judgement is known – has been tested.
As we understand it, the Tiwis want to stop anglers in private boats and competing fishing tour operators from visiting and fishing the northern side of Melville Island and the western side of Bathurst Island. They're doing this because they want guests fishing at Melville Island Lodge, the Johnson River Camp and the soon-to-be-opened Bathurst Island Lodge to have exclusive access to these waters. The Tiwis also claim they are doing this to protect the long-term sustainability of the fishery.
Anglers will be able to continue visit, fish and camp around the southern side of the islands, and throughout the Aspley Strait, under a permit system which was established soon after the Blue Mud Bay Decision was passed by the High Court. See associated media release from the Amateur Fisherman's Association of the Northern Territory (AFANT) HERE.
Commercial and charter fishing bans also resulting from the High Court decision have been established around the Tiwi Islands for some years.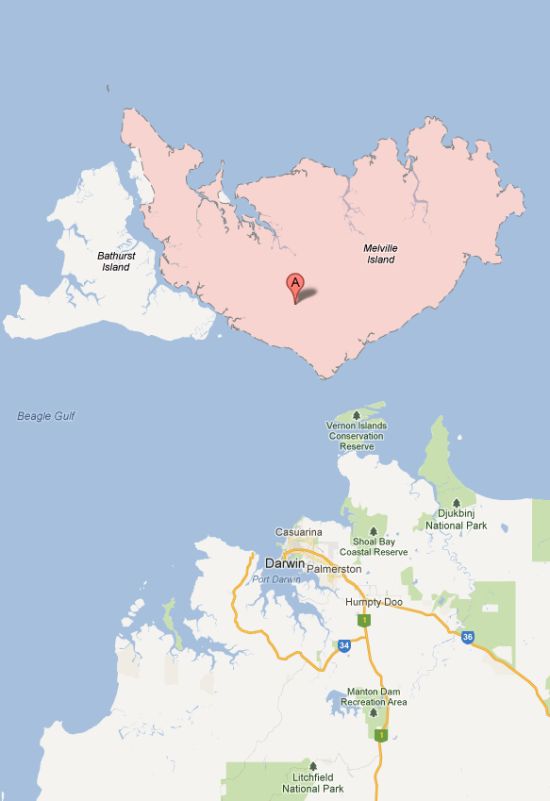 Fisho has visited the Tiwi Islands on a couple of occasions in recent times. It has to be said that a voyage from Darwin to the northern side of Melville Island would be a major expedition. You're talking travelling big distances offshore into an area with no fuel, supplies or water readily available. That said, in the right boat (a pretty big one, we would suggest) loaded with supplies and safety equipment, there's no doubt that visiting and fishing this area would be a DIY adventure trip of a lifetime.
As we understand it, a small number of well set-up anglers do currently fish around this area but it's certainly not anywhere near as popular a location as the southern side of Melville Island or the west coast of Bathurst, which are regularly visited by anglers who head over from the mainland in offshore capable tinnies.
The issue as we see it isn't so much that what's being planned in the Tiwi Islands will cause major disadvantages to NT anglers – not many people can actually get to the areas that are proposed to be excluded so the actual impact is likely to be minimal. It's more that this move sets a precedent that could potentially be used by other indigenous groups to impose fishing bans on areas that are far more important to both local and visiting anglers.
This move by the Tiwis raises the spectre of fishing bans or restrictions on iconic sportfishing locations such as the Daly, Finniss and Mary rivers, amongst many other locations. It would be an unmitigated disaster – socially and economically – if that sort of thing happened.
This issue has been the elephant in the room for the NT's fishing community since 2008. Now that elephant is starting to charge around – and that's creating a situation which is both worrying and disturbing.
For the record, Fisho is all for indigenous people taking charge of their own lives and working to establish employment and education opportunities for their young people. As far as we are aware, the Tiwi Islanders are unique in that they are actively seeking to break the welfare cycle and develop their own business initiatives. As well as fishing tourism, these initiatives include a forestry development, plans for a major port and the establishment of the Tiwi College, a school which is providing Tiwi youth with the sort of educational opportunities most other Australian kids take for granted.
All that said, we are concerned about the moves by the Tiwis to ban or restrict recreational fishing access. We understand the business imperatives behind this proposal but we'd like to see other management options discussed and implemented. Fishing bans create a bad taste in the mouth for Aussie anglers these days, especially those of us in the south who have endured a decade of largely unnecessary closures thanks to the politically-inspired marine parks we've been lumped with.
There's got to be a better way for the Tiwis to ensure their fishing lodges return the best possible profits. Putting a ban on anglers is not, in our opinion, the answer. Fishing in the NT is seen almost as a sacred right – is the negative fall-out that will doubtless result from this move going to be worth it for the Tiwis? We're not for one minute denying the Tiwis the right to self-determination nor trying to stymie their ability to develop and manage business enterprises – but you've got to wonder if proposing a fishing ban in the NT is a particularly wise move …
It would be better, in our opinion, to see a more satisfactory and workable solution nutted out. Ideally, this would happen sooner rather than later. For the record, Fisho's long-standing policy is that fishing bans – whether for marine parks or for any other reason – should always be a last resort. Even then we'd prefer that a ban be avoided …
Given all the hoo-ha over the Tiwi proposal, it's surprising that things have got this far.
The Blue Mud Bay Decision was made by the High Court four years ago – it's not as if no one knew about it. And speculation that the Tiwis were planning to do something to protect and maximise their fishing lodge businesses has been common knowledge for months. Given that the NT has led the way in proactive angling management for decades, we are perplexed as to why this issue wasn't sorted out by AFANT, the NT Government and the Tiwis from the start, (bearing in mind that the new CLP Government has only recently come into power). Surely some behind-the-scenes negotiations could have resulted in a win-win for all parties?
While AFANT represents NT anglers (and has historically done a bloody fantastic job in doing so), the potential ramifications of any possible bans on fishing in the Top End could also impact on anglers from around the rest of the country. It's no secret that sportfishing is a major tourist drawcard for the NT. Legions of anglers from the southern states and Queensland head to the Territory each year to either fish with guides or to embark on the ultimate DIY fishing adventure via their own boats and 4WDs. If this move by the Tiwis inspires other land councils to impose their own bans on fishing in rivers and coastal waters – as the Blue Mud Bay Decision seems to indicate they can do – then that could have significant impacts on the fishing activities of NT locals and visitors alike.
That sort of outcome probably isn't in the best interest of the NT economy – it's certainly not in the interest of anglers – and thus it is surprising that AFANT hasn't sorted a deal with indigenous groups and the NT Government to ensure fishing rights and access are guaranteed.
We understand that the NT Government has this week actually come out in support of the Tiwis' decision to ban anglers from parts of their waters. This is extremely surprising – and disappointing in that it's probably now harder for AFANT to get a reasonable compromise sorted out. It's hard to believe that any Territory political party would countenance a fishing ban – in fact, in our experience such a thing is unheard of. Just recently the NT Government showed its support for anglers by announcing major reductions in commercial netting for barra. Given that, and also historical opposition by NT governments of both political persuasions towards marine parks and other types of fishing closures, you'd think that any move to ban anglers would have been given short shrift by the Top End's political elite.
Times may be changing, however. The current Government owed its recent election win to a strong swing to it by the NT's indigenous population. Maybe its approval of what the Tiwis are planning is the Government's way of thanking the traditional owners for their votes?
While the NT Government's actions in supporting moves to ban anglers from Tiwi waters can only be considered extremely disappointing, at least from a rec-fishing perspective, AFANT's track record in working to ensure the NT has the most proactive fisheries management policies in the country makes its apparent inaction on this issue a bit of a mystery. You would think that AFANT would have made it a priority to work with the Tiwis to ensure win-win outcomes. Further, since this issue has the potential to create potentially divisive and contentious precedents, it would surely have been in AFANT's interest to negotiate with the Tiwis to establish an agreement that actually benefited anglers, not disadvantaged them?
While it's easy to retrospectively speculate what should and shouldn't be done, it remains perplexing why this critical issue has been allowed to get to the stage where bans on fishing will likely be enforced.
Let's hope for all our sakes that AFANT can sit down with the Tiwis and the Government and sort something out quick smart …
Jim Harnwell is the editor/publisher of Fishing World magazine.