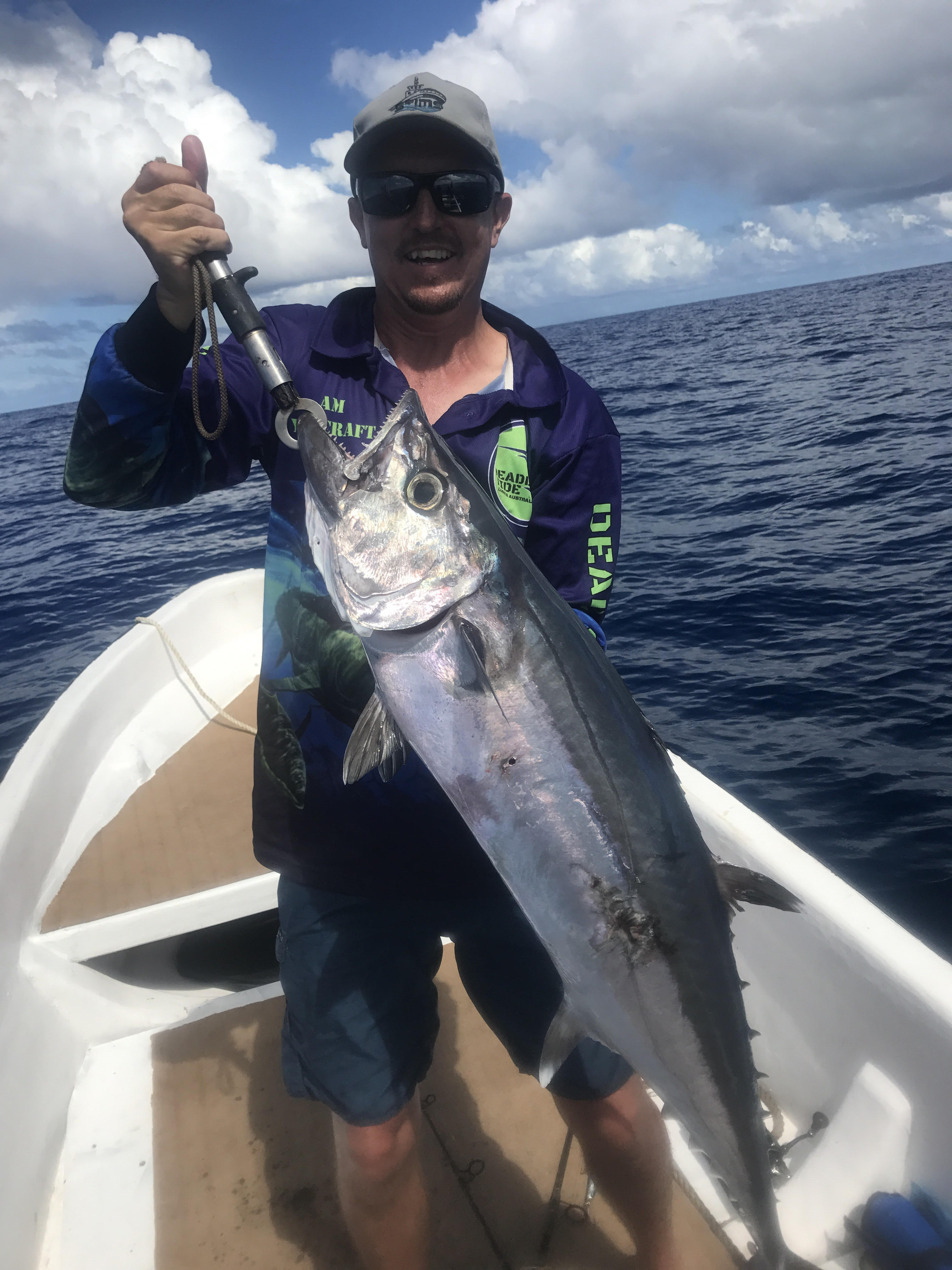 Lucky Fisho reader Damian Perry recently won a fishing trip to Papatura Island retreat. This is his story.
Flying in to Papatura we passed over some awesome coral reefs and sand cays and what seemed like a thousand ideal if tropical islands. The grass airstrip was a buzz and once getting off the plane we were greeted by our skipper and fishing guide Rolly, a local Solomon Islander who has been with Papatura Island Retreat for 5 years. He helped with our luggage and fishing gear, loaded it onto a Yamaha Longboat which would be our fishing boat for the next week ahead. A quick boat ride around a couple of small islands and we arrived at the retreat to be met by Bob and Kim with a fresh coconut ready quench a thirst. The first afternoon we had a walk around the retreat exploring the different scenery from the beautiful beach and reefs right out the front, to the dense tropical rainforest in which the retreat is nestled. What a spot!
Our first fishing day we started by throwing big poppers across the reefs searching for GTs, red bass and coral trout. I missed a solid GT while my brother Pedro ended up getting smoked by what we reckon was a large red bass. We returned to the retreat for lunch and then headed out again in the afternoon. This time we went for a troll towing different skirts and hard bodies, trying to catch either some Spanish mackerel or wahoo. We didn't have much luck and only had one bite through before we decided to call it a day and tow some skirts over the top of the shallow reefs on our way home. We boated a couple of bluefin trevally on our way back before settling in for a few cold beers and another excellent meal.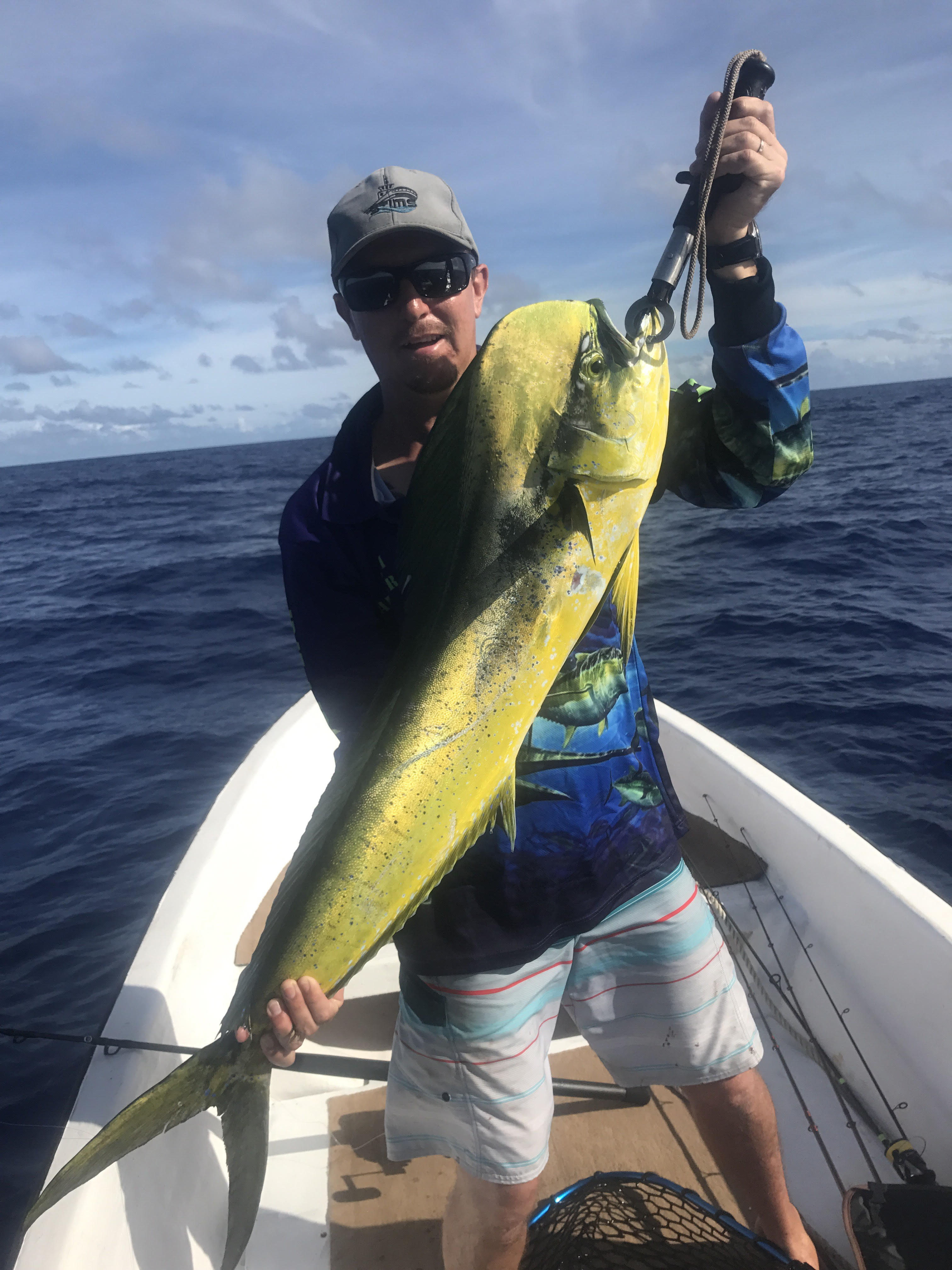 The next morning we headed in to the blue towing skirts and lures hoping for some tuna, mahi mahi or any other pelagics that would come along. Rolly took us to one of the FADS the professional net fisherman have placed well out to sea so we could get some action – and action is what we got! Pedro hooked a good yellowfin tuna, fighting it for 10 minutes or so before Rolly stuck the gaff into it and brought it aboard. Our first decent fish for the trip! It weighed in at 11kg so it wasn't a monster but it did open up Pedro's eyes to what we could expect.
We both hooked into a few big mahi mahi that were schooling up under the FAD before heading back for lunch. That afternoon Rolly suggested we hang back at the retreat waiting for the tide to push up the creek across from the retreat so we could go and catch some mangrove Jacks. Again he put us on the fish and we boated 14 big Jacks in under two hours. We targeted them on some fresh bonito that a shark had taken a liking to earlier in the day, a 6/0 hook and a small running sinker. Tight drags and some hand to hand combat ended up with more victories than losses, but we did fall victim to some really good fish that got to the snags and mangroves before we could turn their heads. What an afternoon! The best Jack fishing I had ever seen; big fish and plenty of them!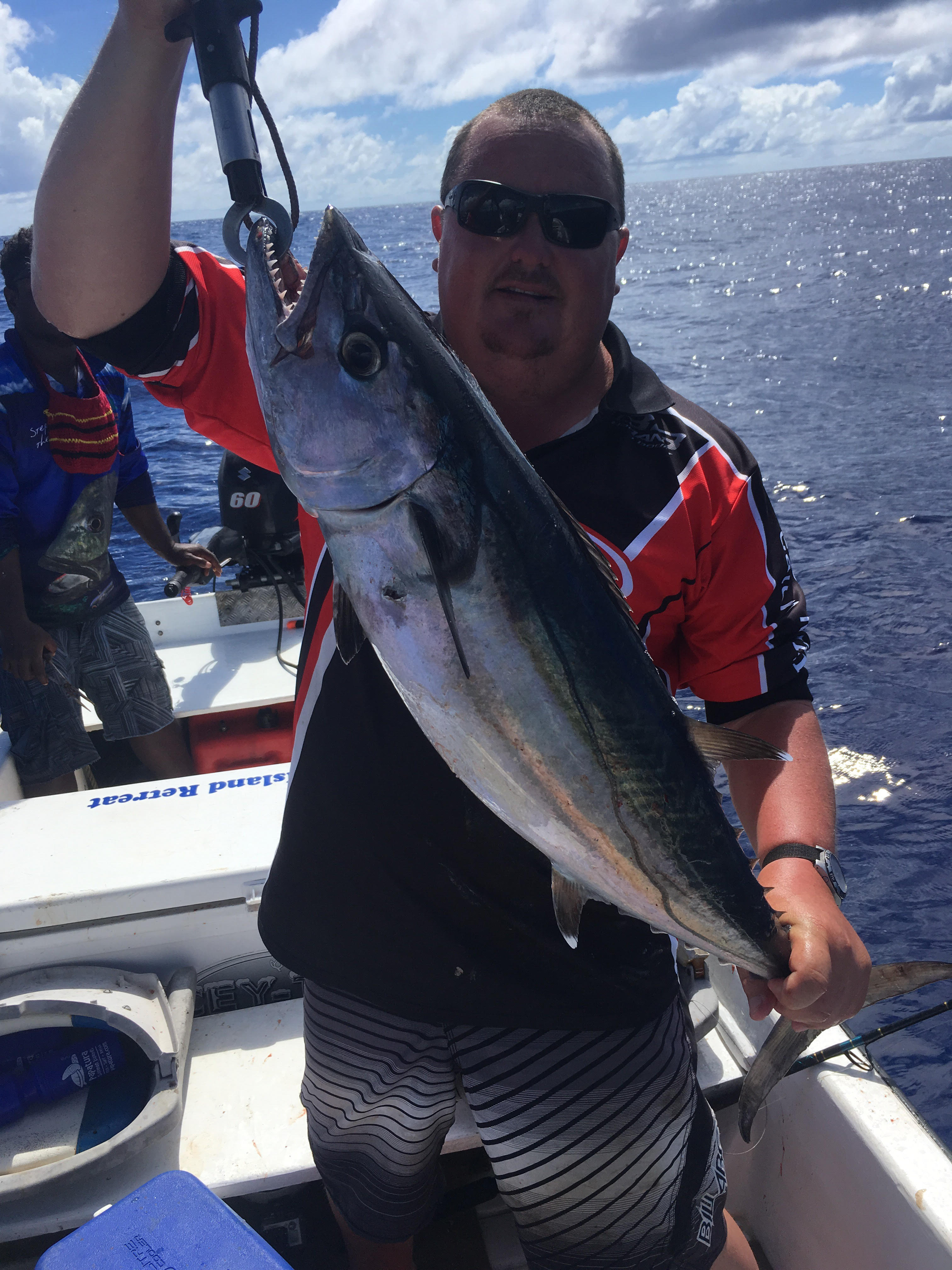 The best fishing we experienced was when we ventured right out to a sea mount that comes from 1000 m up to 7 m. We towed some 6 inch skirts across the top of this mount and instantly got double hookup after double hookup and some good sized rainbow runners. Once we had satisfied ourselves with these we swapped over to some Halco Laser Pro 190s and trolled the edge. Then, bang! Pedro hooks into a decent dogtooth tuna, which he boated shortly after. We ran back over the same area which produced a doggy for myself that was a bit bigger than Pedro's and which finally gave me some bragging rights. We then went out off the edge in search of some sailfish. Rolly the champion nailed it again, I hooked into a 29 kg sailfish, watching it tail walk across the surface before heading deep. We fought it for the next 10 minutes, in which time it didn't jump again and when we got it to the boat we realized why, it had wrapped itself up in my line and was coming up backwards. As Rolly put the gaff in a shark came along and tried to bite its head off, but with Rolly and myself wrestling it into the boat the shark had to swim away empty handed.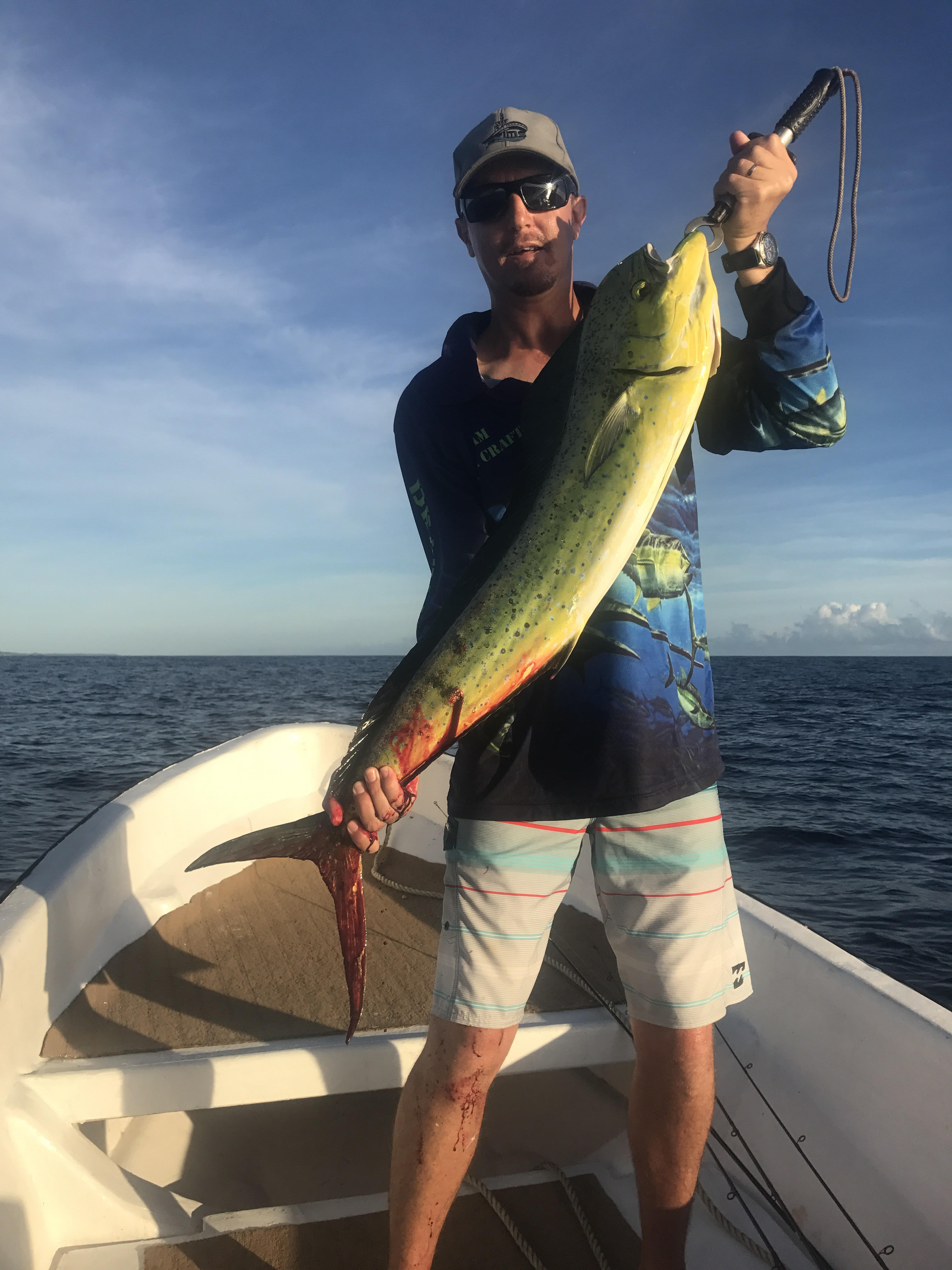 I was stoked, my arms were stretched and I needed a drink, but it wouldn't have been more than 5 more minutes of towing around the Laser Pro I hooked another sail. After a couple quick dances across the ocean this one threw my lure and swam away. We put the lures back in and away we went again, within 10 minutes I had hooked yet another sail. Again it hit the dance floor and busted some good moves, peeling line off my reel like I hadn't seen in a long time. This fish was stubborn and took the longest of the sails to get near the boat, where he decided he wanted to jump a few more times giving us a very close look at him. This brought him close enough to get a gaff into him. After this fish we lost a couple of lures to big sharks and decided to head home happy men.
We took the two sailfish to the local village where Rolly's family is from for them to share amongst the locals. It turns out we couldn't have timed it any better for the villagers as they were having a commemorative dinner for the passing of Rolly's grandmother that night, at which up to 300 people would be gathered. It was a great feeling to know we had helped with such an occasion.
The next few days we continued to catch large mahi mahi, different types of tuna, and jigged up heaps of coral trout, emperor and other reef species.
What a trip! I will be going back and taking some mates with me!