ALL keen anglers know the value of polarised glasses for providing a window into the fishy world – and for protecting our eyes from harmful UV rays. Having had (and lost!) several pairs of polarised sunglasses over the years, these Cyclops from Quiver HD don't look dissimilar to the many popular sunnies currently available on the market. They do, however, boast an extra feature that's sure to interest fishos and outdoor enthusiasts. More on that shortly.
At first glance, the Cyclops are of a similar style to the wraparounds active sports people like cricketers and golfers wear. As wrap-around frames tend to "stick" to your face, they are also ideal for fishing and boating. After a couple of outings out on the water in my Hobie kayak I found the Cyclops light and comfy to wear. The arms curve around the head and limit movement. For extra comfort, a pair of "soft" slip-on arms and nose piece are supplied. The lenses provide a protection rating to UV400 and come in a choice of two tints – dark brown or purple reflective – which are interchangeable.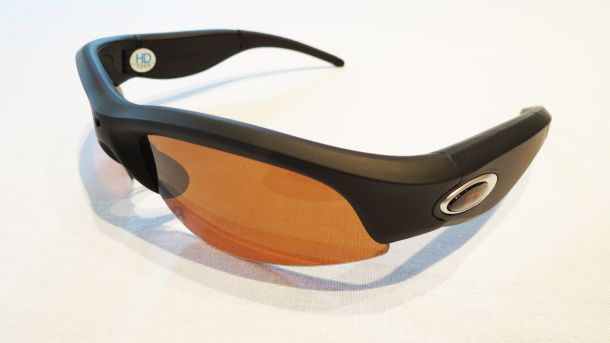 The review pair came supplied with the dark brown lenses, which I found to be a pretty good all round tint for on the water and for driving. They offered a good level of polarisation for cutting glare and had ample clearance underneath for airflow to prevent fogging. They also came supplied with a lanyard, protective cleaning bag and hardshell zip-up case.
The big feature of these sunnies is a James Bondlike HD 720p video camera that's discreetly located in between the lenses – hence the name "Cyclops" I'm guessing … The wearer switches the camera on and off via a button/brand logo on the left frame arm. Video footage is stored internally and doesn't require a memory card. The review pair featured 4GB capacity which should be good for around 70 solid minutes of recording in AVI format. Alternatively, 8GB and 16GB models are available for those who want more memory.
The camera is powered by an inbuilt Lithium-ion 400mAh battery that's recharged via a computer USB port. Footage is downloaded the same way and the lead also features AV connections for viewing footage on your TV screen. Using the Cyclops's camera couldn't be easier. Push the button on the left arm for two seconds and a green LED light comes on to signal recording is on. The green light flashes while recording. To stop recording simply push the button again. In practice this operation works pretty well, although the first few times I tried out the camera I found myself taking the sunnies off just to check if the camera was on or off! More time using the product would no doubt help here although I think an audible beep to signal camera activation would be a handy addition.
The first lot of test footage I shot was a bit erratic and jumpy, and it wasn't just because I was perched on a kayak. I'd basically forgotten I was wearing a camera on my head and I'd moved around fishing and paddling as per normal. The second time out the result was a lot better as I was mindful of not jerking my head around too much when the camera was actually recording … d'oh!
While the quality of the HD video is ideal for replaying your fishing exploits for mates and family, and for posting on YouTube, it's not of the standard of higher definition stand alone cameras – of which Quiver HD also manufactures a few examples – but then again they cost a fair bit more and don't double as quality polarised sunglasses! Either way buyers will get bang for their buck with a pair of Cyclops. They'll set you back around $179 and can be ordered online.
Also check out the Quiver range of Full HD cameras at quiverhd.com.