THE tuna fishing has ramped up in recent weeks off the south-east Australian coast, especially off popular ports such as Portland in Victoria where trailerboat anglers are enjoying some great bluewater sport.
According to reports from Melbourne-based tackle store Fishing Fever the tuna are firing off the Victorian coast with good numbers of southern bluefin being taken. While the fish have been a little flighty at times, they are commonly reappearing in different locations and ready to eat.
According to the guys at Fishing Fever, Trevor Wilson fished Portland last week and had a great session with a few mates where they landed 18 tuna up to 20kg in weight. The boys did very well using Black Bart Pelagic Breakfast lures in green and a new colour they are calling "Watermelon" – apparently it looks odd but the tuna seem to love it.
Rick Ziarkowski fished on Anzac Day week off Portland with a few good mates, who he took out on the tuna for the first time. The crew headed out the first day to find a mass of fish hitting the surface just behind Lowrance Rock. The guys managed their bag within no time, mainly single hook ups but on light gear and had heaps of fun. Rick said the best lures were the Rapala 20 in red head and Hollow Point Tuna Terrors.
The crew also headed out wide in search of sharks. After catching a heap of monster striped tuna, which they turned into fresh berley and bait, they managed to boat two solid blue sharks around the 70-80kg mark. They report that there were also heaps of tuna jumping around the boat.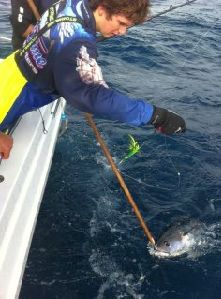 Matt Bolton from Reel Time Fishing Charters has also been getting amongst the tuna of late. He reports plenty of tuna about anywhere from "the Rock" right out to the shelf. The fish have mostly been in the 15-22kg range and having a liking for skirted Uzis and Micro Uzis as well as X-Raps in blue and purple. Once the fish have been located they have been providing great fun on cast one ounce Jerk Shads on light spin gear.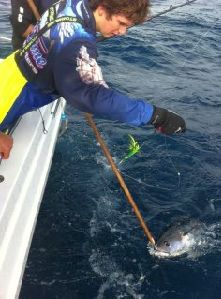 It's looking like another exciting tuna season ahead!