INSHORE structure is a broad term when you start thinking about the available fish-holding zones through our inshore waters. To reference inshore structure, we're grouping all the natural and man-made fish aggregation areas in our shallow marine waters under one title. These areas include natural structure such as shallow reefs, fallen or standing timber and channel edges, while on the man-made side we have jetties, piers, pontoons, bridges and oyster racks, to name a few.
All these areas will aggregate bait and offer cover for smaller fish, which in turn offers an ambush zone for predatory fish. Inshore structures are basically highways for life – and are rightly frequented by inshore fishers chasing a range of species. These species will vary depending on your geographic location and type of structure, but there is one constant – if you can pinpoint some obvious structure in shallow water, you're in with a good chance of finding some quality fish.
In this feature we'll take a look at some common forms of inshore structure for southern fisho's and will offer some tips on how to maximise your success when approaching this structure. Given the vast amount of natural and manmade structure dotted around our coastline, we can only offer a brief overview below.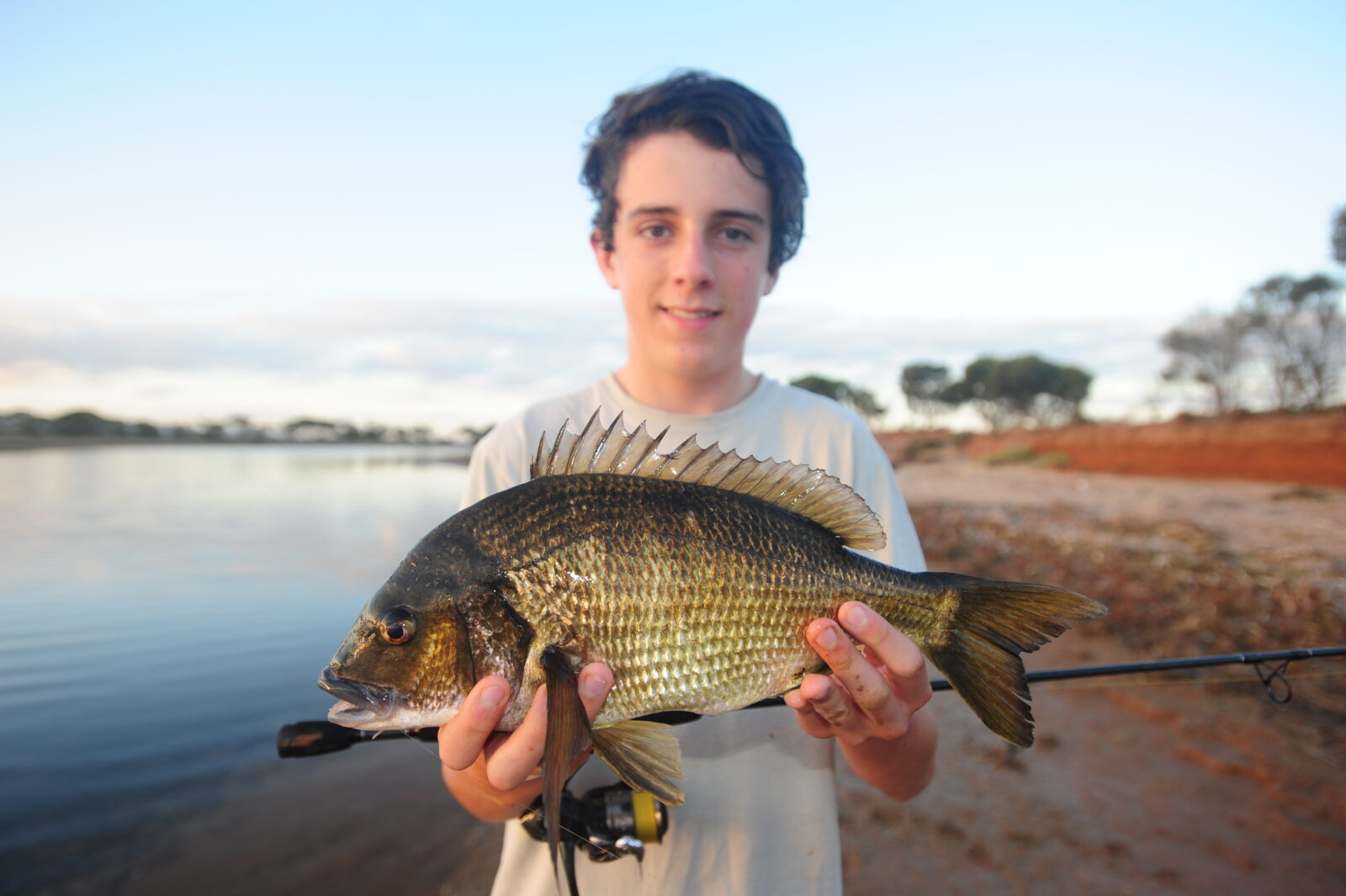 Manmade Structure
When you think of inshore structure, manmade constructions like jetties, bridges and oyster racks are often the first images that springs to mind. All of these manmade areas offer shelter, food and back eddies out of the main current flow – all of the ingredients required to attract and hold fish.
Fishing land based from a jetty or pier is often the first fishing experience for a lot of southern fisho's. These structures are easily accessible, and they offer a great location to learn the basics of bread-and-butter fishing. Drifting unweighted baits down into the labyrinth of pylons can bring good results on silver trevally, sweep and silver drummer, while baits cast into the sand holes fringing these platforms often yields tasty King George whiting – depending on location.
Calamari are another popular target while fishing from the planks, and although they aren't using the structure for cover as such, these jetties offer access to inshore weed beds where calamari often hunt. At night snook and calamari with often use the ambush zones under the lights to attack baitfish, and if you don't mind donning a jacket and a beanie this can be a productive time of day to be on a jetty or pier.
Bream love hanging under the cover of a jetty or bridge and are often seen milling around the pylons and crossbeams. For bream, these structures offer shelter and shade away from the daytime sun and respite from larger predators. Jetty and pier pylons are a good hunting locale for bream, with baitfish often seen holding in back eddies away from the current flow, plus barnacles, small crabs and shrimps living on the life-rich network of pylons.
Bream can be targeted land based from a jetty or pier by casting small soft plastics or vibes down amongst the structure. It can be awkward working a lure from height, but the rewards are there – especially around dawn and dusk. Small grub style plastics in the 50 – 70mm size work well on structure-oriented bream, with light jig heads in the 1/32 to 1/16oz offering a slow sink and natural presentation. We are spoilt for choice with soft plastics in the market, but some proven performers include Daiwa bait junkie 2.5" grub, Zman grubZ and Squidgie Bio Tough Wrigglers.
Targeting bream around these same structures but at water level in a boat or kayak gives the advantage of being able to cast right up under the structure. Working a lure at water level is always easier than at height too. With the aid of an electric motor or the stealth of paddle power, it's possible to quietly access and methodically work all likely holding zones of a jetty or pier. Small soft plastics work well from this angle, along with hard body lures in the 40 to 60mm size range. Hard bodies such as Daiwa Double Clutch, Jackall Squirrel and EcoGear SX40 are all worthwhile inclusions to your lure box.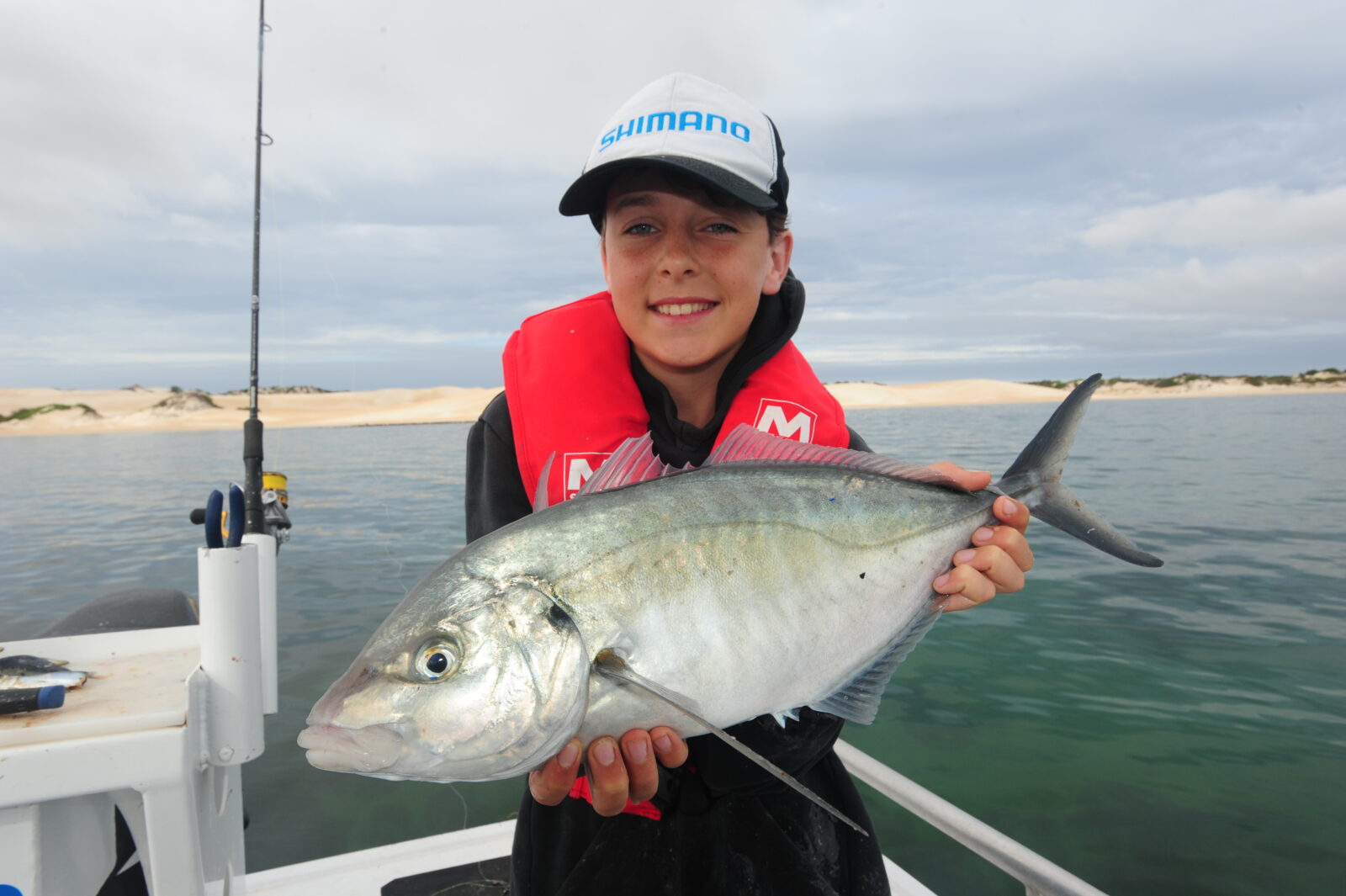 As well as targeting bream around the base of these manmade structures, other predators such as salmon, trevally and kingfish are often seen patrolling along the pylons in search of an easy meal. We often run a couple of diving minnows behind the boat and slowly troll around old structures like disused jetties and loading wharfs in search of some salmon or rat kings.
It's not just small kings which patrol this kind of structure though, with some big kings over the metre mark often seen hunting amongst the piles. Slow trolling a live squid on a downrigger is a gun method for tempting these bigger kings but converting a hookup into a landed fish is a real challenge around this heavy structure.
Road bridges crossing our estuarine rivers are different from jetties and piers with less underwater structure. Some older bridges have a network of piles to anchor the footings, but most have large concrete columns. Given that bridges span our rivers, these columns are influenced by stronger tidal flow than most coastal jetties or piers, hence creating more prominent back eddies. These pockets of low flow are often holding zones for baitfish and are known hunting zones for jewfish in our rivers. Dropping live baits such as a mullet, tailor, yakka or a squid against the back side of a bridge pylon can be an effective way of tempting an elusive jewie.
Also positioned within our coastal rivers and bay systems is the infrastructure of oyster racks. Many of the larger NSW river systems house oyster racks, and likewise in SA some of our larger tidal bay systems support lease zones for pacific oyster farms. All racks offer good structure and they break up the current flow across the flats and rivers with their network of posts, trays and hanging baskets.
Along the east coast, bream (mainly black bream in the southern rivers and yellowfin further north) are the main target with secondary species including tailor, flathead, yellowfin whiting and luderick. Casting small hard body and top water lures around these racks is an exciting form of fishing; but you need to be poised and ready to steer a hooked fish away from this structure – otherwise the fight will be over as quickly as it starts.
In South Australia fishing around our racks is a different prospect. Our oyster baskets are typically set on a post and longline system through our tidal shallow bays. This setting is quite removed from the estuarine environment of the east coast and offers a different set of species.
Casting or trolling small hard body lures around SA's racks often produces salmon, silver trevally, herring and the occasional bluespot flathead. We often troll 50 to 70mm hard bodies such as Daiwa Double Cutch or the DTD Gavun around the outside of the racks until some fish are found, and then we start casting at them. Trolling is a great way to scout an area until some fish are found.
Bait fishing is also an effective method around SA's oyster racks, and by dropping anchor away from the lease and casting baits back onto the flat near the racks, some nice King George can be caught during the cooler months, with garfish and herring during the warmer months.
There is a code of conduct when fishing around oyster racks – irrespective of location. Never tie up to any oyster farm infrastructure, or anchor inside a lease zone. Slow down as you travel past oyster racks to minimize the wash. If you are casting right up into the structure of a rack – especially on the east coast chasing bream – rig your plastic weedless or use barbless hooks on trebles to minimize losses within the racks.
In SA, each oyster farm lease zone is denoted by four St Andrews cross markers of which you must remain outside of. If you're courteous and keep your distance from the farmers while they're working, this will help to retain good relations between the oyster farmers and recreational fishers.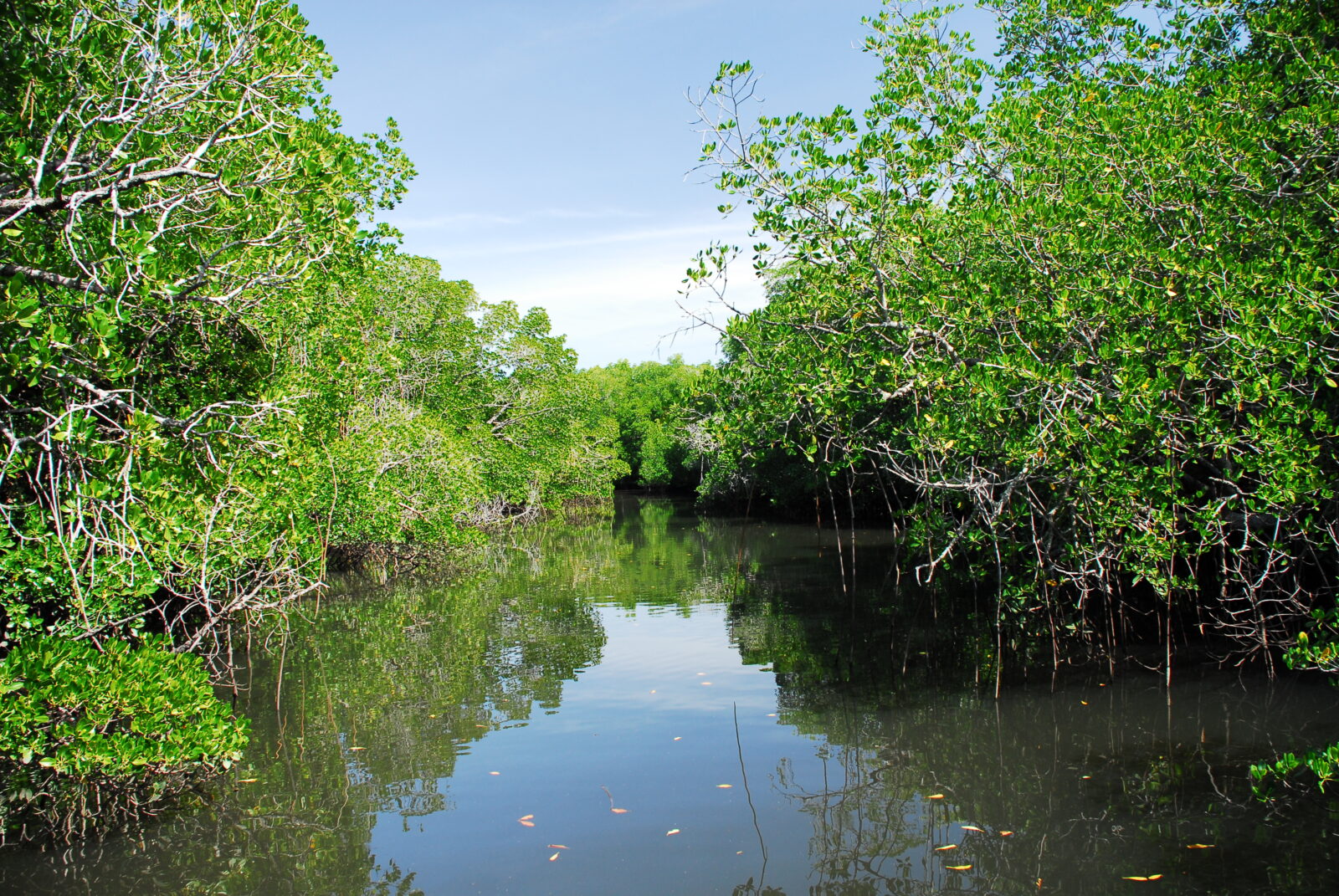 Natural Structure
Natural inshore structure can come in many forms, and includes shallow reefs, fallen or standing timber, mangroves, channel edges and rock bars. Basically any obstruction or formation that offers shelter and food through our inshore shallow water will have the ability to hold fish – especially if the surrounding seafloor or riverbed is largely featureless. Picture a grazing paddock in summer, if there's one tree it'll be surrounded by livestock and it's a similar story in the underwater world.
Fallen timber is a popular form of inshore structure in our coastal rivers and estuaries, and if you manage to find such structure it will likely hold some bream in the lower reaches or estuary perch further upstream. Both species can shy easily in shallow water, so approach these snags slowly and with caution.
The first couple of casts are the ones that count, with big bream wising up to fishing pressure quickly. I like fishing small curl-tail grub style soft plastics on a 1/32oz ball head for bream around fallen timber. Allow the plastic to sink all the way to the base of the timber, as resident bream will often hold tight and deep around these structures.
Similarly with mangrove-lined rivers and bays, the root systems of mangrove forests house a vast amount of life in the way of crabs, larval fish, prawns and worms, with species such as yellowfin whiting, bream, flathead and mangrove jacks patrolling these root edges looking for a feed.
Fishing mangrove lined estuaries is quite tidal dependent, with high tide and clean water preferred to be able to glide up over a sand flat and access the root systems. Casting small topwater or hard body lures around the root edges or into a prominent gutter draining from a mangrove forest will give you the best chance of success. Aim to fish along a lee shore to access the cleaner water.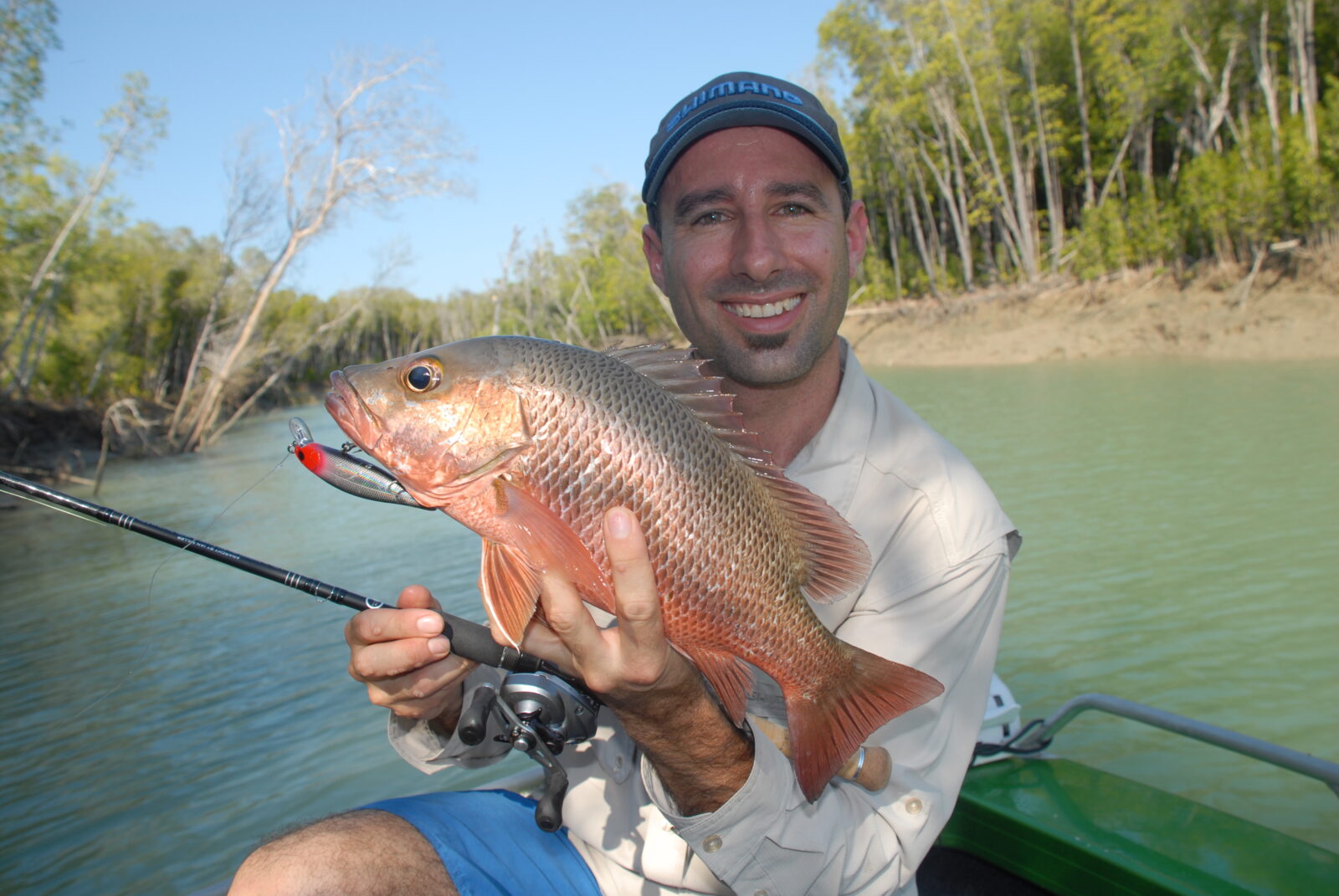 Prominent channel edges or gutters are some of our favourite forms of natural inshore structure in our larger coastal bays and river systems. These edges often hold a good amount of bait, which in turn attracts predatory species such as salmon, tailor, flathead and the occasional jewfish. Casting 100 – 120mm paddle tail style soft plastics such as the Bio Tough Fish, Berkley Nemesis or ZMan MinnowZ onto the high edge of these drop-offs and working the plastic down the tapering edge can bring good results.
And lastly, fishing along natural rocky shorelines and rock bars is another form of inshore structure worth prospecting. Some of these rocky shorelines house good oyster and mussel beds, offering food for big blue-nose black bream. We've had some great bream sessions fishing these tapering rocky shorelines, with the versatility of soft plastics being our preferred lure choice.
I had a land based session recently along the Derwent River in Tasmania, and late in the day I was sight casting to bream as they pushed into the shallows to feed around oyster beds – cool fishing. Don't discount land based fishing in our coastal rivers and bays too, with these rocky shorelines perfectly suited to fishing by foot.
Well that's a quick overview of fishing around some of our popular forms of inshore structure. These fish-holding areas are quite assessable to small boat and land based fishers and are a productive areas to concentrate time and effort.