SUMMER in the south is both an exciting and trying time of year for keen fishos. We have some exceptional fishing and a wide variety of species on offer at this time of year, but the fickle summer weather and busy holiday period can make accessing these summer options challenging, to say the least. Summer often sees heightened activity on and around the water, long queues at the boat ramp and breezy conditions, but by getting on the water early and beating the masses, you can still experience some first-rate fishing, and you'll often be home cleaning a feed of fish before the crowds even venture out their front door.
Summer in the south generally consists of long and warm days, and here in my home state of South Australia we experience sea breezes from the south east most afternoons. But having predictable winds allows you to plan your day accordingly; meaning if you launch early you can take advantage of a sunrise fishing session, before venturing closer to a lee shore to access calm water. If you are prepared to plan ahead and fish around the weather and crowds, then there are some hot fishing options on offer in South Australia during the summer months.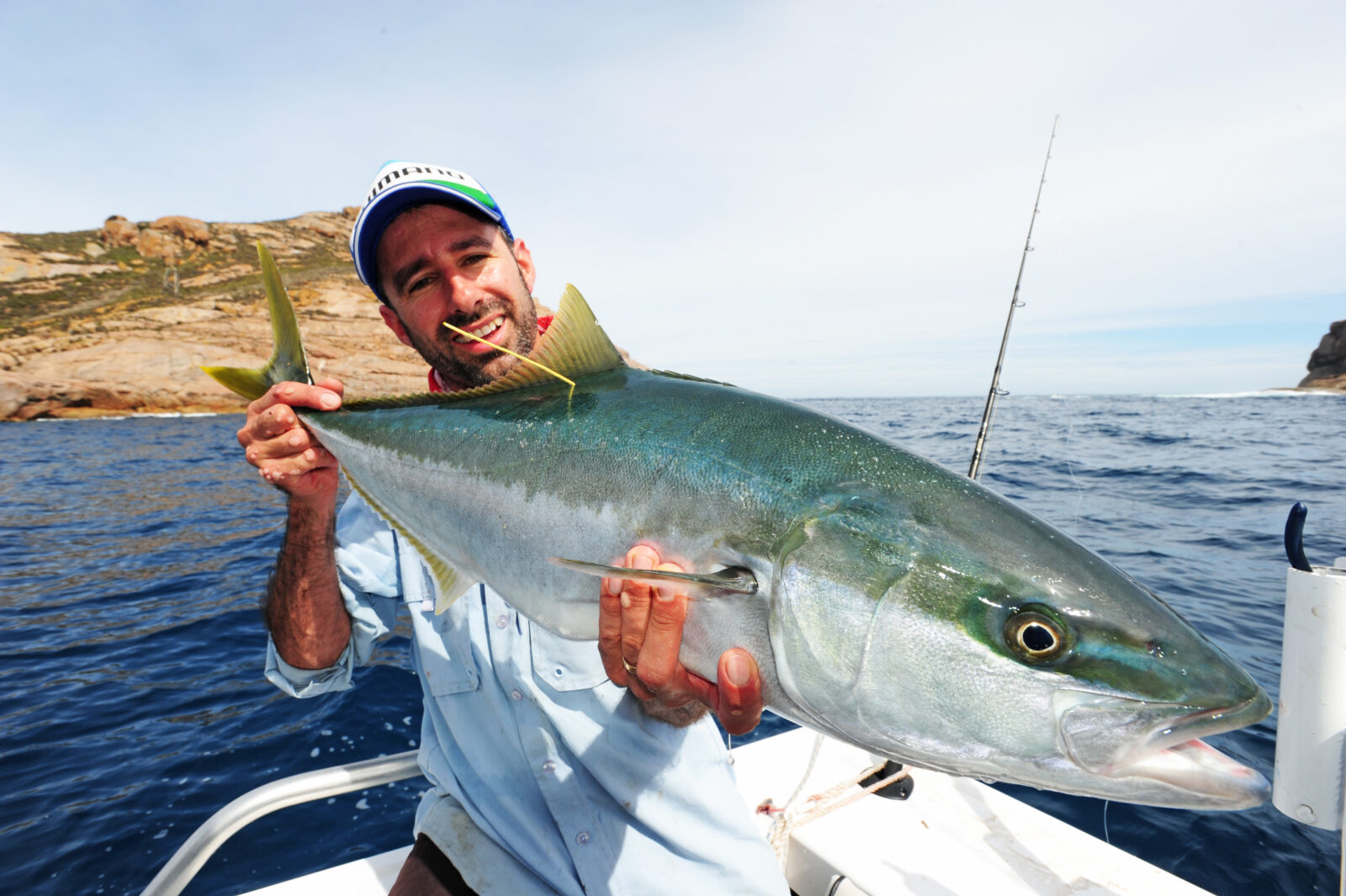 Inshore Action
Most of the boating activity in summer revolves around inshore bay fishing. Lots of family boats are pulled out the shed during this three-month period, and here in South Australia it's quite easy to access some calm inshore water and catch a feed of bread-and-butter fish.
King George whiting are the number one target for summer boaters, and although it's not the prime time of year for King George, you can still catch a good feed in the right conditions. KG whiting tend to hold over harder bottom during the summer months, and always respond better around the bigger tides, especially if the water is a bit stirred. Hard bottom and weed beds in the 6 to 12m depth range are always worth a look.
Last summer we had some good King George action around some inshore eel grass beds in our local area, but the fish were cagey and wouldn't start feeding until the last hour or two of the day. Laying a berley trail certainly helps to fire-up the resident whiting, but avoid over berleying as this can bring in unwanted species such as trumpeters and small jackets in the warmer months.
Southern calamari are another popular inshore target during summer, with good numbers found over shallow weed beds through our inshore Gulf waters and coastal bays. We target calamari a lot in the summer months, and by working these inshore beds we usually find a feed of tasty calamari to take home. This isn't just restricted to boat fishers either, the jetties and piers along our southern coastline also offer some good calamari – especially around the twilight periods at the beginning and end of the day.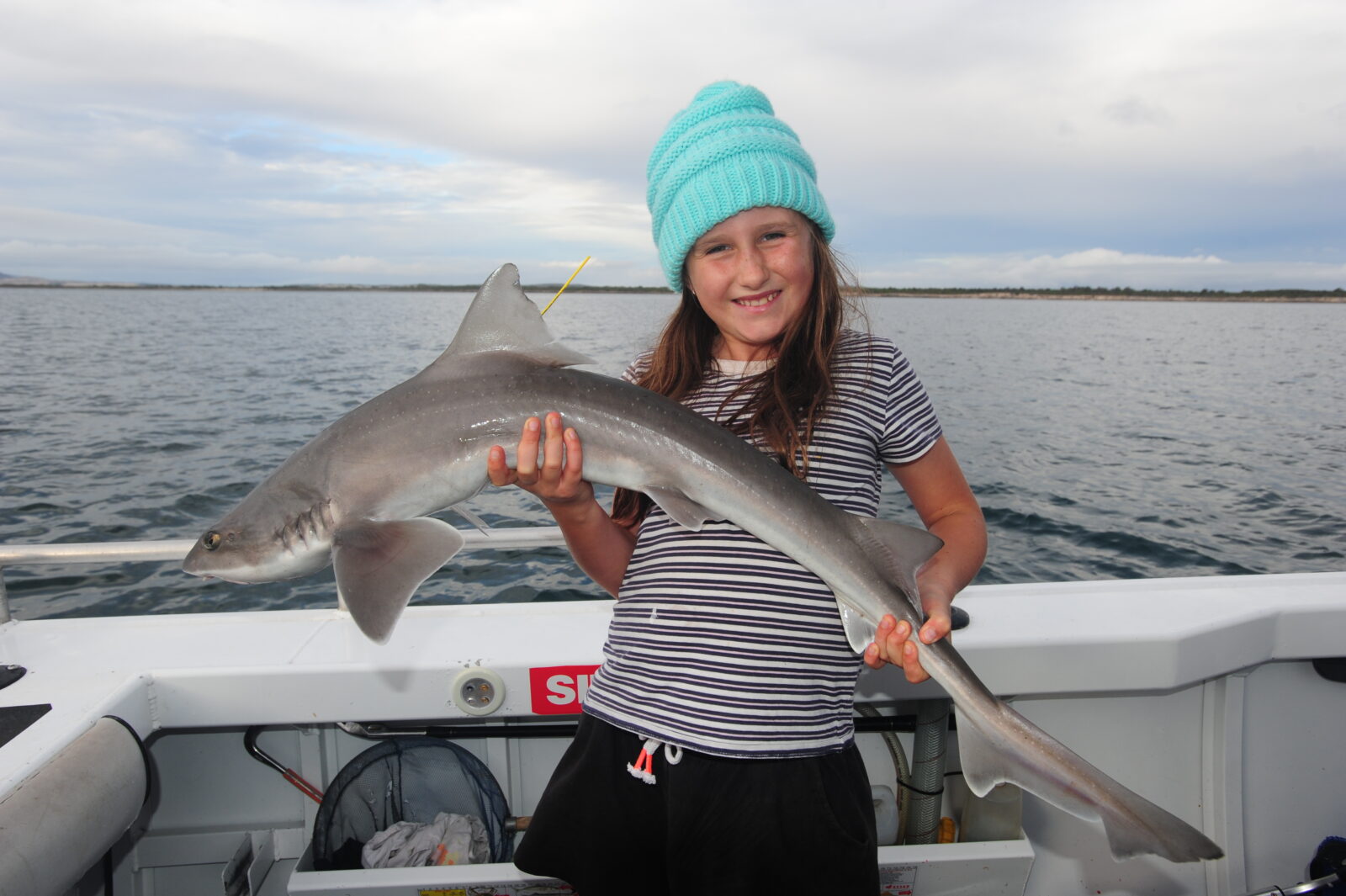 Garfish and herring are another popular bread-and-butter species in the warmer months and can be targeted effectively land based as well as by the boat brigade. Protected inshore waters right through South Australia are worth a look for these tasty shallow water species. Irrespective of location, setting up a light berley trail of bread, pellets and tuna oil works a treat and can be used either in a floating berley bucket or in a feeder float. Gents (maggots) are the number one bait for garfish, especially when fished on small size 12 hooks underneath a feeder float.
We spend just as much time fishing land based for gar and herring in the summer months as we do from a boat, with calm beaches and rocks fronting scattered eel grass a good location to look for garfish. Land based structures such as jetties, piers and breakwaters are other good locales to invest some time for garfish and herring during the summer months.
Another popular land based target through the warmer months are yellowfin whiting. These tasty shallow water species can be found along our beaches in Gulf St Vincent and Spencer Gulf, and offer a perfect family afternoon. While yellowfin can be targeted on soft plastics and small surface poppers, easier catches can be made on fresh baits including seaweed worms, clickers and green prawns.
Casting baits into the first depression along our Gulf beaches on a rising tide will give you a good chance of bagging a feed, and the whole family can enjoy the spoils of the beach at the same time. On the popular metropolitan beaches closer to Adelaide it's a good idea to hit the beach early in the morning or late in the afternoon to avoid the daytime swimmers and water activities.
As summer first rolls around, blue swimmer crabs start pushing into our coastal bays and inshore waters along our Gulfs here in SA. Early summer sees a higher proportion of females compared to males, and although it's legal to keep the females we defer our crabbing efforts until after Christmas when the females have thinned out and the males are around in better number and full of meat.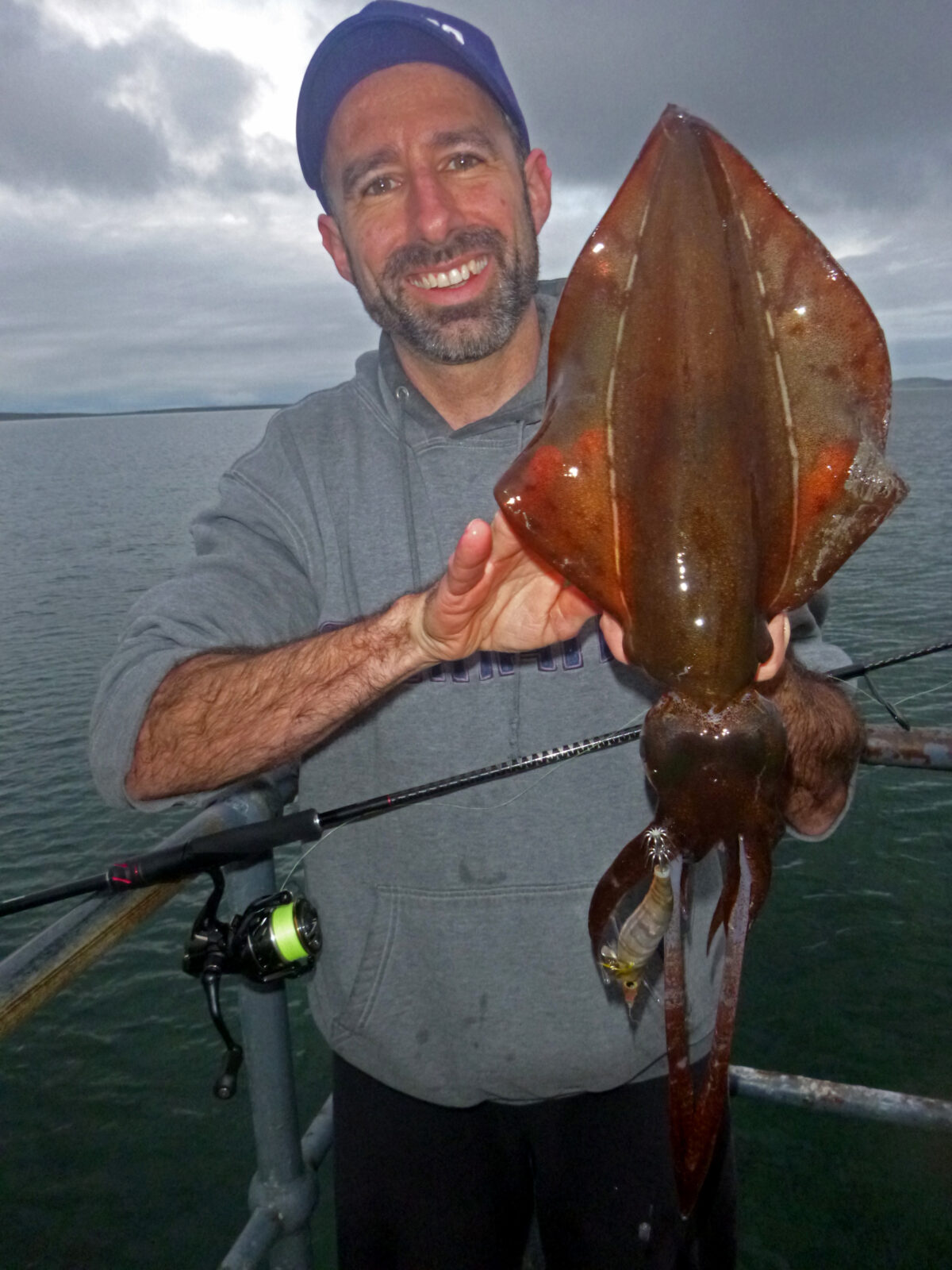 Crabs can be targeted by dropping hoop nets from the boat or jetties, or by walking the shallows raking as the tide is building. We really enjoy chasing blue swimmers in late summer out in the boat by working a line of hoop nets, and usually finish the day by pulling the boat up to a beach and cooking a feed of crabs while the kids are having a swim in the shallows – good summer fun.
With snapper still off limits in most of SA's waters, other species continue to take the place of our beloved reds. Targeting gummy sharks has increased in popularity over the past 12 months, with these inshore sharks a reliable option for small boat owners. Laying a berley trail and fishing fresh baits such as squid heads or fillets of mackerel, herring or trevally through the deeper holes and channels in our coastal areas is a good way of finding a gummy shark or two.
Targeting bronze whalers is another fun summer option right around our state. Small bronzies push into our coastal waters as the temperature begins to increase through November, and they offer plenty of sporting fun, with smaller bronzies offering reasonable table fare too. January and February would be the peak months for our shark fishing through our states coastal waters.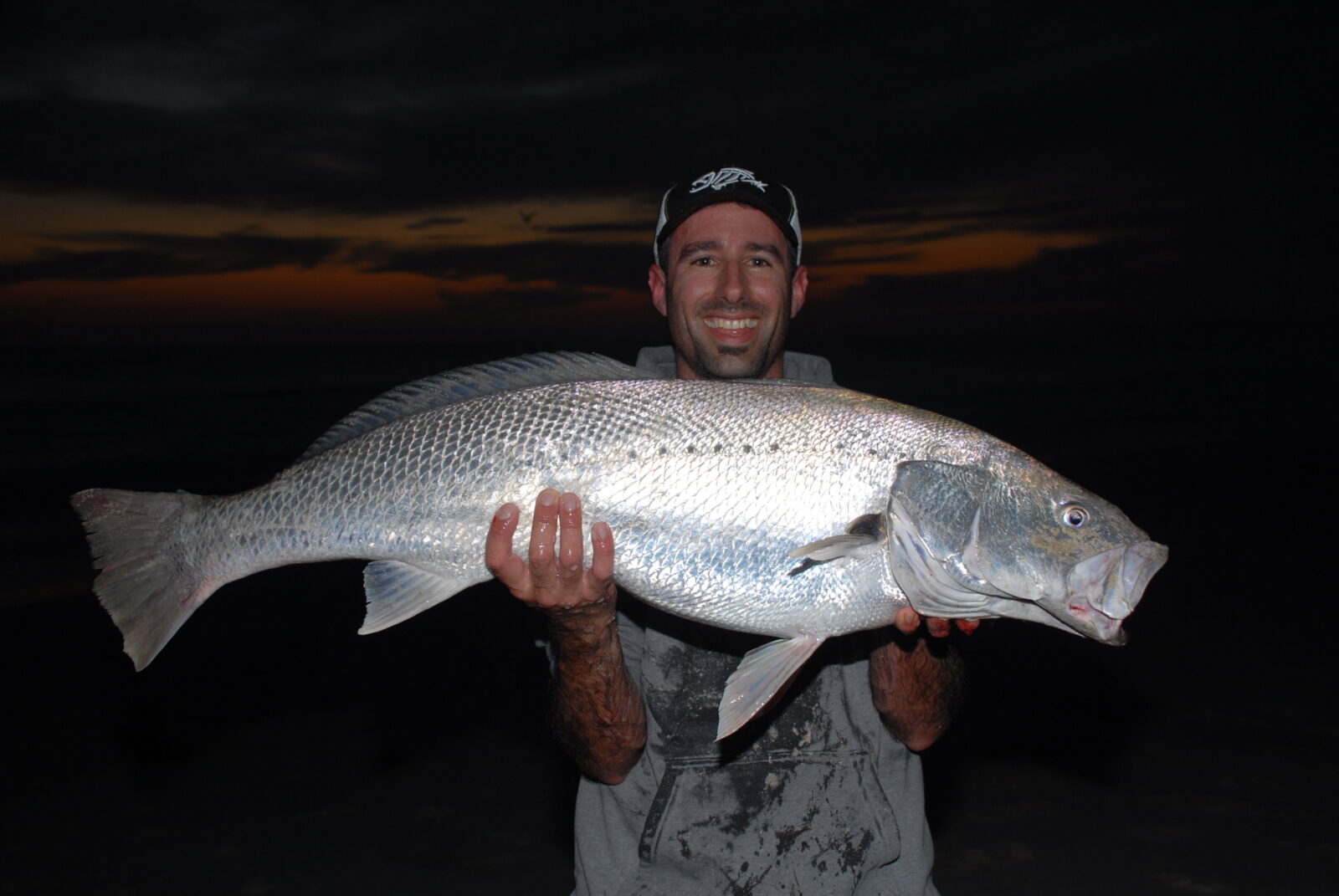 Offshore Action
Our bluewater scene here in SA is one of the summer highlights every year. Our offshore fishing kicks into gear in early summer and extends right through until middle of autumn. School bluefin usually push into South Australia's western waters historically in late November and extend eastwards over the following few months, peaking in January and February.
The majority of our bluefin are in the 8 – 20kg size range and offer plenty of action for seaworthy trailerboats. These bluefin tuna follow vast schools of baitfish, and hold up over our bluewater reefs and around our offshore islands on their eastern migration. The larger reef systems sitting in +40m of water outside of our Gulf waters are all worth prospecting for bluefin.
Trolling a spread of skirts or divers is an effective way of locating some tuna, with 160mm Halco Laser Pros along with 140mm Zerek Speed Donkeys a couple of our favourite hard bodies for school SBTs. If the fish are up on the surface and feeding on baitfish, then casting 100mm to 120mm stickbaits into the feeding melee works a treat and is a visually exciting way to connect to these offshore bullets. The bluefin migration has gone from strength to strength in SA over the past decade, and we're all hoping this coming summer is another good bluefin season.
Yellowtail kingfish from small rats up to big keg-class kings are found around our offshore islands and reefs during the warmer months. The islands and bommies along the west coast of the Eyre Peninsula offer up some summertime kingfish action, and so too the islands around the foot of Yorke Peninsula and around Kangaroo Island. We see a big variety of size with our offshore kings, and hence the tactics employed varies depending on the size of the fish targeted. Trolling hard body lures and casting stickbaits around whitewater can work quite well for small to medium sized fish, with live baiting and jigging accounting for some of the bigger fish.
Schools of small to medium sized samson fish are active around our offshore reef systems during the warmer months too, and can provide some hectic jigging action. And while we don't see the same numbers as compared to our neighboring Western Australia, we still see quite a few fish over the summer period, and they are definitely worthwhile targeting. And while vising our deeper reefs it is always worth bottom bouncing some smaller baits or micro jigs for tasty red snapper (Bight redfish).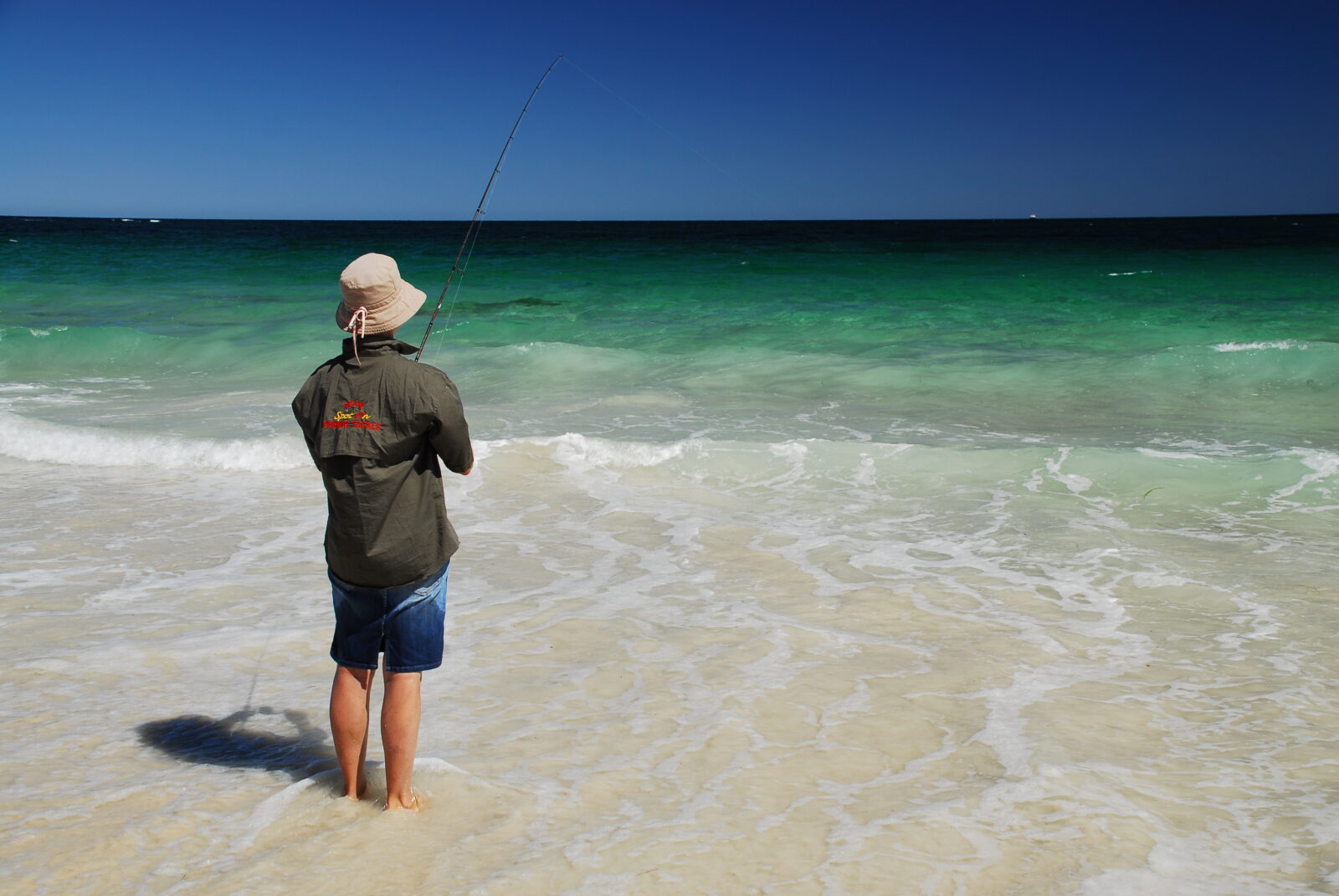 Surf Fishing
Summer is regarded as the peak time to target mulloway in the surf here in SA. The Coorong Ocean Beach, Goolwa, bottom of Yorke Peninsula and our famed Far West Coast beaches which extend to the Nullabor cliffs near the SA/WA border all offer silver slabbed mulloway from the sand. Our mulloway still demand time and effort – even during the peak months – with fresh baits of salmon, mullet, squid and garfish all giving you a reasonable chance of success. Try to pick a nice gutter of water within casting distance and concentrate your effort around the high tide. Soaking bigger baits will also account for some nice gummy sharks, school sharks and bronze whalers from our surf beaches, especially after dark.
Salmon are still around in the surf during summer – although not in the same numbers as found in the cooler months. The vast winter schools of salmon push away from our coastline as the water warms, but small pockets of fish can still be located. Spending a few days on a surf beach is a great way to spend a few summer days in South Oz.
There are plenty of summer options right around our state, and there's certainly no reason to slow your fishing effort just because of the increasing holiday traffic. If you try to concentrate your time away from the peak midday hustle and bustle you'll have a better chance of securing a feed.