For an angler, the mid- north and north coasts of NSW has just about everything; which is a big drawcard for me. Summertime is lure time, with bass, mangrove jacks, flathead, bream and whiting being favourite targets. Autumn means warm water and mackerel, wahoo and marlin. And then there's winter, whom many would argue provides the best fishing of the year.
The sweltering humidity of January and February has left us and the warmth of autumn turns to cool, and sometimes coldish mornings with offshore winds and fog spewing onto the ocean through coastal valleys. Mid-mornings see the removal of long sleeves and beanies until later in the day. Sunny sheltered spots might even need an angler to keep their fluids up. Southerners rag us out if we complain about the cold "What are you talking about, this isn't cold" they say with a grin! Victorians seem particularly comfortable with our winter weather.
Winter is the time when the autumn run of tropical sportfish are replaced by a variety of southern species, which to a fault, all taste great to someone. Luderick: bled, filleted, skinned and boned in light batter; Tailor: bled, filleted and smoked in hickory or banksia chips; Snapper: ike jime', bled, iced, filleted and skinned in crispy beer batter or Pearl Perch: treated like Snapper upon capture and cooked any way you like as they are almost fail-proof. For those who choose, there's plenty of Bream and Flathead as well as a variety of additional tasty reef fish i.e. Tuskfish and Teraglin and rock species such as Drummer.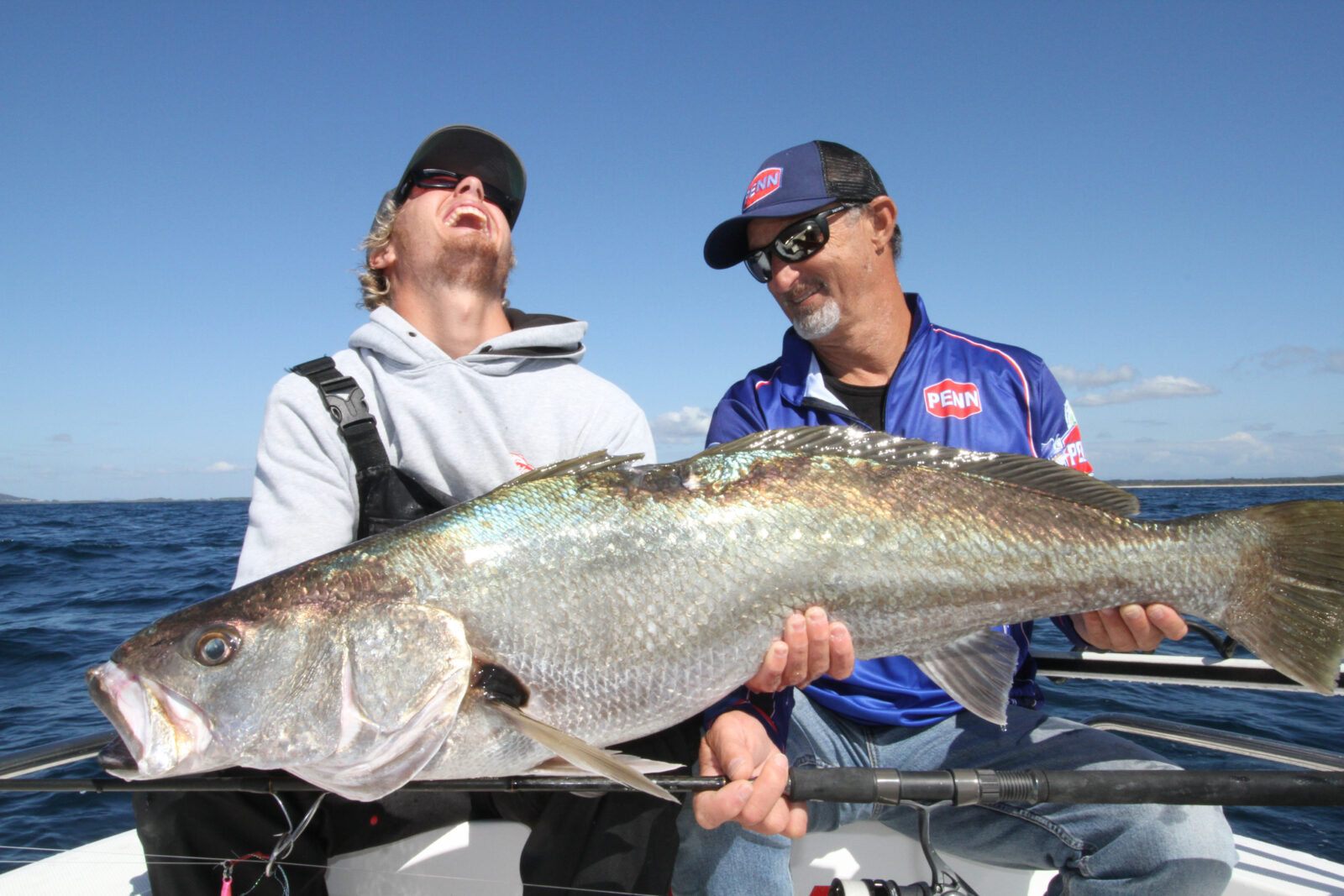 This is a vast and relatively unpopulated part of the coast, where small villages outnumber larger urban centres. The beaches are long and largely uncrowded. Small headlands are numerous and many are only accessible by scenic walks along beaches or up on over a series of grassy hills. The offshore fishing is as good as you'll find; although access can be problematic when swell heights are up over one metre, as river bar crossings and beach launches are the order of the day in many locations. That said, there are numerous sheltered corners on the northern sides of headlands with ramps and hard sand to simplify launching for those with access to a 4 WD. Provided there is some south to the swell, and it isn't too big that is.
Offshore
Offshore, winter is snapper time and I love chasing these fish over the shallow inshore reef systems. Most snapper are taken by either: soft plastics, slow-pitch jigs, float-baiting in a berley trail and bottom-bashing. Personally, I prefer to target Snapper using large, slow-sinking plastics or by slow-jigging. Like most anglers, I have favourite lures and colours: Berkley's 7" and 9" Jerkshads in Blue Pepper Neon and Lime Tiger, Daiwa Bait Junkie 7" Jerkshads in Baby Bass and Pilchard Glow, whilst Berkely Squid Vicious in New Penny is an alternate for quiet days. In addition, I always carry a few White/Pearl plastics in case I come across a school of Mulloway.
Slow Jigging is a further technique that is well-worth trying. There's no need for a specialist jigging outfit, at least whilst you are starting out, and many anglers stick with spin long term. The trick is to use the lightest weight jig you can on the day as lighter jigs sink slower and flutter wider than heavy ones. In most inshore conditions jigs in the 40g – 60g are fine, but the deeper the water and the more wind and or current, heavier jigs might be needed. I think that the action imparted on the jig and the type of hooks used are the keys. Snapper are attracted to the jig by movement and I assume flash, but they don't usually eat it until the action calms. Which is why I sink the jig on a tightish line (it may be eaten on the drop), then once it hits the bottom, lift it a metre or three and then actively wack it around for about five sec. before placing the rod in the holder. Works for me!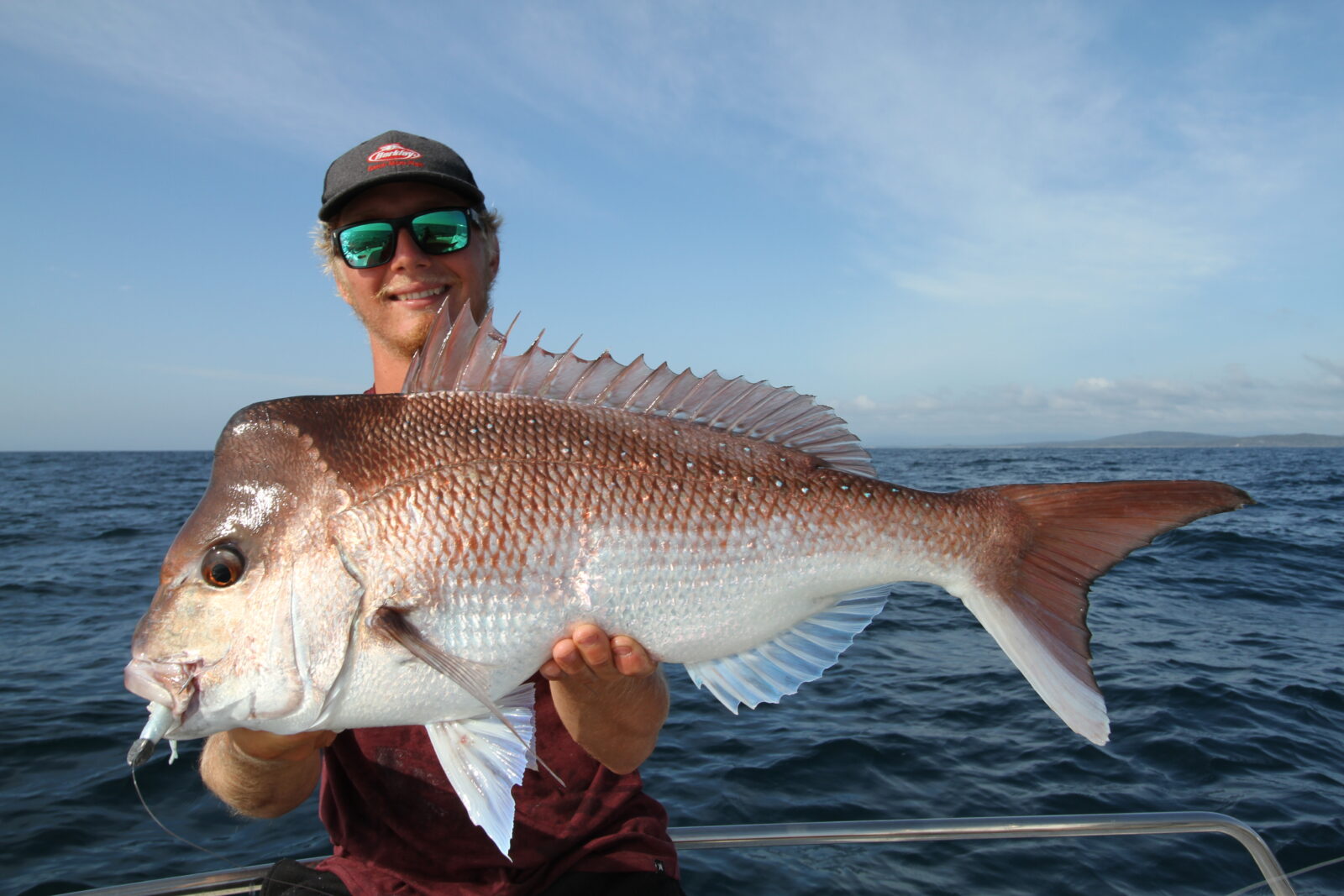 Snapper fishing usually involves bi-catch in some form. Pearl Perch and Tuskfish are the most prized surprises of all, whilst Sergeant Baker and Red Rock Cod are less so; which is a shame because I seem to have perfected the art of catching the latter two; although SB fillets are a kelpy favourite at my cleaning table. The instant I call 'Baker's' the dogs come running!
Winter is when Kingfish come on in numbers and Mulloway are always a possibility on the wider, deeper reefs. They'll be found hanging adjacent to steep changes in reef structure, be that a vertical edge, pinnacle or deep water against island wash, and if you find bait in these locations, chances of success skyrocket. The ability to 'spot-lock' on top of the structure and or bait is far easier than anchoring, but if not, drift fishing is ok. Consideration of the strength and direction of current is another important factor as these fish will hold on the up-current side of structure in the pressure points caused when the water flows into the structure. Fishing live baits (e.g., Slimey Mackerel, Yellowtail and Pike), on a paternoster rigged with a large snapper lead is a popular method for bait fishermen, whilst lure anglers stick to knife and slow jigs.
Rock and Beach
If you are after a slice of solitude with the back drop of beautiful natural scenery, then the rocky headlands and beaches might be just the answer. Beach and rock fishing hots up as the days and nights cool. Bream come in to spawn and Tailor and Mulloway arrive in gutters and washes. Expect some decent walks to good rock fishing territory and take care as the rocks up this way are rarely kind, rather nasty and uneven igneous types. Drummer, Luderick and Groper come on the bite during winter and the same techniques used down south are applicable further north.
Four WD's are not essential for the beaches, although a beach driving permit is, but they make life much easier. Low light periods and during the night are the most productive times to fish and fresh bait helps further. Beach worming is a great way to spend time on the beach with the family and is without doubt THE bait for school Mulloway. Use gang hooks with WA Pilchards or Garfish for Tailor, pieces of the same for Bream and for big Mulloway, small live tailor or the crushed head of a larger tailor … although I hope you release the big ones after a quick pic!
Estuary
It's during winter that estuaries fill with schools of Luderick and Bream, both of which have a solid local following amongst anglers. Both species leave their estuaries to spawn in the surf of beaches close to the mouth of the estuary they have just left. Fisheries research indicates that they both species move predominantly in a northerly direction during spawning and therefore the estuary they enter after spawning might be the next estuary north. Of further note, I once asked a commercial estuary fisher why the previous winter's Bream fishing had been poor and he suggested that they didn't come into our river because the channel through the bar was at a north / south angle and to get in, the Bream would have had to swim south, which they don't like to do. He added that the Luderick fishing was good because Luderick will swim south. Interesting!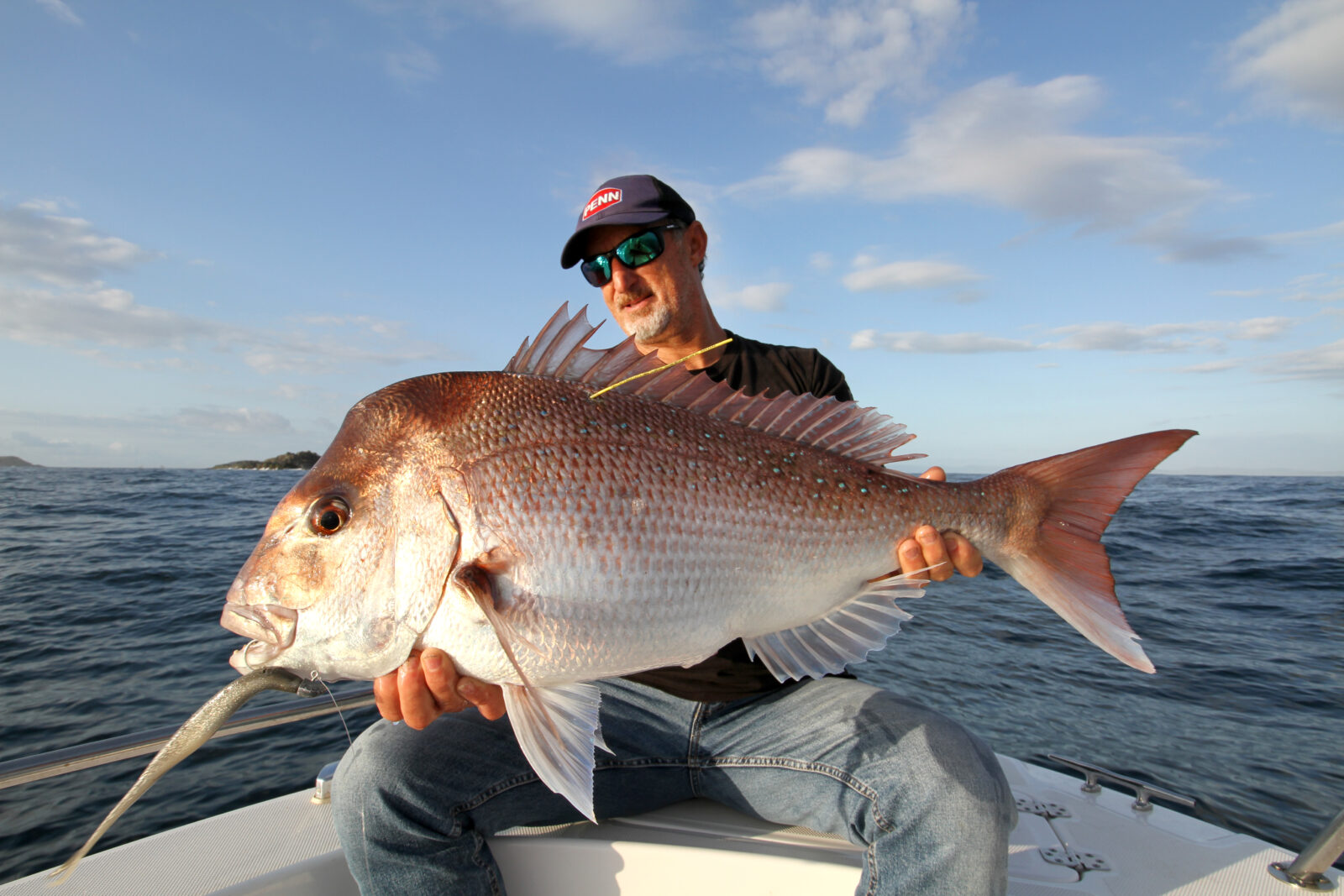 It is an understanding of their spawning behaviour that is required in order to understand where they should be at any given time. With their main driver being spawning, winter Bream and Luderick congregate in the lower reaches, along rock walls located in the vicinity of the river mouth, with prime locations being eddies at the point where submerged rock meets sand The best fishing is around tide changes as the current slows as the tidal flow can be very strong, making them hard to fish.
Luderick spots are easy to find if you look for a congregation of Echidna – like quills, which as you get closer become the long, long flexible rods used by senior Luderick anglers. As most of these folk are past the point of competition they are easy to chat with, and whilst they won't give up their special rock, will be happy to give you the 'good oil'. Don't be surprised if you come across a lady angler with more fish in her keeper net than the men because some of the best anglers are woman … I suspect it's more common for the ladies to pay close attention to detail than the men!
You'll need to work out if it's the low tide or high tide change that is fishing the best, and take note of what type of weed they are using and how deep their floats are set. The hardest thing to organise might be the weed because it's not as prolific as it is further south. If you can't or don't want to buy it, take a walk around the local rocks. Look at all the pools and crevices when you do as it might be a case of finding a small weed 'garden' rather than large, easy to see expanses. Visit at low tide and be careful.
In northern NSW, the Bream we catch are Yellowfin Bream (Acanthopagrus australis) as opposed to the Black Bream found further south. Like Luderick, they school up in the lower reaches and rock walls and submerged reef (many of which were formed when sailing ships jettisoned ballast rocks in order to move further upstream).
These fish are typically a white silvery colour and they are in great condition. The technique for bait fishing is quite simple as it involves a small ball sinker directly above a 1/0 hook. Live pink nippers, peeled prawn and small strips of fish bait all do the job as long as the bait drifts slowly with the current. For fishing from the rock walls, simply cast about 10m up current and with a 'tight' line, let the bait drift 10m downstream of you. When you feel an enquiry, lower the rod tip, count to three and strike. It doesn't take too long to be able to fish near the rocks without snagging up, but expect to retie a few hooks. Fishing out on the sand with an anchored bait might save gear, but your catch will be reduced.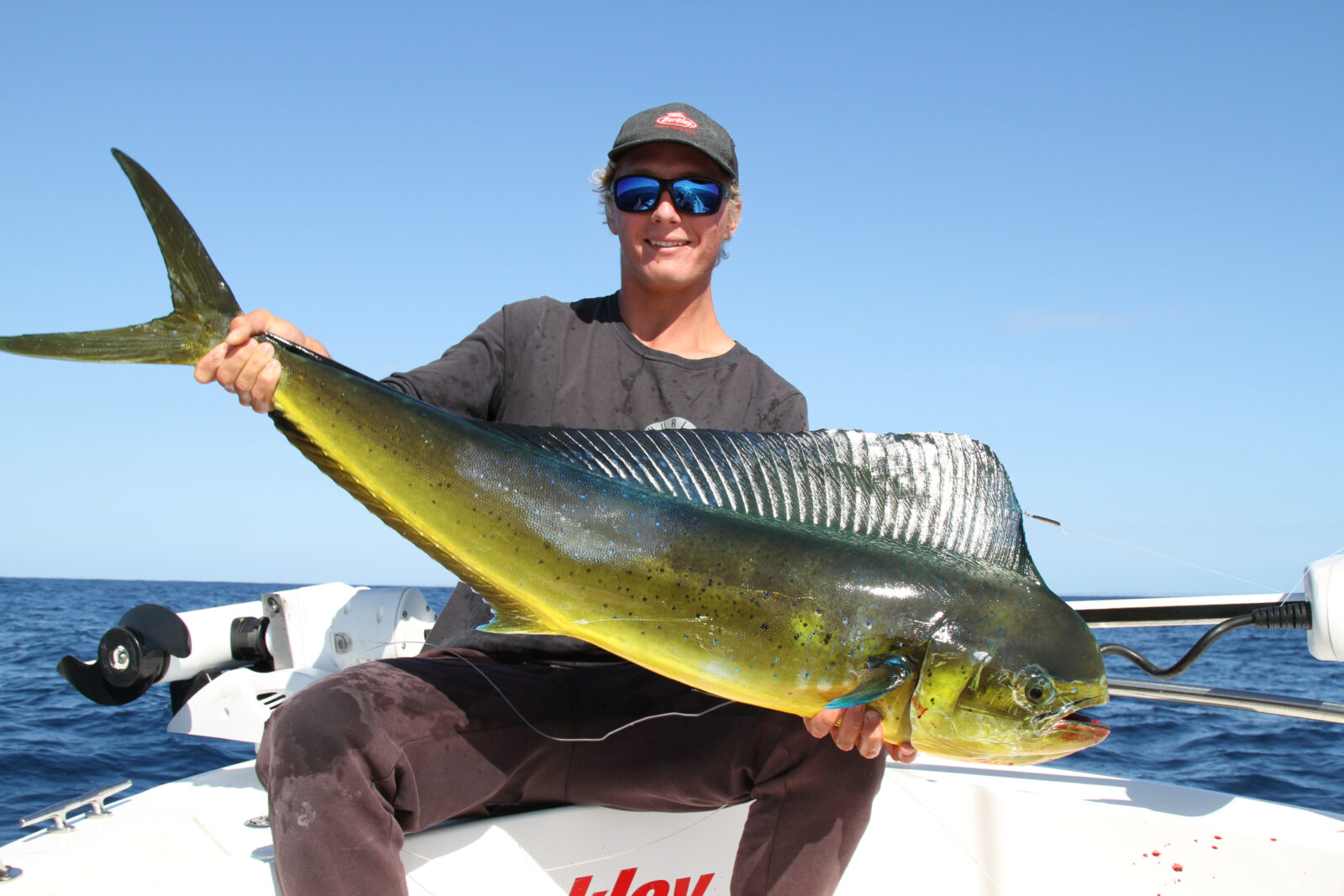 Boat fishermen catch plenty of fish along rock walls by placing an anchor wide of the wall and then another on the wall so they can position themselves just wide of the submerged rocks. They used heavier sinkers above a long trace to the hook and cast into the zone and wait for the bite. The walls fished are usually the smaller "training" walls found upstream from the main wall because these areas often lack the tidal strength found on main walls, making anchoring and de-anchoring easier.
Winter is when the large "white ghosts" appear in numbers, and if there was any species, I'd choose during winter it would be a 20kg+ mulloway. An understanding of the movements of mullet, bream and luderick is key here, and by targeting these fish in areas where prey fish are found during a nocturnal tide change, you may just connect to the fish of a lifetime.
Large hardbody lures (150mm +) and soft plastics are a great way to catch winter mulloway. Like any form of mulloway fishing, it's about persevering during prime-time windows, which for a holiday angler might mean a two-hour trip every night. Large baits such as live mullet, fresh (unfrozen) squid or slabs of Bream or Luderick are the go. The technique is like Bream fishing … running sinker above a 10/0 hook and put it near the rock/sand interface, but leave it out as long as you think you have bait in order to minimise snagging.