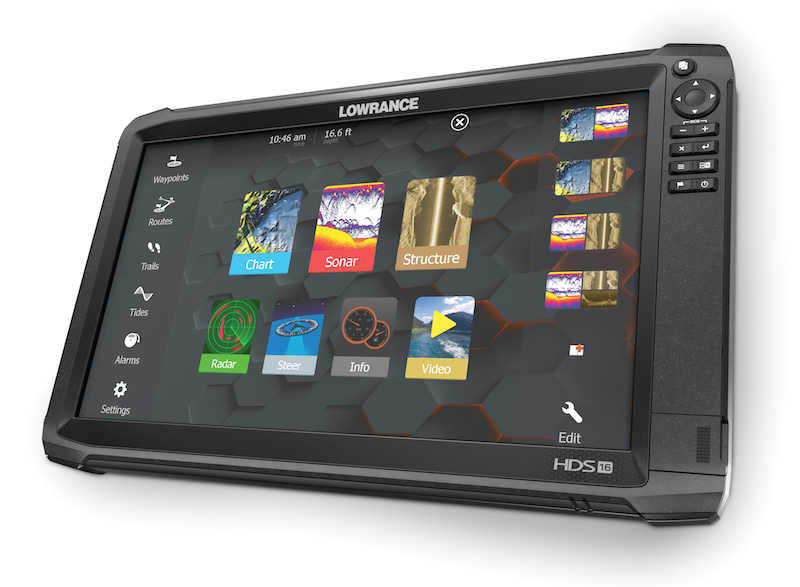 LOWRANCE has announced the production of the largest fishfinder/chartplotter it has ever produced, the HDS Carbon 16.
Lowrance says the 16-inch high-definition screen on the HDS Carbon 16 display provides an even bigger stage to showcase the clarity, high resolution and superior target separation of SolarMAX HD technology, exclusive to the HDS Carbon series. Setting up a four-panel split on the HDS Carbon 16 gives anglers the equivalent of four seven-inch screens on a single display.
Anglers in the market for a do-it-all, integrated system need a processor that can smoothly drive high-tech features like StructureScan 3D and Lowrance says the HDS Carbon 16 delivers on that front with a dual-core processor that allows anglers to switch between applications and simultaneously view independent sonar feeds with ease.
Lowrance SolarMAX HD display technology features high-definition (1920×1080 resolution) views and clear visibility in all conditions with the widest available range of viewing angles – even when wearing polarized sunglasses. The new displays feature 1920×1080 HD resolution and are engineered to withstand higher temperatures than conventional units, offering enhanced reliability in warmer climates.
With prices starting from $6,799 (inc. GST) the HDS Carbon 16 – and the entire HDS Carbon range – will be available in May, 2017.
For more information on HDS Carbon displays, the HDS product family or the entire Lowrance line of marine electronics visit the website.