AS reported on Fishing World last week, Evinrude has expanded its G2 line-up with the unveiling of its 150, 175 and 200hp outboard range at a global product launch and international dealer conference in Milwaukee, Wisconsin.
Dealers and media from across the globe heard from BRP executives and engineers during a high-energy unveiling at the Milwaukee Theatre. Marine media and dealers were given an opportunity to test drive the latest range in a nearby freshwater lake before and after the official launch. The test driving also involved side-by-side comparisons with competing engines.
Recently appointed Australian Evinrude distributor Telwater also featured on stage showing off a Quintrex Cruise About fitted with a 150hp G2 in the latest Ice Blue colour. Those in the audience also watched a video profiling the Aussie success story.
The new models follow 2014's major Evinrude G2 announcement and carry the same bold design and unique features in a smaller and more popular power class of outboard.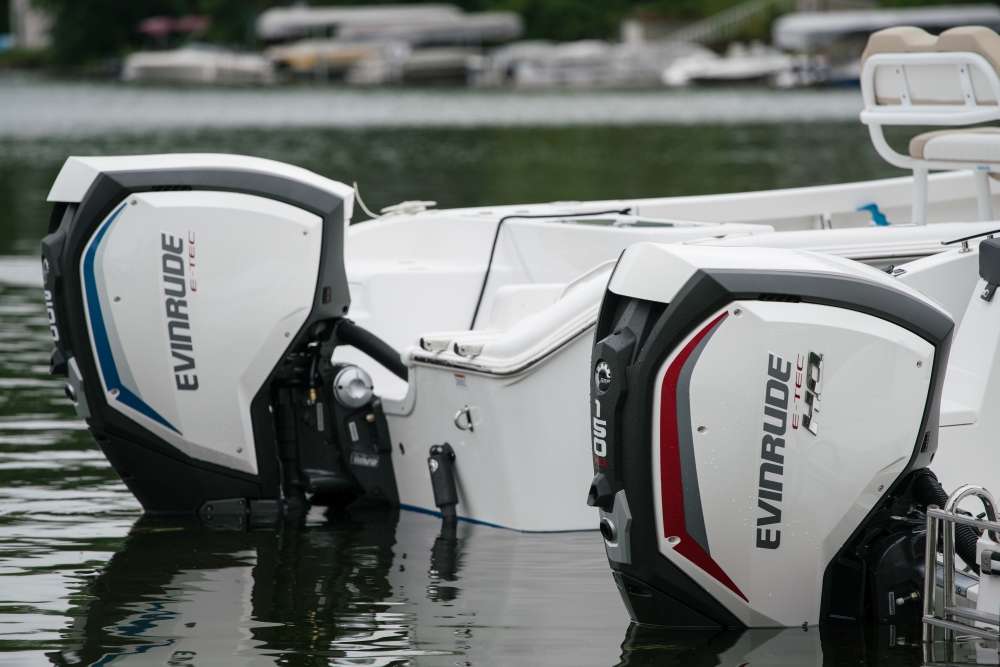 Features
Evinrude claims the new E-TEC G2 models deliver up to 30 per cent more torque, up to 15 per cent better fuel efficiency, and up to 75 per cent fewer emissions compared to competing four-stroke outboard engines. They're powerful, quiet and incredibly clean.
Evinrude has reduced emissions by a whopping 92 per cent compared with old technology carby two-strokes. More relevant is its excellent emission rating compared to the G2s nearest competitors.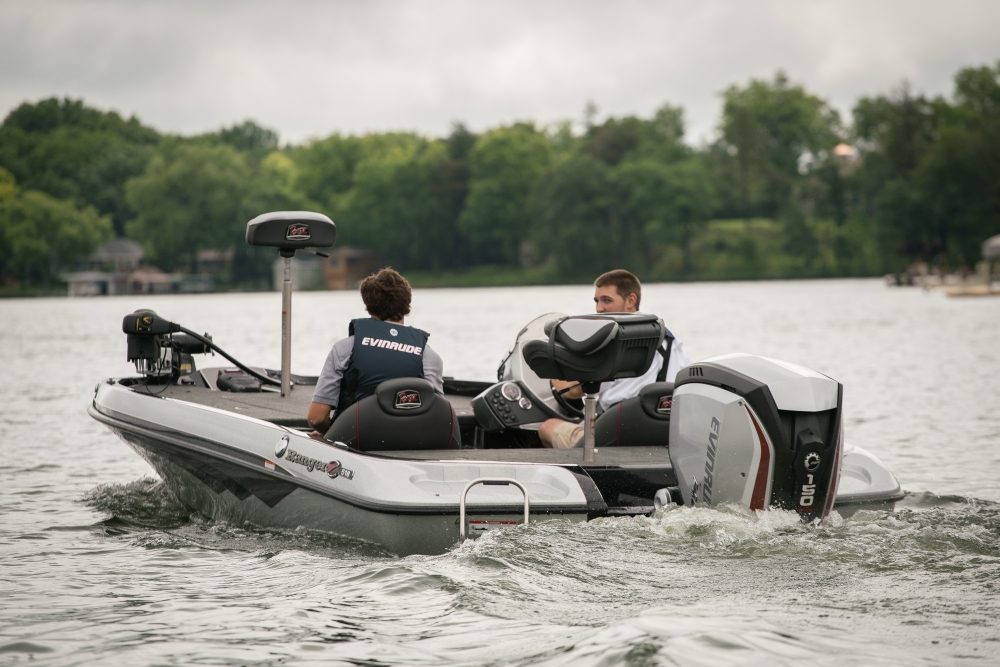 The latest G2 range has optional Dynamic Power Steering and come standard with I-TRIM, a system which allows simple automated engine trimming. The Dynamic Power steering is built into the mid-section of the engines which simplifies rigging for a cleaner transom. On the water these new features really simplify driving in any conditions and offer added safety and reassurance for boaters, especially those with less experience.
BRP emphasised the G2 range features the very latest in outboard technology and is designed to elevate the boating experience into a new era reminiscent of modern car technology. What that means is there are few optional extras that complicate the buying process and cost extra when setting up a boating package. And while Australian pricing isn't available, Evinrude suggests the engines will be highly competitive, especially given the standard inclusions compared with competitors' outboards.
The new range weighs between 240 and 245kg, depending on configuration. And while this is about 20kg heavier than most of its competitors' engines, the inbuilt power steering and oil container account for much of that weight, which would otherwise be housed on board the boat anyway.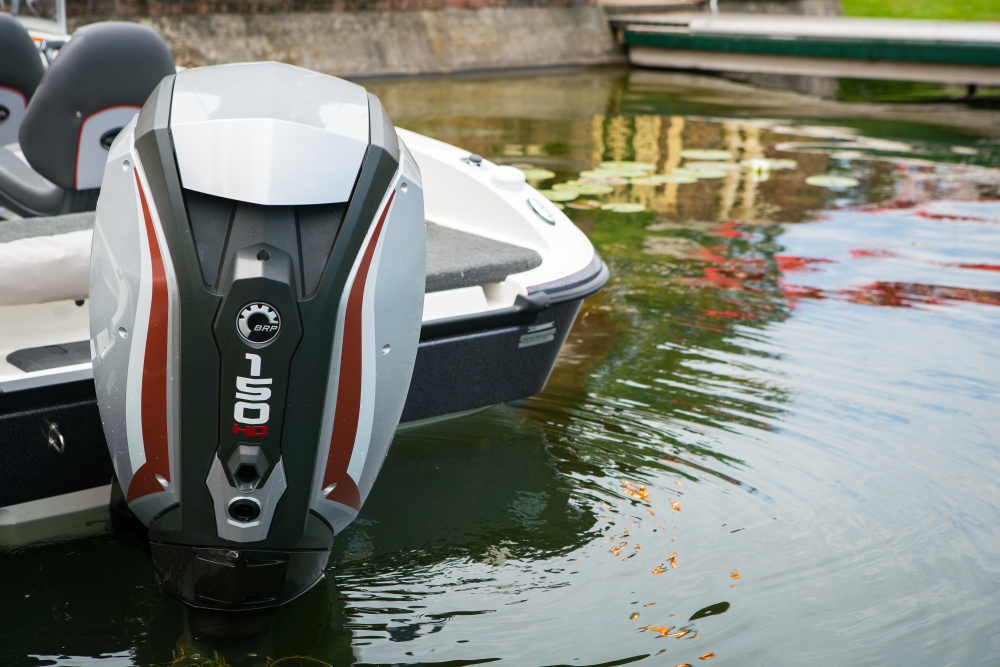 On the water
On the water, BRP had over 30 boats in action including several high-speed tournament bass boats, US-built saltwater centre consoles, aluminium sport fishing boats and even high-speed pontoon boats. The new G2s lived up to the hype with impressive torque and ease of use.
The combination of I-TRIM and Dynamic Power steering made driving these boats too easy. You only need to spend a day on the water to realise most people don't understand trim. This is why Evinrude has come up with this intuitive automatic trimming devise which will make trimming a breeze for beginners and experienced boats alike. While this feature can be switched on and off, unless you're a tournament angler looking for that extra one or two knots of top end
speed, I can't see a reason to switch it off. The DPS and I-TRIM make you feel safe behind the wheel, even at the high speeds some of these boats travel.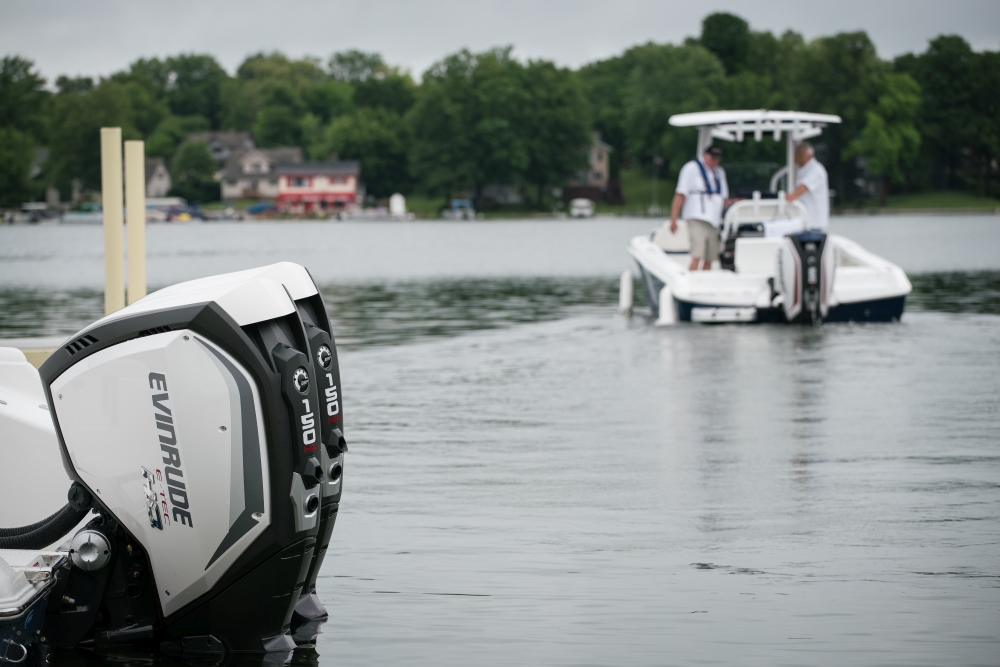 While side-by-side comparisons with competing outboards should be taken with a grain of salt, it was clear these new G2s excel in acceleration and fuel economy. The excellent fuel economy and torque is present throughout the entire rev range, which is good news for those of us who enjoy reaching our fishing spots fast!
The excellent fuel economy also means slower oil burning and given the local cost of XD100 oil, that's also a positive feature of the latest G2s. The oil container in the latest G2 is larger and can carry enough oil for 50 hours of use.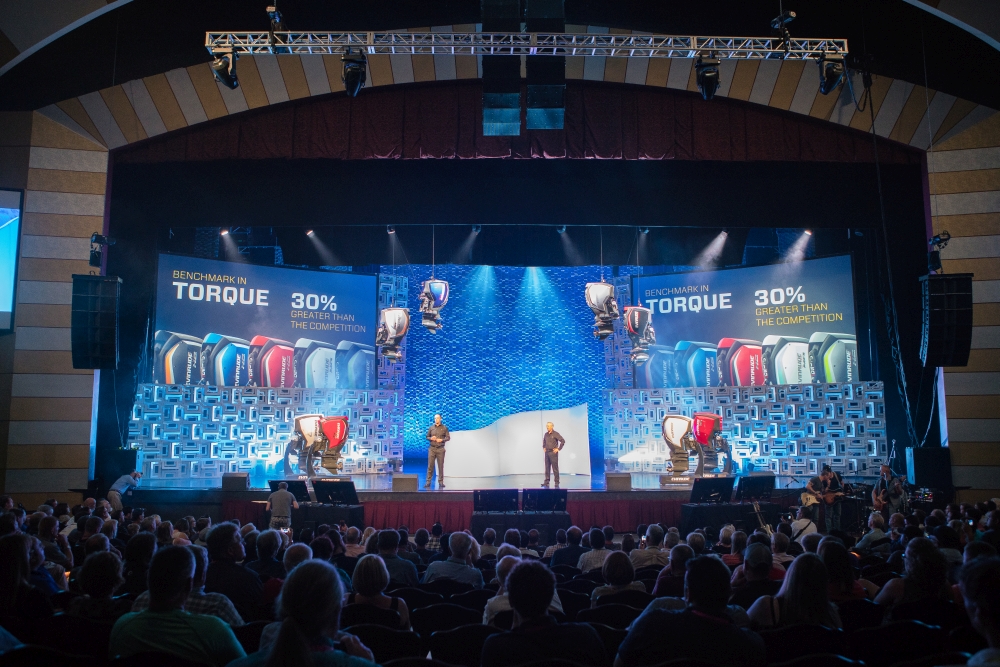 Evinrude E-Link
In addition to the G2 launch, Evinrude unveiled its E-Link "virtual dashboard". The E-Link displays and controls engine data from any mobile device such as an iPad or iPhone or Android device via an NMEA 2000 network and Wi-Fi.
The E-link shows the same data as Evinrude's ICON Touch display gauges, but puts it in a portable and easy to navigate platform at your finger tips. This type of technology is becoming the norm these days with most electronics companies offering mobile integration.
E-Link offers these features via your mobile device:
Engine RPM, fuel flow, trim position and oil level, as well as fuel levels, battery voltage and water depth;
Two Trip Logs to assist boaters with fuel management by calculating distance travelled, fuel consumed, and average and maximum speed;
An Eco page that allows boaters to achieve the best possible efficiency in different operating conditions by monitoring estimated range, whilst also providing instantaneous average fuel use;
A Concierge page that includes links to the Evinrude "Find a Dealer" web page, as well as a "Send Engine Data" option to forward engine data directly to a dealer or service team via email.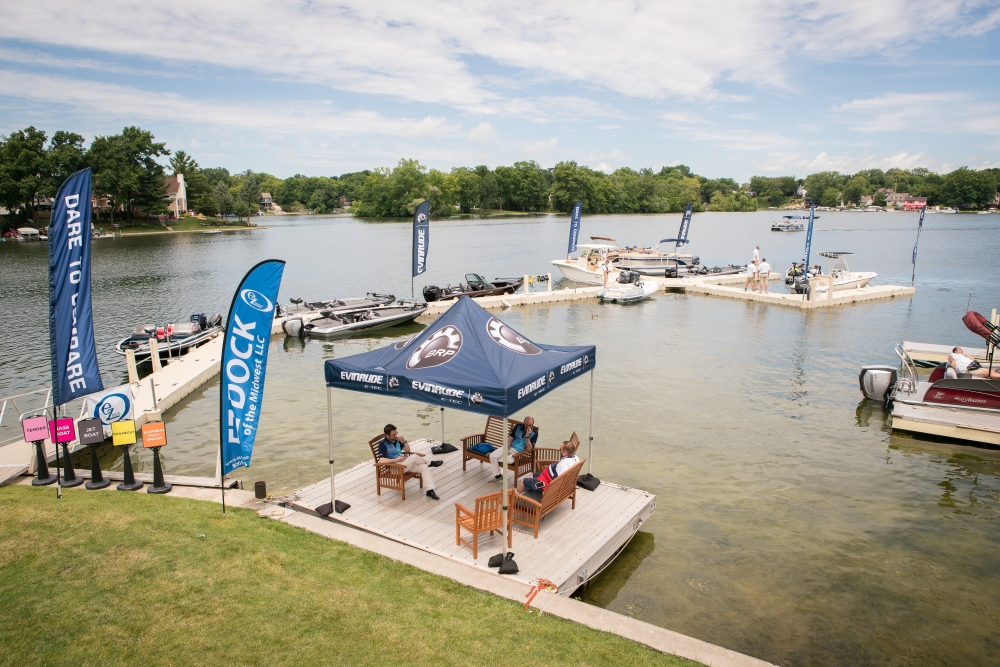 New colours
The unveiling also saw Evinrude announce two new colours – a modern looking Ice Blue and a Mossy Oak (camo) colour, suitable for bass and freshwater styled boats. This adds to the extensive range of G2 colour options, which can be customised to match boats or your personal preference.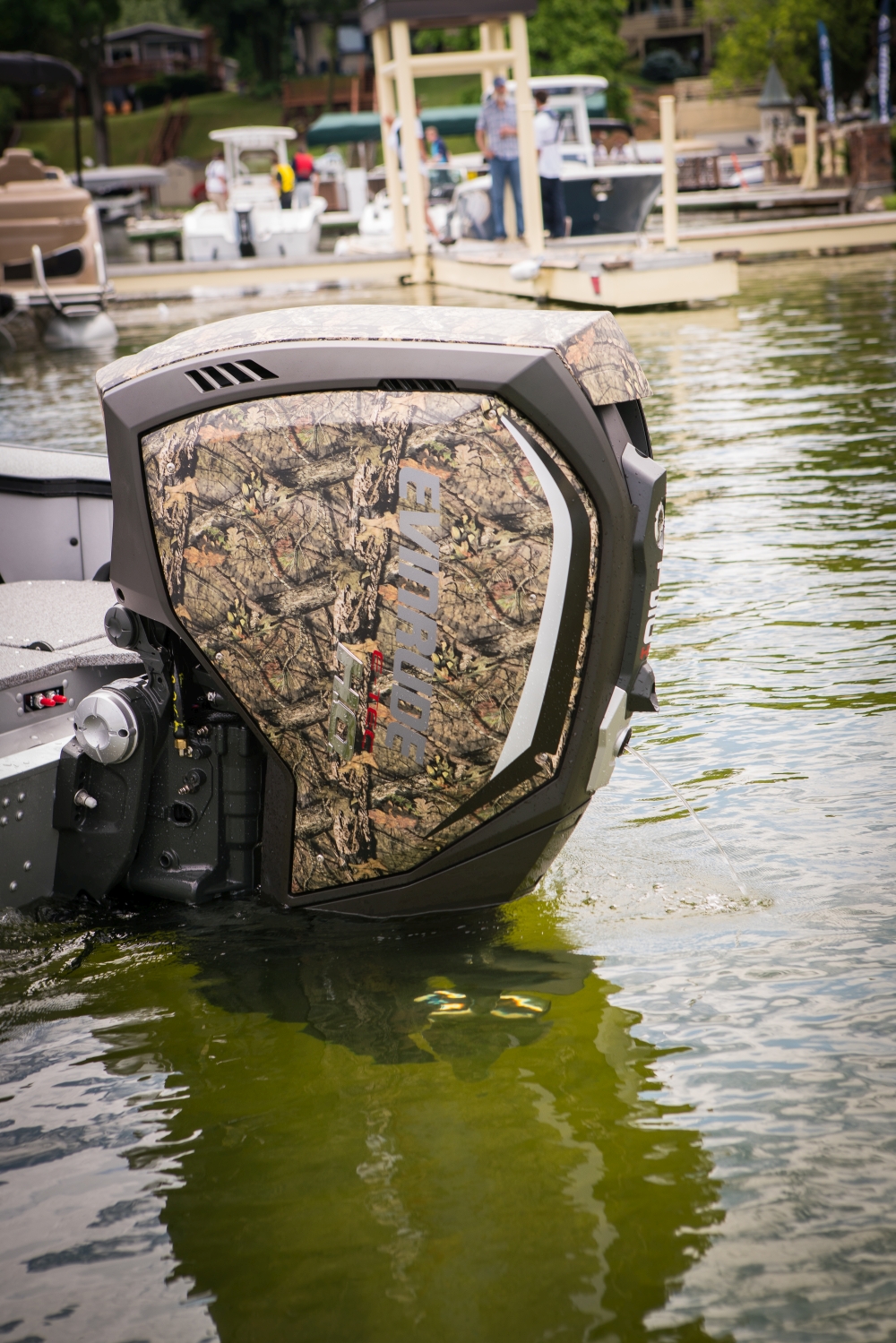 60hp H.O
Another announcement last week was the new 60hp H.O. While this is still a Generation 1 E-TEC, it should have wide appeal for Australian boaters in this popular outboard class. The 60 H.O are available in 20-inch and 25-inch configurations. The H.O model offers best in class performance and is based on the 75-90hp platform.