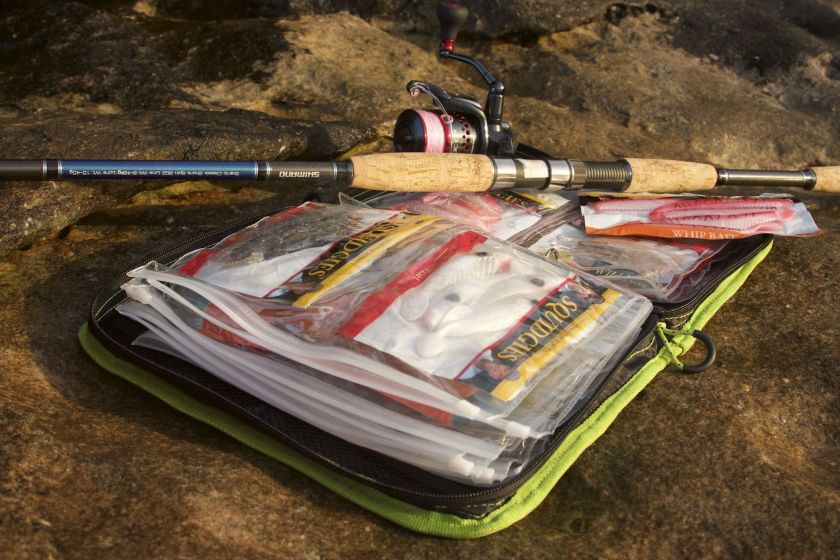 SHIMANO'S new range of tackle storage solutions features plenty of different options from small terminals wallets right up to backpacks and tackle bags. I've been using the Lure Wallet now for a couple of months for storing larger plastics and it's been a very handy case for trekking down onto the rocks or when bigger plastics are required on the boat.
There are nine sleeves for carrying plastics plus a few zip up sections on the inside of the cover which could carry a bunch of different items but if you like to carry as many packs of plastics as I do there isn't much room left for stashing jigheads or anything bulky in those.
Half of the sleeves come segmented and will fit two packs of Squidgies in each while the other half of the sleeves are larger and will fit plenty. Each sleeve can be sealed with a sliding ziplock style seal which is great if you're using plastics that leak fluid plus all the Shimano wallets are completely hosable which is unreal for when the wallet is covered in slime, scent or anything else.
All up I've found the Shimano Lure Wallet to be a handy storage device that gets popped straight in a backpack or onto a boat when required and it's now the sole storage device for all my large day-to-day plastics. It's also very durable and at around $30 it's a great option for big plastics.
More info at shimanofish.com.au
By Jereme Lane