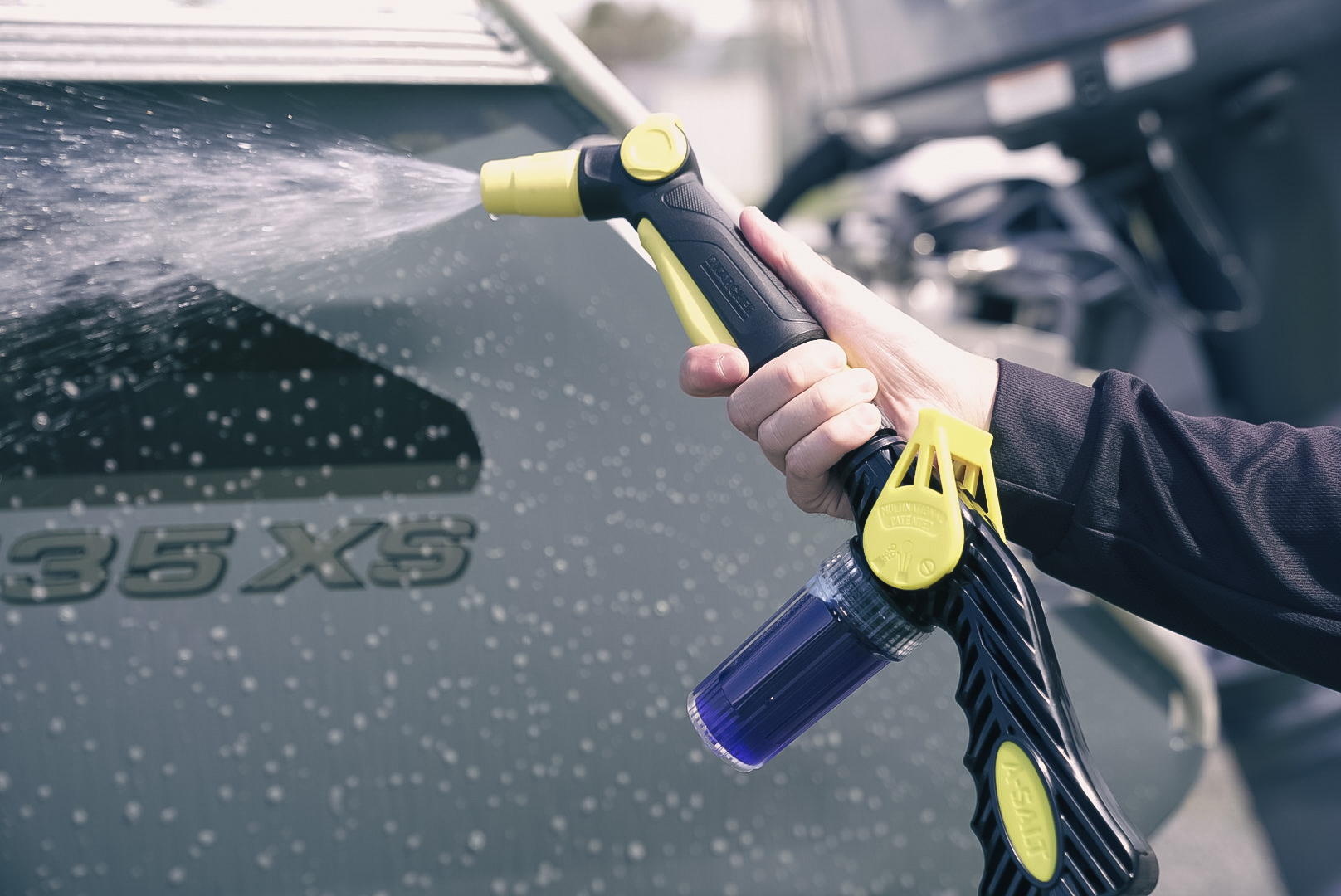 LIKE many other ocean-minded Aussies, I'm into most activities that take place in, on and around the water. The investment in this passion – boats, fishing gear, boards, wetsuits and more – is nothing to sneeze at, so it's important to look after your gear if you want it to last.
The marine environment is particularly harsh on equipment. As we all know, if you don't remove all the salt from your gear after a day on the water, the combined effects of UV sunlight and salt water quickly take hold.
I'd always found Salt-Away to be ideal for washing my boat and flushing the engine. Over the years, a number of other products have entered the market under various names; each claiming to better than the next. I've tried most of them and found they all delivered comparable results, with no real standout winner.
Enter Salt-Attack… a new salt remover that's taken several years to develop.
Using a blend of bio-based surfactants, chelating agents and corrosion inhibitors, Salt-Attack has proved to be incredibly effective at removing and neutralising salt deposits on all my gear over the past six months. Even more effective than Salt-Away and other similar products.
I've used it to wash my boat, flush the engine, hose down my boards – and even rinse my wetsuit. Biodegradable and non-toxic, it's safe to use on all metals and plastics, as well as wiring and electrical equipment, so it's my go-to maintenance product.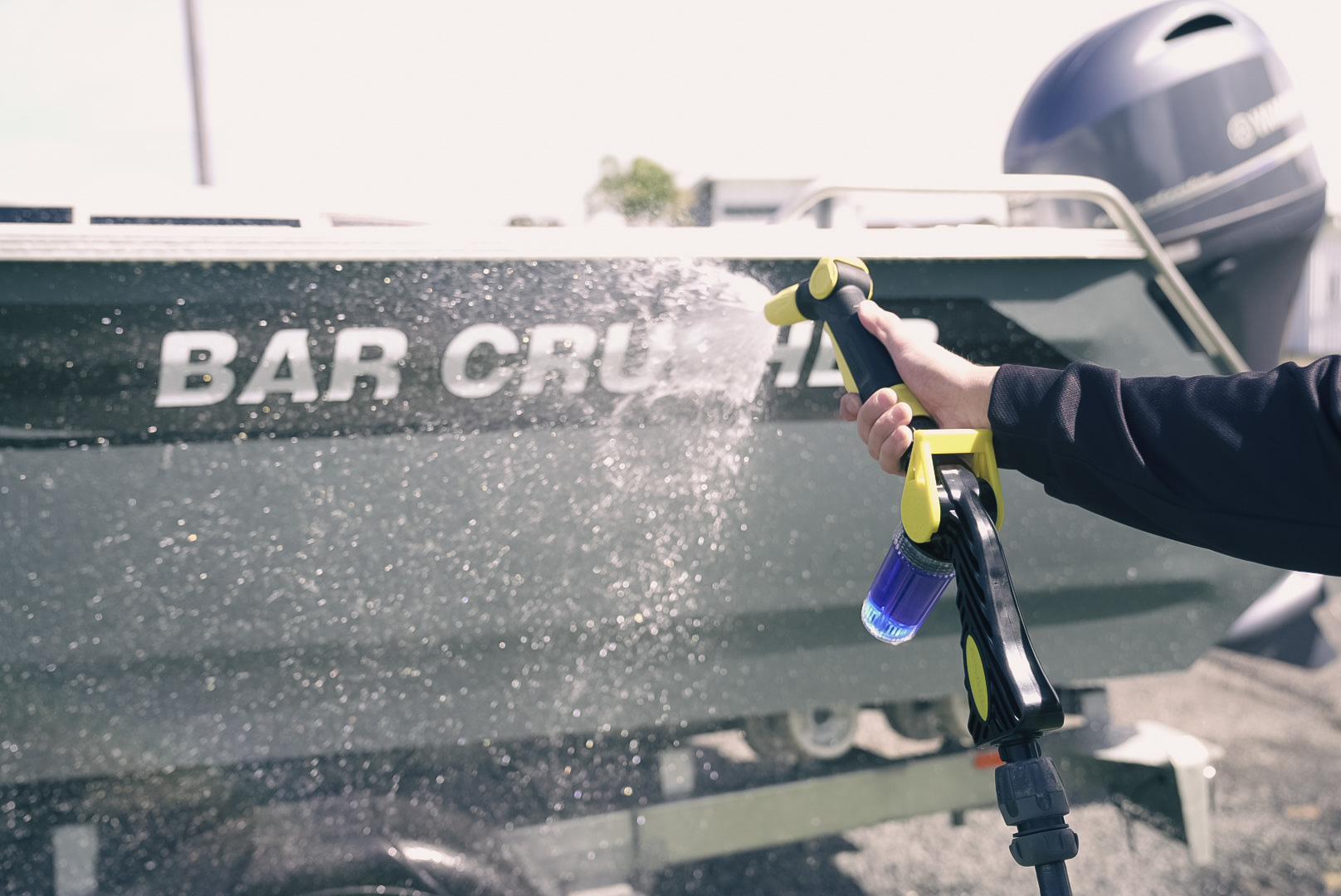 After a recent fishing trip with Fishing World editor Scott Thomas in his Bar Crusher 535XS, I threw him the container of Salt-Attack, A-Salt mixer and nozzle while I left to grab us a couple of beers.
Salt-Attack is a super concentrate liquid, so the A-Salt unit mixes the product with water at a ratio of around 1:500. It's a really simple process: pour some salt remover liquid into the mixer unit's reservoir, connect it to the hose, spray Salt-Attack all over the boat and trailer, hose it off with fresh water.
When I returned from the shop 15 minutes later, the Bar Crusher was sparkling like new. The white salt caked on the hull's grey paintwork after a day on the water was gone. Scott couldn't believe how easy it was to get his boat looking so good so quickly, without even using a sponge. Salt-Attack literally 'melts' the salt, then a quick rinse is all that's needed to wash it off.
Further to its use as a boat/gear wash, Salt-Attack is a highly-effective engine flushing and protective maintenance product. The advanced formula's biodegradable corrosion inhibitors and glycol anti-freeze provide ongoing multi-metal protection from rust and corrosion.
With the A-Salt mixer connected to the flushing earmuffs, we let fresh water run for about 10 minutes, then flicked the lever on the mixer to run Salt-Attack through the engine. After a minute of suds coming through the exhaust and tell-tale, we turned-off the engine. Leaving the Salt-Attack formula inside the engine allows it to breakdown any accumulated salt, so it's completely fine (and recommended) to follow this process for maximum protection.
Scott used 90ml of Salt-Attack to completely wash his 5.35m boat, trailer, flush the engine, and hose down fishing gear. In comparison, I usually go through up to 150ml to do the same for my Bar Crusher 670HT.
Salt-Attack is available in 1L and 4L bottles, so there are plenty of washes per bottle, depending on the size of your boat. There's also a range of other Salt-Attack products available on the website: www.salt-attack.com.au