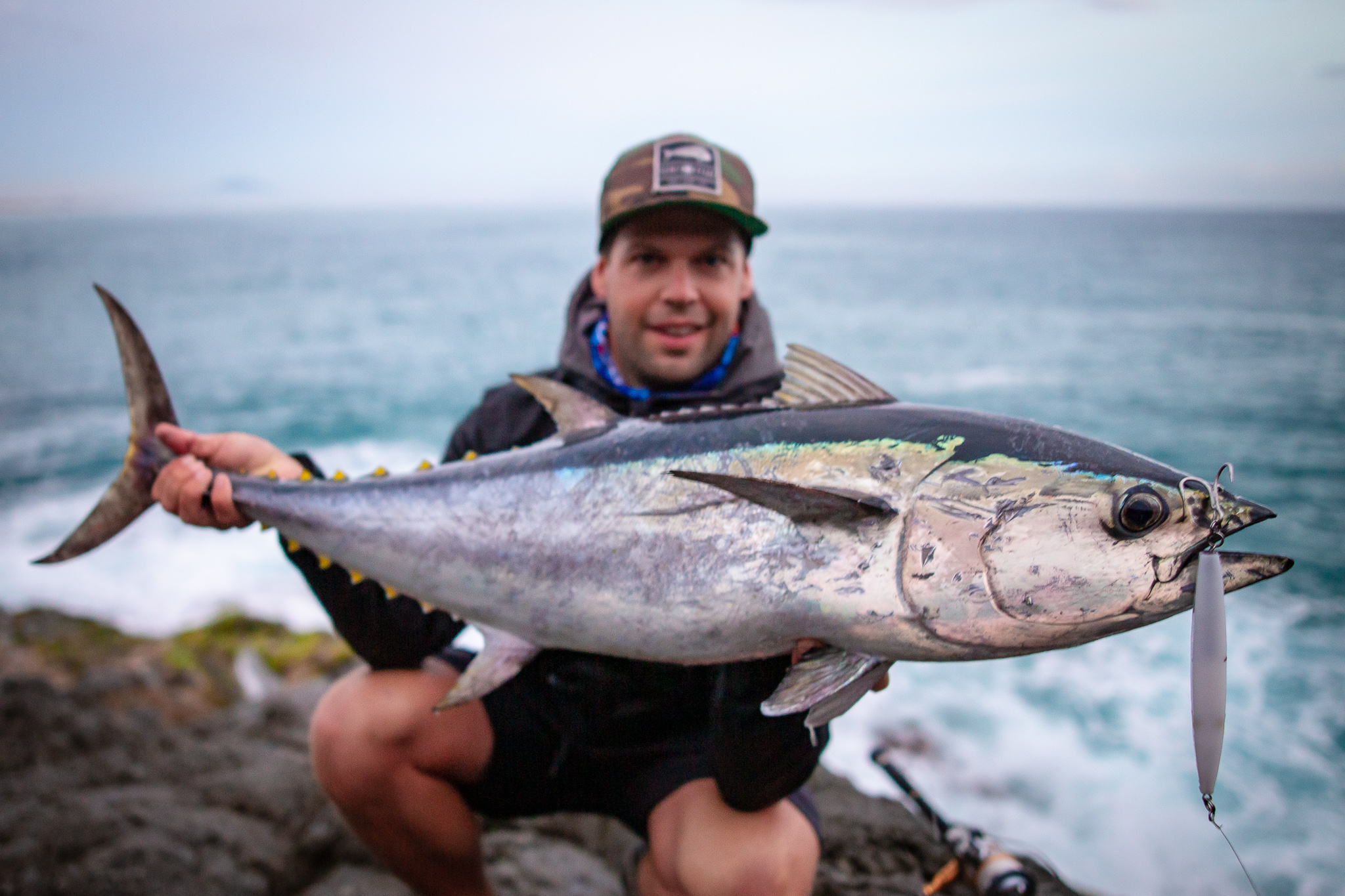 KEEN land based lure angler Grant Woodgate travels the globe in search of big pelagic fish. Until recently, I didn't know much about Grant other than the fact he'd caught some seriously big yellowfin tuna on lures from the rocks! So, when Grant contacted me about his new brand of handmade, no-nonsense, long casting and hard wearing Samson lures I was keen to try them out.
Over the past few months, I've been using the Samson Slim Minnow, mostly high speed spinning for longtail tuna from NSW rock ledges. It's essentially a heavy, high speed surface plug – perfect for pelagics. The moment I first used this lure I knew it was going to be a hit among the land-based game spinning fraternity due to it's profile, weight and ease of casting into stiff headwinds.
Like many of the lures in the Samson range, the Slim Minnow is weighted with lead and is made from an opaque white hard polyethylene material. This makes the range of Samson lures cast like bullets on shore based spinning tackle, which is very useful when casting to distant tuna feeding on the surface and other fish such as yellowtail kingfish lurking around hard to reach structure. Using the Slim Minnow with a quick retrieve will see the lure darting erratically across the surface of the water and it has proved to be a great imitation of a fleeing garfish or longtom – a staple prey among many of Australia's pelagic sportfish.
The Slim Minnow (and the entire Samson lure range) are simple in design and make up. The range of lures is built around a strong wire-through construction and comes stock with Mustad hooks, strong split rings and two fish skin heat shrink wraps.
Grant made it clear to me that he wanted to design simple lures that could be fished in the harshest of environments and still catch fish – a goal I believe he has achieved with the Slim Minnow. I have been using the one 70 g Slim Minnow for months, which has seen hundreds of long casts and has caught some quality hard fighting tuna. The lure still swims and casts as intended, despite being inadvertently slammed into the rocks and being dealt its fair share of punishment. The Slim Minnow is available in sizes 30 g, 50 g, 70 g and 100 g.
Check out the entire range, including sub surface Samson lures HERE.