I AM now well into my Canadian fishing and family adventure. I have already posted reports on salmon fishing in Northern BC and lake trout and pike in the North West Territories. This time I am reporting on a fishing trip into the Arctic Circle. I was fishing with Andy McGovern again for another week. The destination was a place called High Arctic Lodge on Victoria Island right up in the Arctic Circle. Our target species was the incredible Arctic char, although there are also lake trout in many of the lakes we would be fishing.
We flew from Yellowknife to Cambridge Bay on Victoria Island. The weather was overcast and drizzly but, regardless, we were really looking forward to this leg of the trip. High Arctic's owner, Fred Hamilton, was waiting at the airport to greet us. We then flew by floatplane to the lodge, which is located about a third of the way up the island. The flight was awesome! We were only a few hundred feet above the ground the whole way and saw caribou, musk ox, wolves, swans, geese and a bunch of other wildlife. In fact, more than I have seen on any other Canadian trips I have done.
After about an hour of flying we started to descend and saw the lodge ahead on the shore of a magnificent looking lake. The weather had cleared a lot and it was now sunny with a slight breeze. The lodge was in the middle of nowhere but had everything. We were helped with our luggage to our cabins and given the opportunity to settle in before dinner at 6pm. At dinner, Fred's wife Dawn, welcomed us and Fred gave a rundown on how things would work for the week. Basically we would fly to different destinations each day with four on board. Andy and I buddied up with two Brit brothers, Mark and Andrew.
The week we arrived was the first night that the sun dipped below the horizon for the summer, so at 8pm, after dinner, the sun was well above. In fact, it wouldn't get dark at all for the week! We were pumped up and keen to fish. One of the guides suggested a spot where a creek runs in about 20 minute walk away. Andy, Andrew, Mark and I geared up with light spin sticks (10lb) and headed off. I wore waders whilst the others only planned a brief fish so did not. When we got to the creek mouth it looked very shallow and insignificant. I crossed over to fish the other side whilst the others stuck together fishing the creek and working their way out. The water was only a metre or less deep. The Brits and I all chose spoon lures while Andy used a soft plastic. Pretty quickly, Andy had a lake trout on around 5 pound. Then quickly followed with another. The water I was fishing was incredibly shallow and I was getting weed on my lure most casts. I was just about to cross over to the other side when I had a swirl behind my lure. Then, within about 20 minutes of fishing I had caught an 8, 15 and 20+ lake trout. It was amazing fishing. Then Andy hooked something big and called me over to photograph it. When we landed it that fish was about 15-18lb. Then Mark caught one about the same size. Before we knew it, it was 11pm and we decided to call it quits so we weren't too buggered for the following day.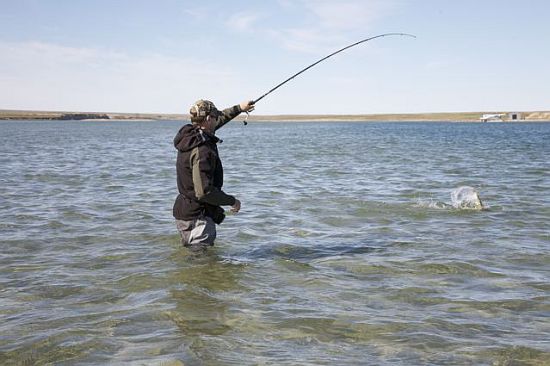 Andy hooks up in shallow water.

It was hard to sleep after such amazing fishing, bright sunlight at midnight and the prospects of tangling with a fish that has been on my "must catch" list for a long time – the arctic char. Eventually sleep did come and the alarm woke me from a deep sleep We had a great breakfast before meeting up with Bill Brady, our pilot. Bill is a retired airline pilot and really looked the part. Both he and Fred made flying the planes look like driving to the shops.
Here's the short version of the week. The following week was one of the most incredible fishing weeks I have experienced. For an arctic char fishery, Victoria Island had the best lake trout fishing I have ever had. In their publicity blurb High Arctic states something like "Many people are surprised at the quality of our lake trout fishery". This is the understatement of the century. We caught them to 30lbs and loads of them. We caught them in destinations where there were only lake trout and we caught them amongst the Arctic char.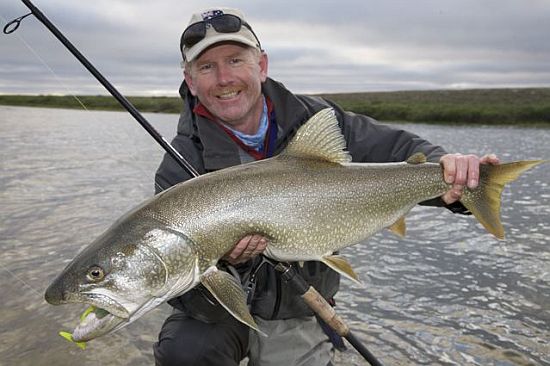 There was plenty of lake trout action!
The char on Victoria Island turn brilliant red/orange when running into the rivers to spawn. The later in the season, the more extreme the colour. We were in the latter quarter of their run so the colour we just starting to brighten up. However, what really surprised me was the size. We didn't weigh any as they are strictly catch and release but we did measure them. We consistently caught them between 32 and 39 inches long with girths between 18 and 22 inches. These were hefty, strong fish.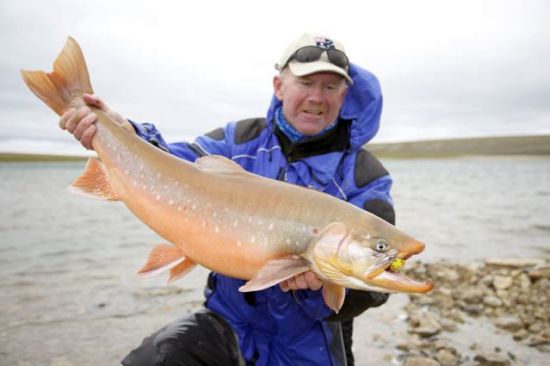 Pat reckoned the char were impressive fighters.
What was the best part was flying over rivers that flowed into lakes. The pilots would look for the fish and if they saw them, either trout or char or both, would land the plane and we would wonder over and get stuck in. It was very cool. In fact it was so cool that I stayed an extra 4 days after Andy left. I was very glad I did too as we just managed to catch the very first of the really red char. I doubt the photos can do the real thing justice but I hope so.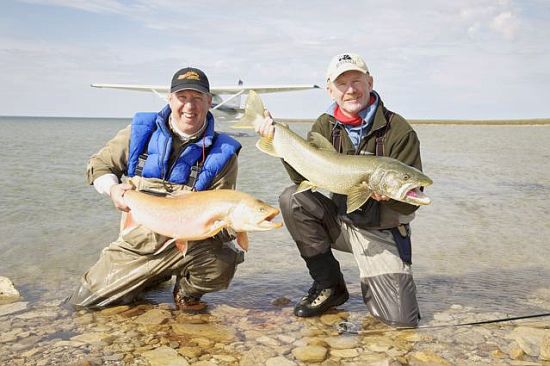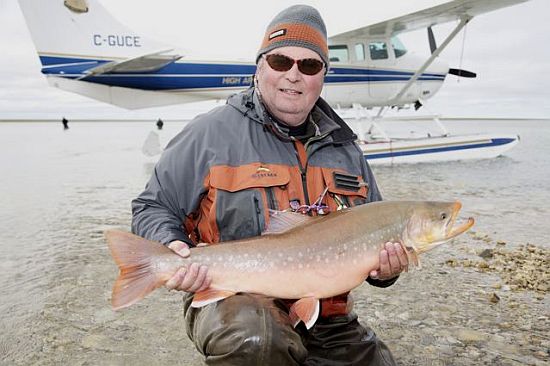 Float planes provided access to some amazing fishing!
The whole trip was a memorable moment but of I had to name some highlights then it would be the day we fished a place called Byron Bay. It was an estuary where sea run silver char accumulate. Part of this estuary included a very large sand flat. We landed the float plane on the flat and Fred explained that the char were running up the channel some 150 meters away and we should wade over and fish there. "However, there are sometimes fish right on the shallows and you can sight cast for them" I was skeptical but with a couple of steps there they were! It was honestly like bonefishing. The char weren't as large as the coloured fish, perhaps 3 to 6 pounds, but the sight fishing more than made up for that. Perhaps more amazingly was that we caught several lake trout here too. Fish around 10lb again all sight casting. Then when we did get to the channel, Andy, Mark and Andrew, who were spinning, caught what seemed to be a fish every cast.
The second highlight was a place where we flew over and saw quite a few fish in a river outflow but also right along the bank. These were mostly lake trout. I started out with my fly rod and caught a couple of dozen very quickly before I busted it whilst hastily trying land a trout so that I could catch the other one swimming in front of me. After I broke the fly rod I went to the spoon. Now, I am always careful about these kinds of statements so I consciously took note of this. I fished for an hour within 200m of the plane. I either caught a fish or hooked and lost one on every cast (honestly – every cast) for that hour. That's not including the fish I caught on fly, which also seemed to be a fish a cast, the hour before It was incredible fishing.
The other fishing highlight was the last fish I caught for the trip. Some really red char had started to show up in a spot I hadn't been yet. I quickly caught a nice red one that was the reddest I had caught so far. I was pumped and took some photos of it. I then caught several more before changing spots. I could see bright red blotches in the crystal clear water in front of me. Then one that literally seemed to glow came by. I cast the fly in front of it and started retrieving. It turned, followed, accelerated and struck. I hooked up and watched for the entire fight as this fluoro red fish fought it out in front of me. I couldn't believe its colour. It was also a nice size too. We took some photos and let it go. It was a fitting end.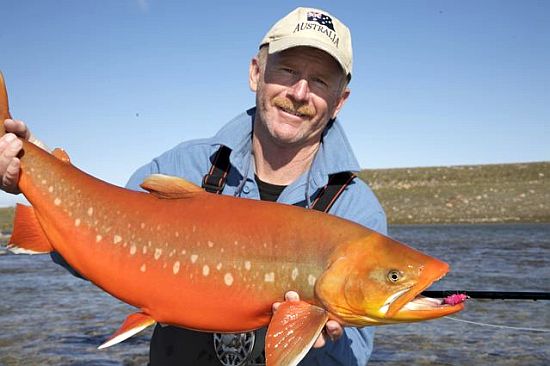 The char sported some amazing colours.
Perhaps the big surprising highlight for me was the flying and the wildlife. We saw musk ox, caribou, wolves, arctic fox, arctic owls, grizzly bears, white swans, Canada geese, weasles and seals to name just the highlights. As there are no trees on Victoria Island, the wildlife really stands out and it is surprising just how much there is.
This is a big statement but High Arctic trips was possibly one of the best fishing trips and adventures of my life. The lodge, people, place, experience, fish and everything was outstanding. I wouldn't recommend this place – I would insist on it!