AS we took off up Alaska's famous Kenai River I was amazed at the number of houses along the river. This is a popular summer vacation area, not the wilderness I was expecting. We passed through the rapids into the mid section of the river and started to encounter other boats. Not one or two but dozens, all vying for the same prize – the mighty salmon. It turned out that all the boats weren't too much of a problem. Whilst salmon do get spooked to a degree by fishing pressure and boat traffic they don't go off the bite, as they aren't actually on the bite to start with.
The river had been pretty dirty where we launched but cleared up once we passed a couple of confluences. At our first spot we cast lures and flies at a pod of coho salmon that we could clearly see but couldn't tempt to strike. We continued along the river trying the same method in different places. My son then hooked a nice pink salmon and fought it back to the boat. Our guide Steve scooped it in the net and my son had his first pink and at about 2 kilos, a nice one at that.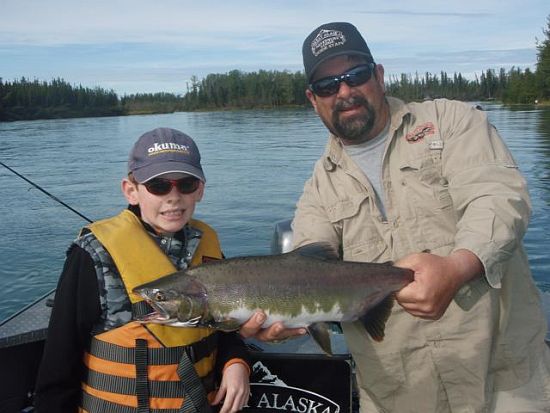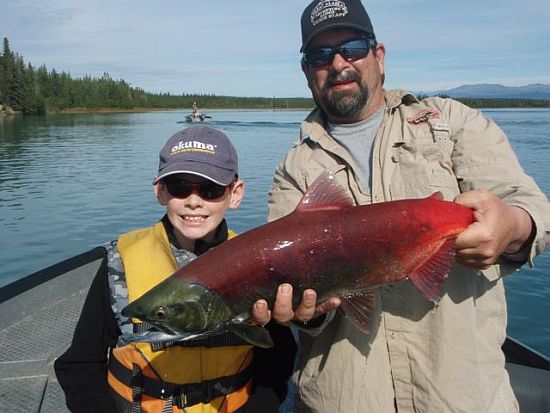 Young Patrick and guide Steve with a nice pink salmon (top) and a sockeye (above) taken on the Kenai.
The afternoon turned out to be very productive for pinks as we caught quite a few. I caught a few on fly before the guide suggested switching to a spinner as this would be more productive for the coho, especially on this bright sunny afternoon. We also saw quite a few sockeye in their brilliant red spawning colours. They stood out in the clear water like flags! My son really wanted to catch one and the guide delivered. In fact both he and I caught our first bright red sockeye salmon. Whilst we didn't get our target fish, the coho, we had a great afternoon. The guide was terrific and the operation was great to deal with. At the end of our trip rather than driving back they actually arranged for us to fly back instead, which was a bit of a bonus. Back in Anchorage we sorted our bags for the trip out to Brooks Lodge on the Katmai Peninsular.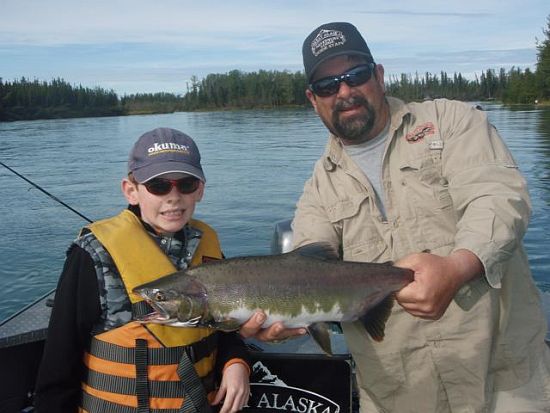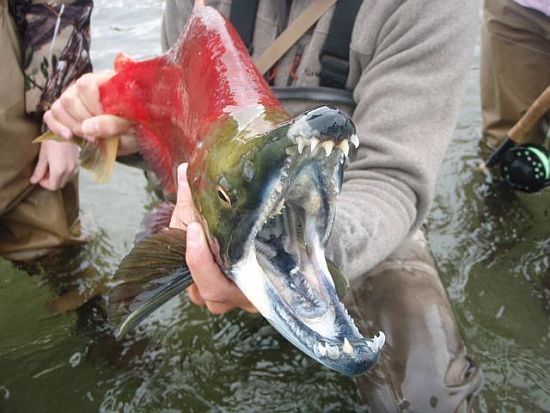 The male version of the pink salmon sports serious choppers for warding off competing males.
The next morning we went to the airport and caught a flight to King Salmon before boarding a float plane to the lodge. The morning was overcast and drizzly rain, our first real bad weather for the trip but apparently standard for Alaska in the summer. The flight was nice and calm and pretty scenic as the low cloud kept the pilot flying low.
Brooks Lodge on the Brooks River is famous for its bears but also has fishing available right on the river. It is actually the site for what was one of the original fly-out fishing lodges in Alaska established in the 1950s. We landed on the beach in front of the lodge where there was a brown bear running along beach on the opposite side of the river. We were ushered out of the plane and into the ranger's quarters for ar bear familiarisation talk. We watched a video on being "bear aware" before the rangers gave us an orientation on the lodge, the trails, where the bears were likely to congregate and what to do if we encountered one. Whilst I watched and listened intently I couldn't help but notice just how many people were around and especially how many fishermen there were! They seemed to be everywhere! We were invited in for lunch before settling in to our cabin. The lunch hall was packed! There were anglers, bear watchers, hikers, backpackers and staff everywhere. This was definitely not the wilderness experience I had expected!
After lunch we settled in to our cabin before speaking to the manager about fishing options. He suggested going out the next morning with a guide to get an idea on where to go and what to do so I could fish own my own whenever I wanted. The river was apparently full of sockeye and rainbow trout.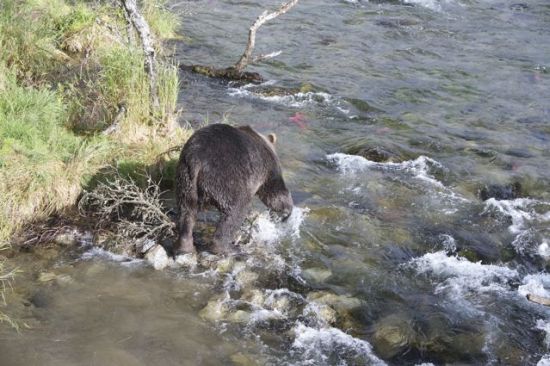 A bear salmon hunting on the Brooks.
We unpacked our gear and spent the afternoon in the bear viewing platform on the lower river. The bears were everywhere! It was pretty amazing to watch them, up quite close at times, as they fished their way up and down the river. It was also amazing to see the numbers of sockeye salmon in the river right at our feet. Amongst them was the odd coho but more incredibly was the number of rainbow trout hanging around waiting for a stray salmon egg. Some of them were very nice fish in the 2 kilo range. Just before dinner we met our guide, Sam, who would take the three of us out the next morning for a half day. He suggested we have breakfast in our waders at 7am sharp ready to leave by 7.30 as there were anglers from many other lodges flying in or arriving by boat, so the river would be busy.
After dinner it was too much for me to bear (pardon the pun) to be watching all these fish and not be fishing. So I rigged up my fly rod (only flies are permitted in the Brooks River) and fished below the viewing platform where the rangers and others can let you know when bears are getting too close so you can retreat. I managed to catch two nice sockeye salmon on fly which was great as all the sockeye I had caught before were on conventional tackle.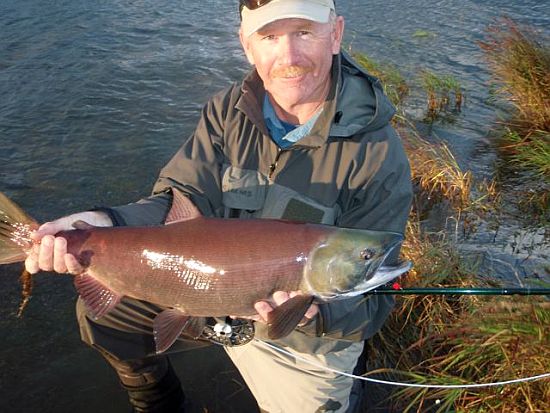 Pat and a nice fly-caught sockeye.
We quickly ate breakfast the next morning and met up with Sam at the Lodge. We walked through a swamp to get to the spot we wanted to fish. There were already two groups ahead of us. We were constantly watching all around for bears as we walked. I turned at one point and saw a bear about 10 yards away behind us walking across our trail. It was pretty disconcerting. Plus you are not supposed to be any closer than 50 yards from a bear and 100 yards from a cub.
When we got to the spot the plan was to stay there, given the numbers of other angler groups around. We would fish egg flies under an indicator, similar to home but with a plastic ball float rather than yarn indicator. Sam showed me where to go and what to do before setting up my son and wife. He was excellent with them, getting them to do a basic roll cast and mend in amongst the dozens of salmon we could see around us. Pretty soon we had fish on and everyone had caught nice sockeye salmon. For my wife and son it was their first fish on fly.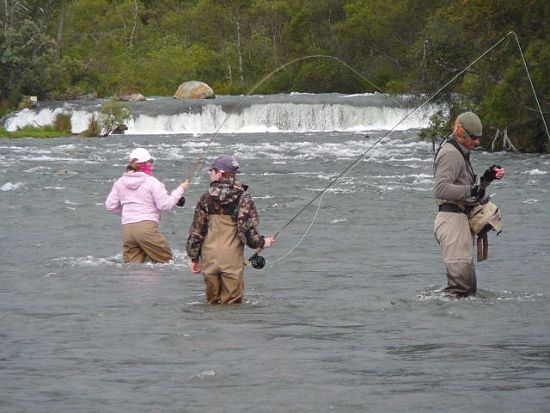 Fly fishing in the Brooks river. Fiona Brennan is seen here hooked up on her first-ever fly caught fish. Note bear in the background at base of falls…
We also found some nice rainbows hanging behind a pod of spawning salmon and managed to get several. I wasn't too fussed on catching rainbows as we can get them at home, which was a bit hard for Sam to understand. Most people who fish these rivers want the rainbows and pay a lot of money to do it – to them the sockeye are a pain in the neck, for us it was the other way around! The salmon were plentiful, amazing to look at and strong fighters so that's what we wanted.
It was a great morning, however, it wasn't without some anxiety though as we had bears appearing from down river and swimming across river to come out from the grass behind us. They are an intimidating animal up close even when they are supposedly 100 per cent focused on eating salmon and not people! That evening we tried to fish below the viewing platform but there were so many bears we couldn't spend long enough in the water to get in a cast.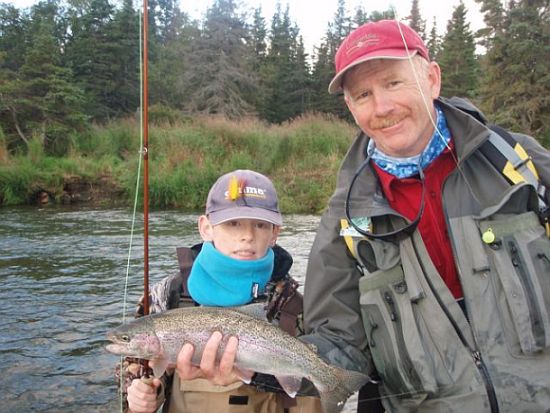 Success for young Patrick with a nice rainbow trout on fly.
The next day we spent bear watching and hiking (there were even more than before). I went fishing after dinner with my son below the viewing platform. It was quite an intense experience as we were constantly asked to leave the water by the rangers because of approaching bears. Nonetheless, I still managed to get one nice rainbow and had to break another off because a bear was too close while I was fighting it.
The next day we did a tour to an amazing valley that was the sight of one of the most powerful volcanic eruptions of the 20th century. It just didn't get much attention because it happened in such a remote place it affected hardly anyone. It was pretty cool.
Our last full day we opted for a full day of fishing. We planned to fish the river in the morning, head back to the lodge for lunch and out in the lake to try for rainbows and lake trout in the afternoon, subject to the weather. The morning dawned and it was terrible. The clouds were a few hundred feet above the ground, it was drizzling and the wind was blowing hard. We stuck to our morning plan and hit the river early just below the famous Brooks Falls. We were lucky we got there early as for the rest of the morning we were inundated by other groups of anglers. They were everywhere – In fact I haven't seen anything like it, ever. I would conservatively have guessed there were 100 anglers trying to fish about 2kms of river. Most were good and went off to try and find their own spot but others dropped in below us, above and even behind us at one stage. This made it difficult when one of the many bears came by and chased us out of the water. You really had to stick to your guns to hold the spot. On top of that was a constant stream of other anglers poking their heads out of he grass behind us looking for a place to fish!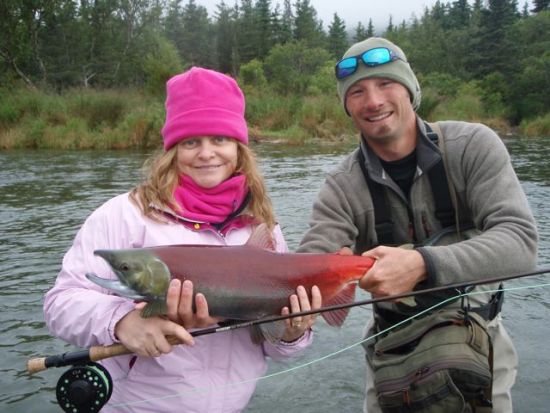 In the pink – a nice sockeye for Fi…
Anyway, believe it or not, the fish didn't care. Even in these terrible weather conditions (and probably because of it) and with all these anglers wading through them and casting all over them, the fish were biting their heads off. Everyone was hooking up. We caught a bunch of sockeye, rainbows and even quite a few dolly varden (a very pretty type of char).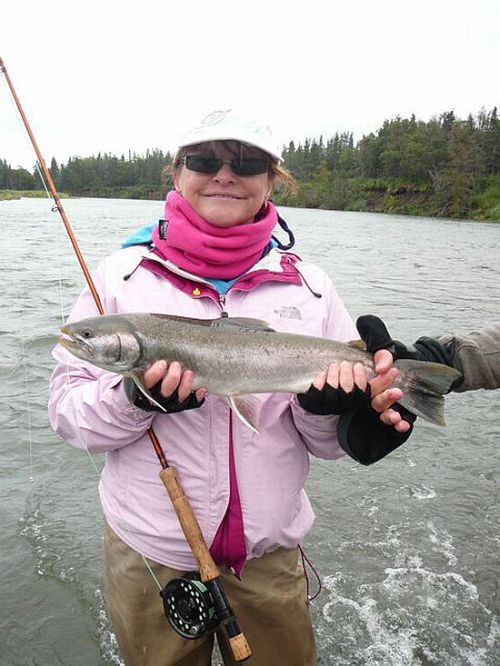 …and the interestingly named dolly varden.
As lunch approached the fishing got better and given the numbers of anglers around we decided to forego lunch and hold our spot. We wouldn't be going anywhere in the boat because of the weather so it would have meant coming back to the river. There was no way we would get our spot back. The decision paid off as the fishing got better and the anglers kept coming. However, the bears got thicker too and several times we had to retreat to the shore whilst a bear fished our spot for up to half an hour. It was pretty amazing to watch. Eventually the rain got heavier and everyone got colder so we decided to give Sam an early mark and pulled the pin mid afternoon. We had caught plenty of fish and a nice shower would be welcome. I was going to fish the river again one last time that evening, as the rain had stopped, but it had dirtied up and visibility was down. Not to worry though. Despite all those people and bears we still caught plenty of fish.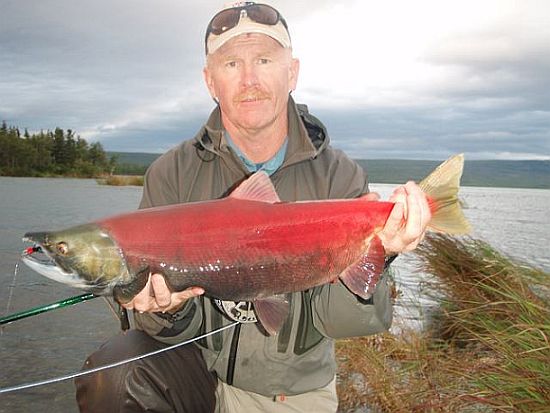 Despite the crowds, Pat and family caught plenty of fish on the Brooks River.
The next day we were to fly out after lunch, however, we had to fly out early due to an impending storm front with predicted hurricane force winds. It was already extremely windy when we made it to the float plane and by the time we were airborne it was extremely rough. The plane was getting shaken about and flying sideways in the wind. The lakes below us were white with waves. My son was on the brink of air sickness when our landing site at another lodge appeared in the distance. He managed to hold off – just! It was one of the hairiest flights I have had. From that lodge we collected a couple of other anglers before making the flight back to Anchorage. This plane was bigger but not much. We took a couple of serious bumps on the ascent but it got surprisingly calm at altitude. In Anchorage the storm hit just after dinner and we could hear the wind roaring outside. The whole city was blacked out for 7 hours.
As we'd discovered, despite the crowds, the fishing in Alaska is pretty good!
Stay tuned for the final instalment where Pat goes fishing for the unique sturgeon.