I AM currently on tour in Canada on a three-month long fishing adventure, combined with some family time. This trip is a multi-leg adventure in that I will be fishing a variety of locations for a variety of species. I hope to be providing regular updates on where I am and what I have been up to.
I have just finished a week's fishing for salmon in Northern British Columbia (B.C.). I was fishing with an outfit called Kalum River Lodge, located just outside of the town of Terrace, which is on the banks of the famous Skeena River. These guys were really good and the lodge and meals were especially great. The owners, Andrew and Deanna were extremely attentive and great hosts.
The plan was to target the big chinook salmon for which this system is famous. There should have also been sockeye salmon and the start of a run of pink and chum salmon too. Unfortunately, a combination of factors combined to make it a fairly tough week.
Over winter the Rocky Mountains had accumulated its greatest snow pack in 60 years. This makes for a great spring run off and good flush of the rivers. Unfortunately, all of spring and even the start of summer was one of the coldest experienced in a very long time. In fact, June maximums hardly exceeded the high teens.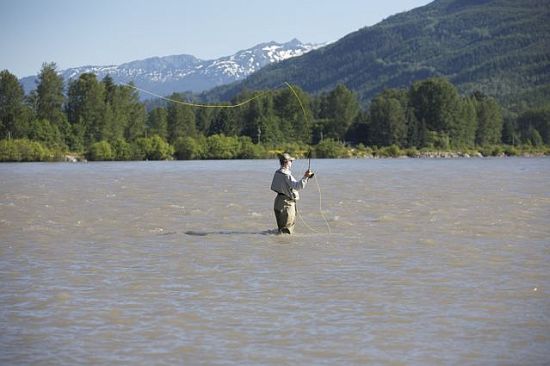 When we arrived the temperatures soared into the thirties. The snow started to melt and the rivers got very dirty and high. The Skeena in particular was very high and dirty and although we stuck it out for two days, it failed to deliver on its mighty reputation.
Like all good guides Andrew had a back up plan so we relocated our efforts to the Kitimat River, about 60kms away. The Skeena is a powerboat river whilst the Kitimat is raft, canoe or drift boat only. This made for a really nice and very peaceful way to travel.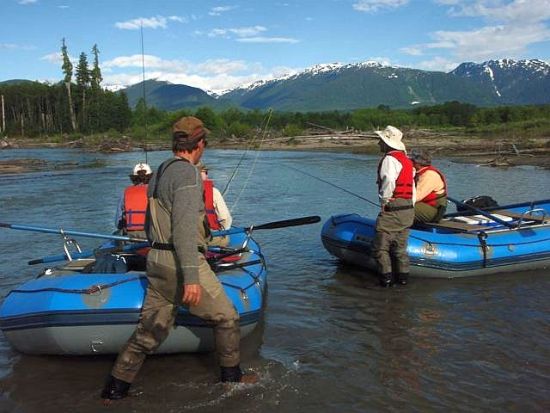 However, the Kitimat was also high and dirty, just not as bad. Things were also compounded by the problems on the Skeena forcing anglers to try elsewhere, so the Kitimat was busy with anglers. The problem was that we were constantly competing for prime spots on the river. I have to say it wasn't the wilderness experience I was expecting …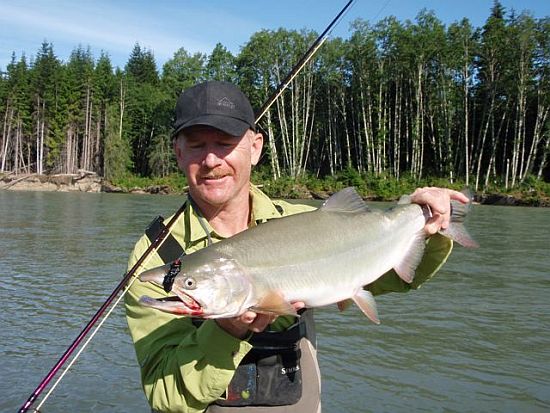 The first day we caught quite a few pink salmon, the smallest of the salmon species, up to about 10 pound and one chum salmon of around 15. We did hook several large fish that took off in the current and ended up getting away. Many of the pink salmon were also foul hooked and I was concerned that it was a "jag" fishery, where you keep jagging fish until you eventually get one in the mouth! At first I also felt that we would just sit in one spot and flog the water into submission but as I did more of it and learnt more about it, it actually became more technical. I started to appreciate the importance of the drift and placement of the cast. I ended up quite enjoying the rhythm of it all.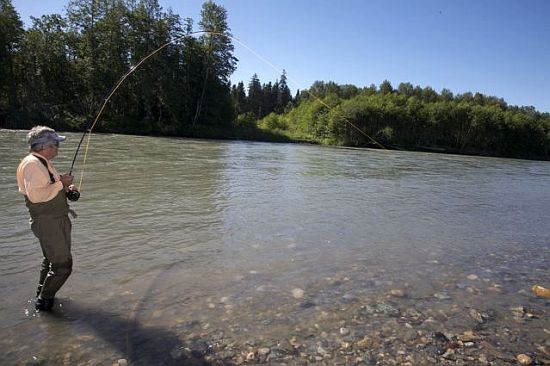 Thankfully however, over the course of the week, the Kitimat lowered and cleared noticeably and more fish started moving into the river. Most of the fish were properly hooked in the mouth. Towards the end of the trip there were noticeably more salmon moving into the rivers. You could see them jumping and porpoising at most of the places we fished. Of course, as salmon don't feed when they begin their spawn run for every thousand fish in the river, one may strike at your fly or lure. So, the more fish in the river the better your chances.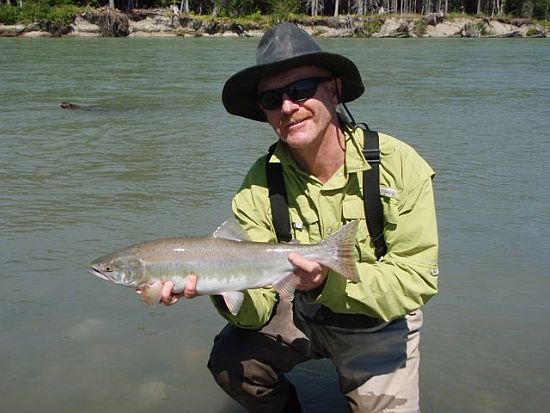 The last couple of days were pretty good fishing for pink salmon and we caught some nice ones around the 12 pound size. We also caught a few chum. I hooked a fish that was either a large chum or chinook that took off downstream and was unstoppable. Unfortunately, from where I was positioned I couldn't follow it either, so I eventually pulled the hooks. So for me, I only caught pinks, which was ok as I hadn't caught them at all before and I only fly fished for them. Also the guides gave me some great pointers on spey casting which I diligently practised for the week.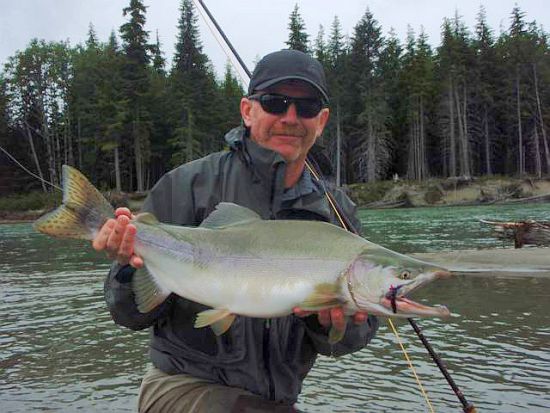 Once thing I did notice about the salmon was their strength. Pound for pound they leave any other salmonid I have caught, for dead. I guess when they have spent their entire life conserving the energy for this final run of their lives, you can't expect anything less.
I really enjoyed fishing with the guys from Kalum River Lodge and will definitely have them on my list for a return journey to Canada. From Terrace, I am off to Frontier Lodge on Great Slave Lake in the North West Territories. Let's hope the fishing improves!
Patrick Brennan is a Fishing World field editor and long time contributor.