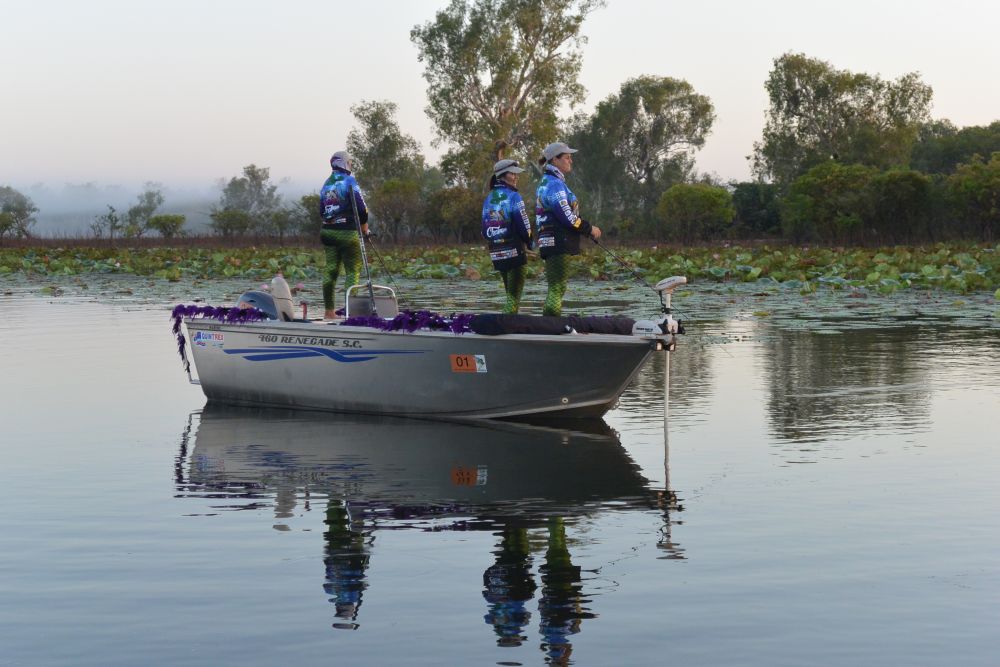 SKIRTS Ditch'n Work is an apt name for a champion ladies fishing team and this year this team took out the top place yet again at the 2016 Spotters Secret Women's Business (SWB) Barra Challenge held on the picturesque Corroboree Lagoon in the Northern Territory.
Skipper Tash Rammers took on new crew mates Helen Stuart and Melita McKinnon in this ladies only tournament and stormed ahead on day one with 1152 points. With the uncertainty of landing barra in previous years Tash cemented her winning strategy of targeting saratoga and welcoming any barra landed as bycatch.
Only half of the 30 teams scored a fish on the first day with 15 Barra and 45 saratoga captured. Day 2 was slower fishing and overall 26 Barra and 72 saratoga were landed in the 2 day competition.
With team mate Melanie Bowen, founders of SWB Melissa Krollig and Jo Clark from team Dirty Oars were deserving runners up in what was the 10th anniversary of the tournament.
Although few barra were caught, local angler Emma Harbrow from team Angry Birds was a less than angry competitor landing two good sized barra over the two days. Emma had marked and landed her fish trolling and her efforts scored her great points with an 84cm and an 88cm. These fish secured her as Champion angler and biggest fish of the tournament.
The best saratoga at 60cm was captured by Tania Smith from the Aluring Babes. It wasn't the easiest fishing conditions with temperatures reaching 36 degrees and water temperatures around 28-31 degrees.
The warmer water may have improved the fishing for most teams from previous years and of the few barra caught there were a number of good quality fish among them.
Palmerston Game Fishing Club and coordinators Chrissie Hurren and Kris Noble have pulled together yet another great ladies fishing event.