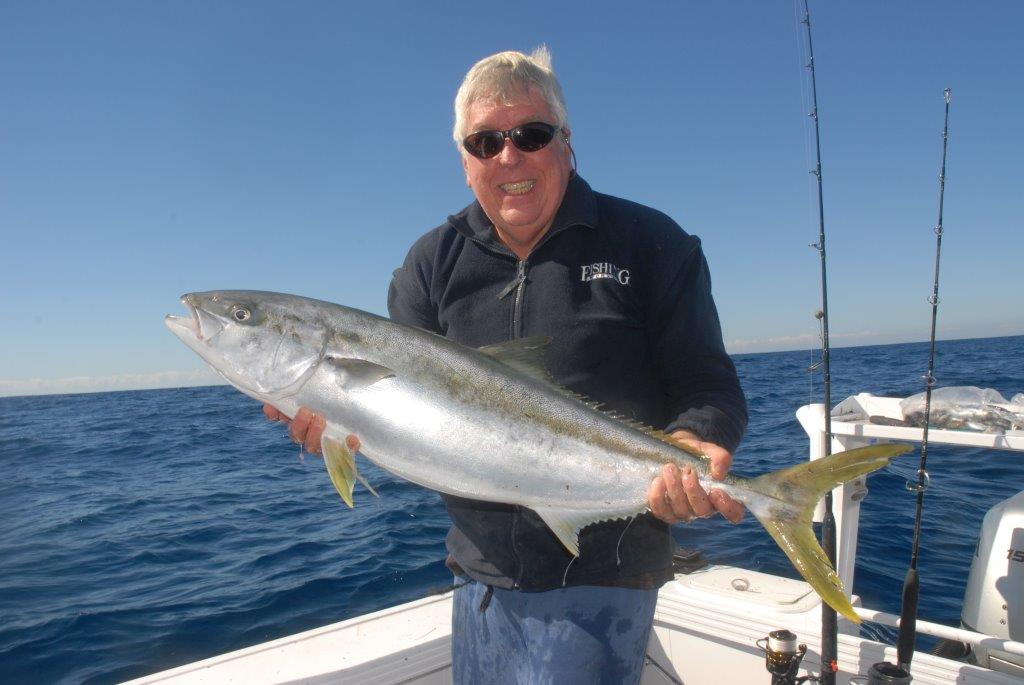 Winter is peak season on the Gold Coast with a vast range of estuary, inshore and offshore species worth targeting.
IN southern Queensland a lot of the best fishing takes place in winter. The weather is characterised by warm days, light westerly winds and often calm conditions. The offshore fishing for a wide range of species improves as the raging warm East Australian Current drops off and the water cools. In the estuaries the westerly winds and cooling waters trigger the spawning runs of mullet, luderick and bream, and the estuary mouths are full of migrating fish traffic as big schools move onto the beaches in preparation for spawning. Beyond the continental shelf the water generally remains around 22 degrees, and there are still quite a few blue marlin, striped marlin and wahoo around, with yellowfin tuna common beyond the thousand metre line.
Flathead season
One of the most pleasant ways to spend a day in the winter on the Gold Coast is to chase flathead in the estuaries. It's reliable, comfortable and productive fishing, ideal for kids and new-comers to the sport. At this time of year most of the flathead are small to medium sized fish, with the majority between 40 and 65cm with the odd bigger fish. As the sand and mud flats cool off a lot of small bait fish move up on the flats and a lot of fish follow them. With practice, it's pretty easy to have reasonable fishing in winter through the entire tide cycle. This type of fishing lets you mix up your methods and try half a dozen different lure styles in a session. Trolling small hard bodies lets you locate patches of fish, then casting a mix of soft plastics, soft and hard vibes, blades and small swim baits lets you lock into the most effective strategy on a given day. Between June and August we generally catch between 20 and 40 flathead in a session, with a few whiting, tailer, yellowtail pike, bream and trevally thrown in. I love keeping a few 50cm flathead for a feed, and with the fillets going between 40 and 50 bucks a kilo in the shops, it's a great way to put quality fish in the fridge. Few things taste better than fresh flathead fillets cooked in Panko crumbs!
Mulloway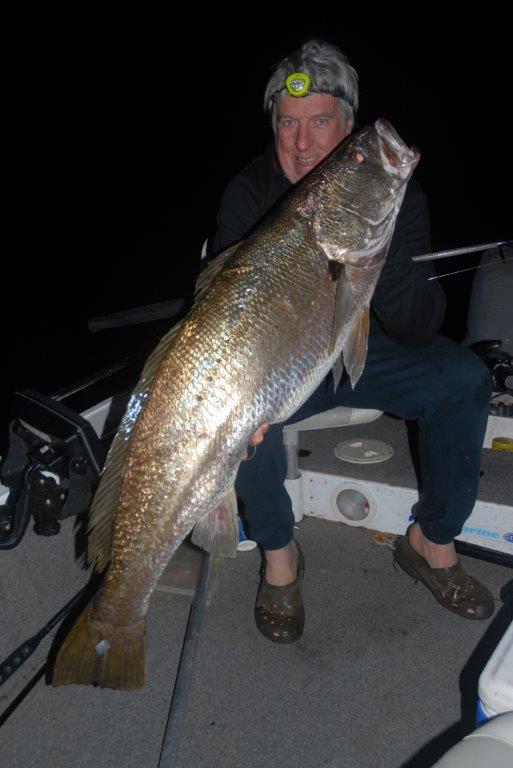 Mulloway are another great winter target species. As the winter westerlies start to blow large schools of tiger and sea mullet start to congregate around the mouth of the Gold Coast Seaway and the Jumpinpin entrances, and these in turn attract a lot of predators. At this time of year mulloway can be caught on deeply fished soft plastics or by live baiting. In general I fish with plastics in the day around the mouth at Jumpinpin, and the Seaway at night with live mullet. Most of the big fish are caught at night. If you get a chance to fish during a week day when the boat traffic is less you will generally have more productive fishing, particularly around Jumpinpin. Over the years the majority of mulloway we have caught on soft plastics have fallen to 7-inch white Gulp Jerk shads fished on a jig head of between 5/8 and 1 ½ ounce in size. The fish tend to be in the eddies and move out into the main channels on the slowing of the tide. The size can vary a lot, and at times a lot of the daytime winter mulloway are just under the legal minimum size of 75cm, which can be frustrating if you love crispy skin pan fried mulloway fillets. It's hard to predict what size of fish will be present as the schools can vary greatly. On a good day every fish is between 90 and 120cm.
Fishing with live mullet at night is a waiting game. On the top of the tide there are often big schools of mullet paddling in the eddy, nervous and rippling o the surface. When the mulloway are at their most savage, they crash the schools like barra, and over the years I've had some fantastic fishing in the centre of a very busy estuary in the middle of the night. We catch our mullet with a cast net and generally need about a dozen baits for a session. The prime time to fish is the hour around high tide. Casting an unweighted mullet into the eddy is the best method. The pick-up can be subtle, but at times they hit the bait at full speed. We generally use about 10 kilo line on a threadline with 30 or 40 pound fluorocarbon leader. When you get a run it's important to give the fish a bit of line before striking, and most of the night time mulloway are between 100 and 130cm long with the odd monster turning up each season. This fishing requires a lot of patience and it can be common to do a few sessions in a row without a bite, but when it comes together it's very rewarding.
Bream
While it isn't my cup of tea, there's fantastic bream fishing in the Gold Coast estuaries in winter. Massive schools of these marine cockroaches move into the entrances, and fish from 700 grams to a kilo are reasonably common catches for those who chase them. They can be caught on a wide variety of lures and baits and probably the most exciting way to catch these fish is to use small surface lures over the weed beds on an early morning high tide. A slow steady retrieve with plenty of pauses is the best way to catch bream, and if you wind faster with constant small twitches there are still quite a few whiting about as well. The run in tide is the best time to fish, just as the water starts to push over the flats onto the fringes of mangroves. There are generally a lot of small prawns and shrimp in these areas. My favourite lures to use are the Bassday Sugarpen and small Atomic stick baits, but at times small cup faced poppers can be very productive as well. Clear or white bodied lures seem to be very effective and for bigger bream the Lucky Craft Sammy is a great lure to try.
Offshore
On the offshore grounds winter has plenty of great options. June is generally a month of transition, when the pelagic activity is still quite good and the more traditional winter species such as snapper, cobia, mulloway and pearl perch start to show up in numbers. As the current on the continental shelf slows it often forms large offshore eddies and there are sometimes big patches of warm water that can provide some great marlin fishing. In closer to the coast, the last of the summer current often produces the biggest wahoo and Spanish mackerel of the season. These fish commonly fall to big baits such as trolled live tuna.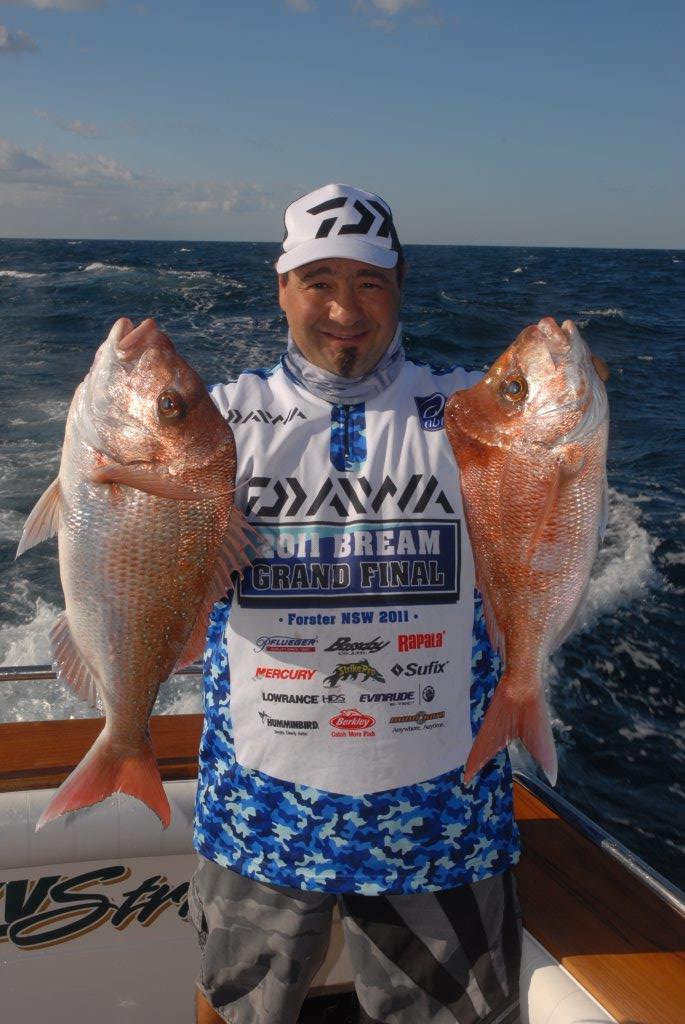 There's a long ridge of rocky reef off the Gold Coast commonly called "the fifties". This ridge of rock runs from south of Tweed Heads to north of Moreton Island and is located in around 85 to 90 metres of water, about 40 kilometres offshore. This marks the inner edge of the continental shelf and is a very productive area. It's usually unfishable in summer due to strong current, but in winter it produces a wide variety of species from black and striped marlin to pearl perch, snapper and amberjacks. The best way to fish the "Fifties" is to catch a bait tank full of slimy mackerel and yellowtail on the bait grounds prior to heading out wide. A live bait fished close to the bottom can get you stretched by a wide variety of tough fish. Big yellowtail kingfish, amberjacks, samson fish, large cod, sharks, pearl perch and big snapper are common. I've caught amberjacks to 40 kilos on this reef and over the years this massive ridge of rock has been extremely productive. There are a few high points on this reef where the bigger fish are almost impossible to stop. Float lining with pilchards works well on snapper in this area, and paternoster rigs baited with squid, pilchards or tuna strips produces a range of delicious fish such as pearl perch, snapper and pig fish. It's also common to have kingies and amberjacks eat baits on a paternoster rig.
Closer to the shoreline is another long ridge of rock knowns at the "36s" or "36 fathom" reef. This is about 20 to 25 kilometres offshore and once again is a long line of rocky reef extending from south of Tweed to north of Moreton Island. This is the most productive and reliable reef complex in the region to catch snapper. Over the years the snapper fishing has deteriorated a bit, but in general terms this reef still provides great fishing. I like to fish this area at dawn or dusk, and a change of low tide seems to be the best time to catch snapper. Once I have located a school of snapper on the sounder I begin a drift using a pilchard or soft plastic. Getting the right sized weight is the key to success. The bait or lure needs to slowly and gently sink to the fish below. Once we have the drift marked on the GPS I turn the sounder off. It is a big advantage having a stand alone GPS for this reason. Big snapper are wary fish and don't like the ping that comes from a 1 kilowatt transducer. When the fishing is good the bait or lure is usually picked up about 10 to 20 metres above the bottom, and it's very satisfying to feel the line suddenly run through your fingers. The 36 fathom line produces some great snapper every winter and fish between 8 and 10 kilos can be common, especially later in the season in August.
Cobia are another great winter target species. The number caught vary greatly from year to year, but big fish over 30 kilos can be very common in a good season. They tend to be caught on the inshore reefs in depths of around 23 to 45 metres, and congregate on flat reefs, wrecks and pinnacles that hold a lot of bait. They can be caught by a wide variety of methods including big soft plastics, trolled dead baits, metal jigs and pilchards intended for snapper. The most consistent way I've found to catch cobia is to anchor up and berley heavily using chopped cubes of tuna or pilchards, and fish big live baits mid water and on the bottom. Cobia have huge mouths and eat almost anything that swims. Years ago my favourite bait was a live tarwhine, bream or snapper and in my early years on the Gold Coast we regularly caught monsters up to and over 40 kilos. Few fish fight more doggedly than a big cobia. We have had three hour battles with big fish on light tackle and a big cobia should be on the bucket list for any offshore angler.
The close reefs only a few kilometres east of the Seaway can produce some great mulloway fishing at night. There are also four artificial reefs in around 23 metres of water north east of the Seaway entrance that produce a lot of good mulloway at night but they need a heavy handed approach to get them away from the line busting structure. Most of the activity is after sunset until complete darkness sets in. The mulloway on the offshore grounds are generally quality fish around 100cm to 120cm long. When they are biting freely it only takes an hour or so to catch your bag limit of two fish per angler.
Overall, the Gold Coast estuaries and offshore grounds can be a wonderfully productive place to fish in the winter months. The weather is generally kind and compared to the colder populated areas such as Sydney and Melbourne, there are a lot more productive fishing options. If you're planning a fishing holiday or taking your family away and towing a boat, it's a great place to visit in the winter.