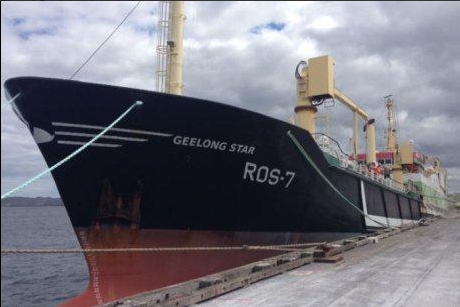 DAN Brown couldn't have made this up but channel 9 might just be able to turn it into a mini-series.
In 2013, after concerted efforts by conservationists, anglers, other commercial fishers and general members of the public the much-despised supertrawler Margiris left Australian waters after earlier being authorised to catch a quota of 18,000 tonnes of jack mackerel and redbait off the country's southern coast. It was to have fished re-named as the Abel Tasman, having been brought to our waters by Seafish Tasmania in 2012.
The boat's time here was not exactly happy. It spent its time tied up in port while the Australian government considered the rising tide of opposition to its presence. Eventually supertrawlers over 130m were banned from Australian waters, which meant that the Margiris had to move on, in March 2013. It is, after all, the world's second largest fishing boat.
Interestingly, in light of later events, back in 2012 Seafish Australia's board looked pretty robust, with a well-credentialed independent chairman, plus fishery industry reps and advisers.
After the Margiris left, Seafish brought out a 95m replacement trawler and re-named it Geelong Star. It operated from on-and-off from April 2015, but after a succession of incidents around by-catch and operations generally, it too departed, in November 2016.
Earlier in 2016, Seafish Tasmania had been fined $40,000 for illegal dumping of more than 1,200 truckloads of fish processing wastewater from its processing plant onto private property in Triabunna in 2012 plus into an unnamed creek on the east coast. The Tasmanian EPA brought nine charges, with the company pleading guilty to three and six being dropped. It was the largest fine ever imposed under the EPA's regulations. In June Seafish defaulted on the payment and was placed on the State's court fine debtors' list.
Then, on last Christmas Day, major media outlets reported that 15 people were accused of allegedly importing hundreds of kilos of cocaine into Australia using local fishing trawlers to ferry the stuff in had been detained. Among those arrested: Seafish Tasmania director and Ulladulla commercial fisherman Joe Pirello, Hobart commercial fisherman and sometime AFMA advisory committee member James Collins, Seafish Tasmania employee and marine engineer Stuart Ayrton and a couple of other Ulladulla trawlermen.
And what of the Margiris, currently registered in Lithuania? In December, she was fishing off the coast of Ireland, had been boarded and inspected by the Irish Naval Service and is subject to a petition to ban supertrawlers from Irish waters. Dead dolphins with rope marks have been turning up along the Irish coast.
Early Seafish/supertrawler supporters remain in Australia's national parliament, and while their views on all this might be mildly entertaining, let's not waste the space. Leave that for the mini-series and let's give Greenpeace the last word on supertrawlers. From its website: "Not now, not ever. Not here, not anywhere."