It will be all barra fishing action on the NT's Daly River this month as the first of the annual comps kick off. First up is the Barra Classic, closely followed by the Barra Nationals.
By all reports, it should be a good one given that the river has cleaned up nicely. News just to hand came from Peter Rees who took visiting family downstream in hope of a barra bonanza found some glory in the form of 30-odd fish for the two day session. That good ol' Guns 'n' Roses Classic 120 was responsible for most of the action aboard Peter's boat.
River height is already quite low, with navigation through the Browns Creek sandbar an interesting affair on the lower tides.
Just like clockwork, recent big spring tides turned the switch at Shady Camp resulting in plenty of metre plus fish making it over the gunwales. The usual hangouts claimed good ones: Sampan, Marsh, Love and Carmor to name a few. Six-inch Hollowbelly plastics were the flavour of the day for one crew, although it was hard to keep them together once they'd been slammed by the big girls. In the hard body department, big Bombers and Reidys Big B52's were all that was required.
Speaking of Reidys, Reidys Lures' Colin Burden took the original Reidy (Jeff Reid) out the Daly Mouth for a few days getaway. That trip was a winner. No surprises on lures; Reidys SeaBug Jigs cranked into some hefty goldies, jewies and cod around the reefs and in close Pearl Jam Judges were deadly on the barra. Plenty of fish were around the 90cm mark to round out the trip nicely.
Corroboree Billabong has been a challenge for some due to the amount of tarpon there at the moment. I'm yet to hear of a decent fish so far but dont panic, it will come soon.
The Finniss River continues to impress, both in the barra and crab scene. There's no shortage of big bucks around the mouth and the barra are close by too.
Reports of Sailfish from Dundee Wide just keep on coming – it's going to be the best year ever I reckon. Time to get rigged up!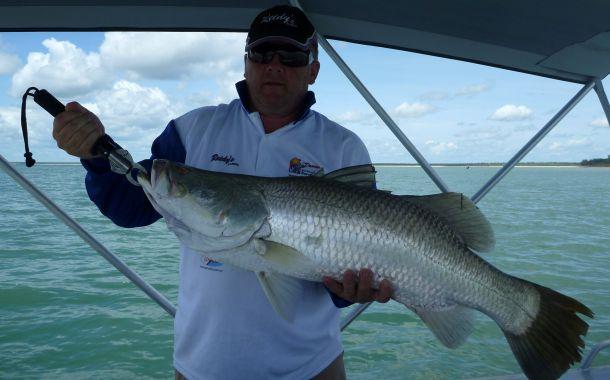 Colin Burden from Reidys Lures hit the barra around Red Cliffs and scored this 90cm beauty.
Craig Grosvenor
Got One Darwin
Ph (0 8) 89472224
Email – darwin@gotone.com.au