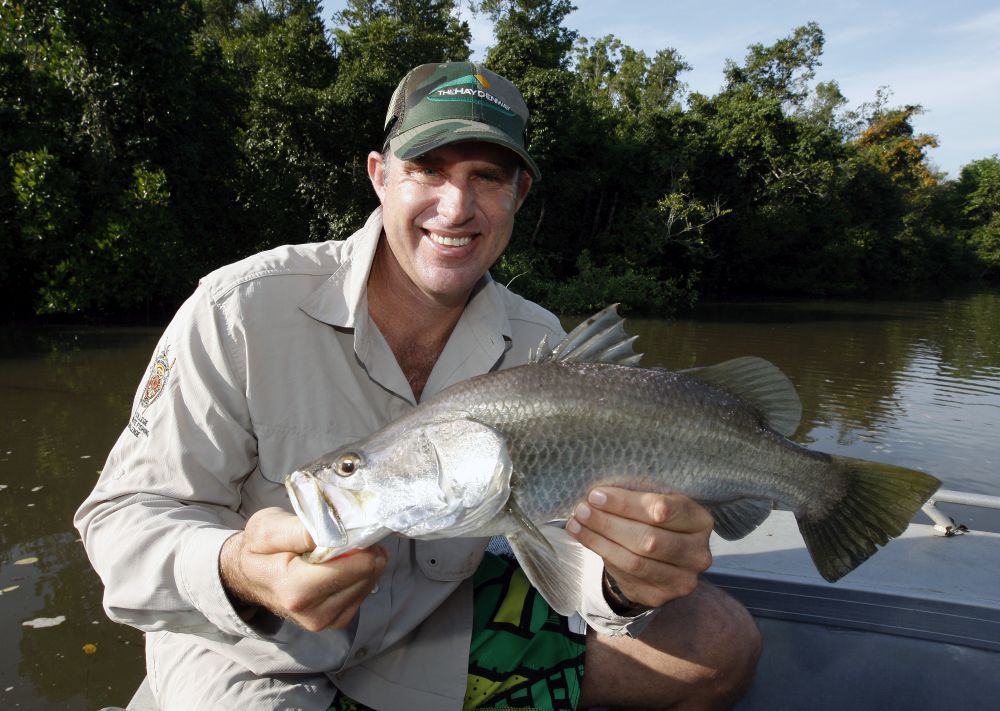 MOST Australian sports fans know the name Matthew Hayden and the legendary Australian opening batsman still evokes fond memories. With not a decade having passed since his retirement, thoughts of "Haydos" striding down the pitch and lifting the best bowlers in the world over mid-on for 6 runs still brings a nostalgic feeling for many. Having never been one for taking a backwards step on the pitch, he hasn't taken a backwards step off it either and much of his post-cricket work in television and other media has been done in the limelight. What hasn't been so highly publicised however is his love of fishing and where that love of fishing has taken him.
It doesn't take too long when talking to Matt Hayden to work out that there a few things in his life that he is passionate about, and one of those things is fishing. Growing up in Kingaroy in country South East Queensland, some of Matt's earliest fishing memories are of fishing for small Australian bass on Boondooma Dam, back when the bass stocking programs were in their infancy. They had two options to fish the dam, it was either in a 16ft Haines Hunter or with his mates on kayaks.
"I reckon the biggest bass that I ever caught would've been about 20cm but there were heaps of them due to the stocking program. It's funny to think that now there are whole communities thriving off the back of the bass stocking programs and it's become such a big part of the fishing industry," he said.
Matt also remembers school holidays as a great time growing up.
"School holidays time was always about trips to the coast, which meant fishing and surfing and this is where I really developed a love for the ocean."
His first trips further afield came in the form of Cape York adventures with his uncles who were both parish priests in regions around Cairns with one being a missionary priest that spent most of his time in the communities between Cairns and Thursday Island. He recalls very fond memories of spending time fishing Far North Queensland with his uncles.
"Uncle Tom had a banana boat with a Yammie on the back and we'd spend weeks on end visiting the communities and fishing, and the fishing up there, as you know, is bloody unreal."
Then when professional cricket became a big part of Matt Hayden's life, unlike many others Matt found time to fish despite the hectic schedule. He also believes that cricket and fishing share many of the same skillsets.
"There are lots of similarities there; there's obviously the mechanics of casting and hand-eye co-ordination and all of that but then there's the mental side too with patience, concentration, team work and mateship."
Matt says he has great friends around the world that are all fishos.
"For example when I was captain of Northampton (former English batsman) Allan Lamb, who had been a friend of that club for a very long time, and I became great mates through a mutual love of fishing. And so 'Lambie' and I used to go up to Scotland and fly fish for salmon and just generally get on the piss and do what mates do," Matt says.
"In South Africa Jacques Rudolph and I is another example of that fishing thread. We were playing against each other at the time but while everyone else was going to restaurants and that sort of thing, Jacques and I were fly fishing for five inch rainbow trout with 2wt rods in the country outside of Cape Town."
In Australia, Matt Hayden's good mate and former Australian team mate Andrew Symonds has a highly publicised love of fishing and an on water incident which resulted in Hayden and Symonds having to swim a kilometre to shore after their boat sank led to Hayden becoming a boating safety advocate. There are also plenty of others Australian cricketers both past and present that are publicly recognised as fishos including Mark Taylor, Brett Lee, Dom Thornley and Cameron White amongst others.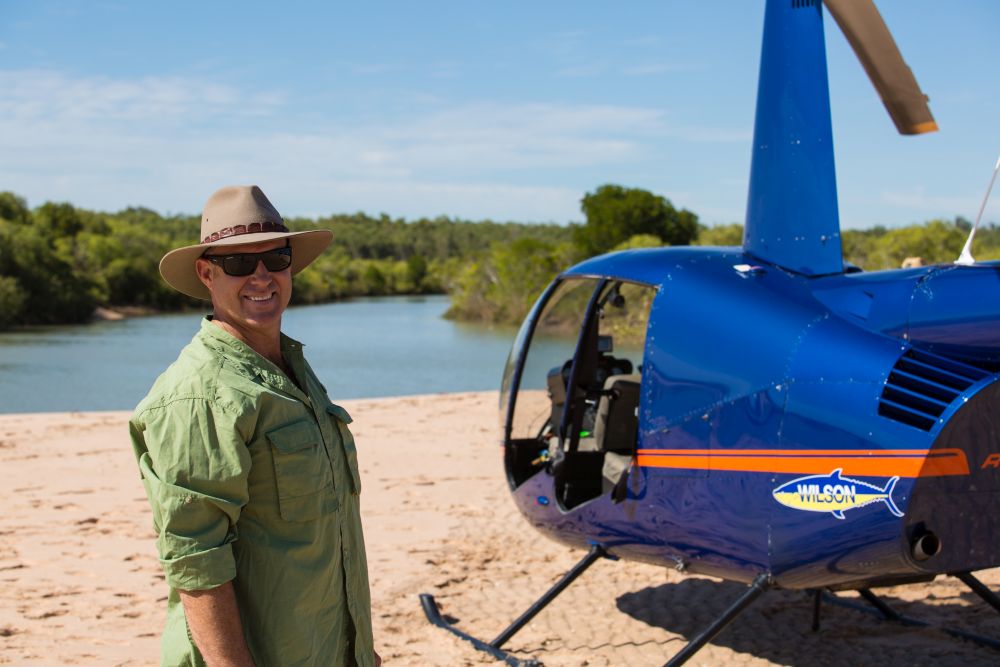 Matt is the official ambassador for the Northern Territory's hugely successful Million Dollar Fish Competition. The inaugural season was a huge success with 43,000 registered, 26,500 of those from interstate, 14,000 from the NT and 2,500 from abroad. And from those numbers outside the NT, 6,500 visited the Territory during the competition.
In season one, there were 10 x $10,000 tags won by registered contestants. For season two, there is an additional pool of $175,000 worth of sponsors prizes that anyone registered has a chance of winning, regardless of whether you get to the NT or not. In the opening month of the competition, there has already been six $10,000 barra caught and with Matt Hayden providing both national and international exposure and major sponsors signing on until 2019 the competition looks set to be a long term success.
Hayden says he jumped at the chance to be the ambassador for Million Dollar Fish, not only because he loves his barra fishing but also because he loves the Territory and spends a lot of time up there with his philanthropic projects on the Tiwi Islands.
"I absolutely love my barra fishing, and that's one of the things I love about this competition," he says.
"Anyone can get involved, whether you are land-based or in a little tinny. Look at that young fella who caught two tagged fish last season. He's in a tiny little bloody tinny, fishing with his mate in Darwin Harbour. And he caught two fish at his family's secret spot!"
Matt admits he's thrown more lures at barra than most yet he's never caught a metre fish, but he believes that's what keeps him coming back. "I've had people right beside me that don't even really care about fishing throw into the middle of the creek with an absolute rats arse mentality and catch a metrey while I've been peppering snags all day. That's what I love about it, you're always in with a chance with barra."
Matt is very passionate about the Tiwi Islands and its people and spends a lot of time there working on his Tiwi Gardens project. The project helps raise money to create opportunities which provide pathways for positive social change. He says that the project has been a remarkable success and describes it as easily the most significant philanthropic project that he's ever been involved with.
Part of the Tiwi Gardens Project is the Fishing Challenge, a competition where they charge $15k per rod for corporates to come and fish with a celebrity or sporting personality for four days. The Fishing Challenge has been a huge success to date and in six years has raised $2.75 million which has all been invested in the islands.
These days Matt spends a lot of his downtime out fishing with mates or the family. He has a tinny that he uses to chase flathead, whiting and bream with in his local waters, and a six metre fibreglass boat that he goes a bit further afield with to chase mackerel in summer and snapper and pearlies in winter.
He's also been doing a lot more land-based stuff too.
"I have to admit that I love the simplicity of land-based fishing these days. It's so simple and the kids absolutely love it, no matter whether they're catching fish or collecting bait," he says.
Matt doesn't mind what sort of fishing he does but does credit his family and his home with his happiness and lifestyle. In fact, he is so passionate about North Stradbroke Island that he credits it with turning his life around.
"I've got a love affair with Straddie, Kel and I bought a place over there in '99 and it not only changed my career, it changed my life, it's somewhere that I'm incredibly passionate about," he says.
So what's the next challenge for Matt Hayden? "No idea," he laughs!
"I haven't even got that far, I'm so busy with everything that's going on right now that I haven't even thought that far ahead," he says.
Well Matt might not know, but you can pretty much guarantee that it will involve family and fishing somewhere around Australia.