THE evolution of four-stroke outboards has taken a major leap forward with the introduction this week of Yamaha's new F200.
Long admired for their fuel efficiency and quietness, four-strokes, especially those in the higher horsepower bracket, have also been derided by some sectors of the marine industry for their size, weight and sluggish performance, especially when compared against DI two-stroke technology.
The F200, along with other new generation four-strokes such as Mercury's recently launched three-litre 150, signals the future development of increasingly lighter, more compact and "zippier" four-stroke outboards.
At 227 kilos, the four-cylinder F200 is a kilo lighter than the popular Yamaha F150 and is easily the lightest and most compact four-stroke 200hp outboard on the market.
The arrival of the F200 will allow boats previously restricted to engines in the 150hp class to now upgrade to higher horsepower. This will have appeal for new boat buyers and also anglers wanting to re-power existing boats.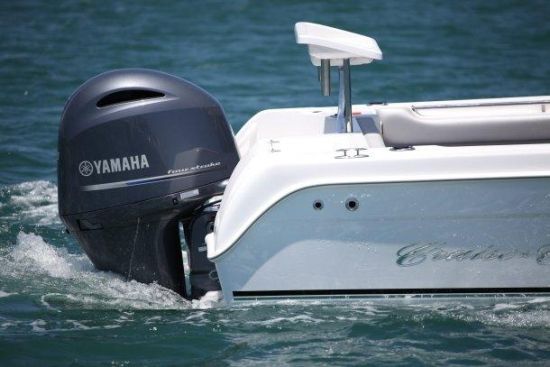 The F200 was launched by Yamaha executives at the Gold Coast on Tuesday. The engine should be on sale in the local market early in 2013. Pricing is expected to be similar to the current V6 F200, which will be superceded by this new engine.
Yamaha technicians explained that the engine is a completely new design. This is not simply a detuned F150, they said. The new 200 features an inline four-cylinder 2.8-litre, 16-valve DOHC powerhead equipped with a "variable camshaft timing system", which provides for "quick acceleration and a strong midrange punch". Interestingly, the technicians advised that use of premium 95 octane fuel was recommended for this engine. Lower grade 91 octane E10 fuel was suitable but could see a slight reduction in horsepower, the Yamaha techs said, although it would be unlikely to be noticeable in typical boating conditions.
The four-cylinder F200 is designed "mainly" for recreational use, Yamaha said. This indicates that a version of the current six-cylinder 3.3 litre model will be retained for the commercial market.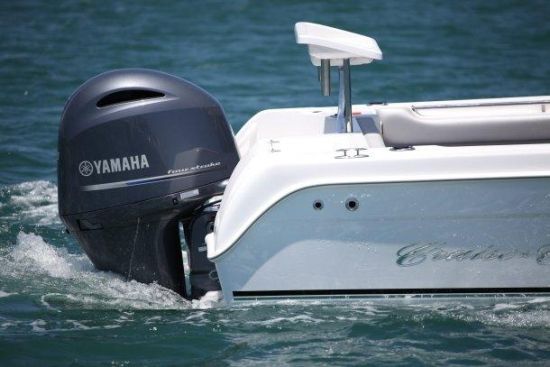 Fisho spent a couple of hours test driving the F200 in a Sea Jay Pursuit 620 plate alloy boat and Cruise Craft's brand new 595 Explorer. Although our on water experiences with this new engine were limited, time in the test boats revealed that the F200 boasts performance akin to that of a modern DI two-stroke. Acceleration throughout the rev range was impressive, especially from around 3000rpm through to WOT.
Like most modern engines, the F200 was whisper quiet at idle and low revs. Even at high revs, wind and boat noise was more noticeable than any sound emanating from the engine. The engine was noticeably slimmer and more compact than the previous V6 model.
Yamaha fuel and speed data testing revealed that the F200 used an average of 15.60 litres per hour at 3000rpm/18.6 knots in the Cruise Craft 595 Explorer. At 6000rpm, the engine used 75.35lph travelling at almost 45 knots. At troll speed of about seven knots, the engine used 9.35lph at 2000rpm.
The new F200s are designed to be mated with the latest Yamaha Reliance props, which feature a polished stainless steel finish and the "shift dampener system" which helps reduce gear "clunking". These new props are available in a range of sizes to suit all applications, Yamaha said.
The F200 also provides increased alternator output and will be available with either mechanical remote control or digital "drive-by-wire" control. The drive-by-wire version will hit the market some months after the mechanical version is launched in the first quarter of 2013.
The technology developed for the new F200 has obvious applications across other horsepower classes. Yamaha's Australian management indicated that R&D was currently underway in Japan for a "mid-sized" lightweight four-stroke. This engine, which could be around the 150-175hp class, would probably be released in or around 2014, Yamaha said. No other details were forthcoming.
Check out our video showing the new lightweight F200 in action on the Gold Coast Broadwater and stay tuned for more info and images in the January edition of the mag.