IF current polling trends continue, it is highly likely that an Abbott-led Coalition government will be in charge of the final implementation of the federal marine parks currently being worked on by Labor's Tony Burke.
The federal Environment Minister revealed in an interview with Fisho last week that it was unlikely management plans controlling activities in the marine parks would be finalised before the next election, scheduled for the second half of 2013.
"The maps will be done," Minister Burke said. "(But) the management plans may or may not be done."
The fact that protocols relating to fishing access in areas like the Coral Sea and the south-west of WA, where Mr Burke is planning significant fishing closures, could become a Coalition responsibility has not been lost on Opposition fisheries spokesman Senator Richard Colbeck.
"The Federal Coalition is currently reviewing the options based on the current legislative framework both for the declarations and management plans," Senator Colbeck said in a statement.
"We are determined that our decisions will be based on sound science and we continue to express our concerns that the Government's decisions are not."
How the outcome of the 2013 election influences the marine parks issue is also of major interest to rec fishing leaders, including Allan Hansard, the head of the newly formed Australian Recreational Fishing Federation (ARFF).
"We have a pretty good idea of where Tony Burke stands in relation to recreational fishing in the proposed marine parks," Hansard told Fisho this week.
"We're not so sure of what the Coalition is thinking. It will be interesting to see their policies in this regard."
Although Tony Burke has come under fire from many anglers for his marine parks plans, rec-fishing pundits temper any criticism of the process so far by highlighting Burke's willingness to engage in dialogue and consultation.
"Burke's always been pretty frank with us," ARFF's Allan Hansard said. "We might not agree with everything he says – and he mightn't always agree with what we say – but there's no doubt that we have a constructive working relationship."
A meeting with rec fishing and boating representatives in Canberra last week revealed that while the Minister is not backing down on his biodiversity protection plans, he is openly willing to work towards minimising any possible impacts on rec fishermen.
Compromise plans currently being considered by Minister Burke include setting up moorings in sensitive areas to negate anchor damage issues. The Minister is examining this option closely and says consideration of such policies demonstrates he is keen to work with anglers.
"If your objective was to get rid of fishing, then you wouldn't (consider a mooring option). But if your objective is to protect the environment, you would do it."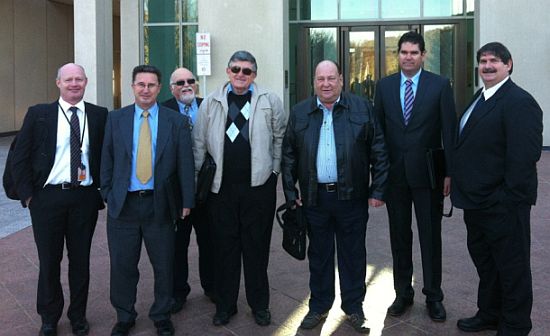 Rec fishing leaders last week met with Tony Burke and Senators Colbeck and Boswell in Canberra to discuss marine parks issue. (From left) AFTA/ARFF CEO Allan Hansard, TARFish CEO Mark Nikolai, AFTA president Bruce Alvey, AFANT CEO Chris Makepeace, AUF NSW chair Adrian Wayne, RecFishWest CEO Andrew Rowley and RFA president Malcolm Poole (abscent from image Nic Parker, CEO BIAA). Image: Jim Harnwell

The Minister also revealed that he has developed a possible policy that would see "green" reefs closely bordered by "wilderness fishing areas". This strategy would protect biodiversity-rich hard reef but would allow sustainable recreational fishing around the productive reef edges and drop-offs. "I have found the question of providing enough protection of individual reefs to be a legitimate environmental argument," Minister Burke told Fisho. "It's not about (the size of any protected area), it's about the actual biodiversity. If you put a big green square around reefs, then you will jeopardise (fishing opportunities). If you're trying to protect the reef itself and you get a boundary that closely matches the outline of the reef then there should be a way of delivering the biodiversity outcome I'm trying to get without knocking off (angling aspirations)."
The Minister said he had personally come up with this idea during a recent nationwide consultation tour meeting with anglers and angling groups.
"The environmental campaign when it talks about the biodiversity of the reefs is squarely in the scientific justification which the rec fishers keep saying they want to see," the Minister said. "But the moment you move off the reef that argument becomes a lot weaker. The big pelagic species you can catch in the Coral Sea, for example, well, they're off the reef."
This line of thinking is seen by various pundits as being a watered down version of the "gold zone" policy recently released by ARFF. Under this policy, the proposed "green" no fishing zones in the Coral Sea and the SW of WA, as well as in other areas earmarked for "protection", would become "gold" – allowing for sustainable rec fishing activities but banning destructive industrial fishing methods such as demersal trawling and long lining.
According to ARFF's Allan Hansard, the "go for gold" policy is a win-win for the environment and for Australia's 5 million anglers. "This plan provides really strong environmental protection yet encourages the development of rec fishing in this country.
"There's no need to ban rec fishing anywhere in Australia. Doing so in places like the Coral Sea and the south-west region of WA sets a disturbing precedent. We would rather the main political parties adopt the 'go for gold' approach as a compromise between sensible environmental protection and responsible recreational use of these amazing fisheries," Hansard said.
While the "go for gold" campaign is attracting significant backing from anglers – Hansard reports that he's been deluged with emails and phone calls of support – the politicians are more muted in their response.
Even though he's willing to negotiate with anglers and discuss compromises, Burke has made it clear that he proposes to close significant areas to all fishing. The Coalition's Richard Colbeck, on the other hand, is hedging his bets somewhat by saying that while "the gold zone proposal is obviously an effective way to address the potential impacts from a recreational fish(ing) perspective, but unfortunately it does not completely deal with the broader issue of proposals based on sound science".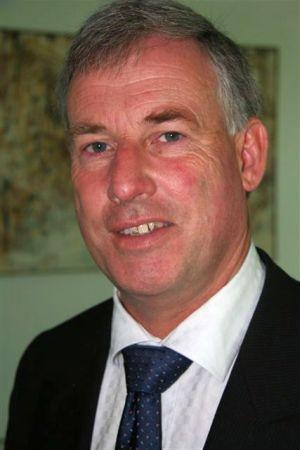 Coalition Senator Richard Colbeck
The environment groups have so far remained silent on ARFF's "go for gold" campaign, however, previous statements from no-compromise enviro-warriors like Pew's Imogen Zethoven have revealed that the conservation lobby will only be satisfied by complete closures to all fishing.
While it is virtually 100 per cent guaranteed that the Pew-led campaign to ban fishing in the Coral Sea has failed – Tony Burke reiterated last week that he had no plans to impose total fishing closures in any Australian waters – the actual make up of the federal marine parks, especially those planned in the Coral Sea and the SW region, remains an issue of some conjecture.
While the boundaries and zones within the parks will likely become law before the end of the year, the management plans which define how these areas actually work will likely remain incomplete until well after the 2013 federal election, thus meaning any potential fishing closures will remain up in the air.
If Labor defies the polls and wins another term in office, then we can expect to be prohibited from fishing in some areas in the Coral Sea and southern WA, as well as in remote parts of the NT and SA. There are no plans to close any new areas to fishing along the temperate east coast.
If he remains as Environment Minister in a new Labor government, Tony Burke has demonstrated that he has listened to angler concerns. Thus it is likely that any areas he closes will be assuaged to some extent by compromise options such as reef edge zones and wilderness fishing areas. In simple terms, the Burke plan is a marine parks system that protects biodiversity but minimises angler pain, at least as much as possible.
The Opposition is taking a different tack, albeit one that to date doesn't have much in the way of detail. There's a strong push emanating from within senior Coalition ranks, most notably from veteran Queensland Nationals Senator Ron Boswell, that there is no need for any fishing bans at all. On a simplistic level, this has obvious appeal to all in the angling sector. But if you look at it more closely, rec fishing stands to lose out as this policy essentially reinstates the status quo as far as allowing commercial fishing activities in areas currently mooted by Labor as becoming rec-only.
Queensland Nationals Senator Ron Boswell. Image: Jim Harnwell
It has to be said that the Coalition has so far failed to adequately differentiate between rec and commercial fishing. Instead it appears to be favouring a "one stop" solution to the issue – ie, a populist approach based on opposing the Burke plans while not really offering any alternative strategies or policies.
This is disappointing to a degree as any angler with an eye to the future realises that phasing out unsustainable industrial fishing operations is key if we want to develop viable sport fisheries. Senators Colbeck and Boswell don't seem willing, at this stage anyway, to adopt that line of thinking. That may well change, however, in the run-up to the next election – four or five million fishos have plenty of voter appeal, after all …
Tony Burke revealed to Fisho during the interview in Canberra last week that the final maps and zonings for his federal marine parks would be announced sometime over the next three months. That announcement will provide clear detail on the areas the Government proposes to "protect" and which waters it will leave open for fishing. How these marine parks will work, and what impact they will have on rec fishermen, probably won't become apparent until after the 2013 election when the management plans are likely to be finalised. Exactly what happens on that front will depend very much on who wins that poll, Julia Gillard or Tony Abbott. Stay tuned …
Jim Harnwell is the editor and publisher of Fishing World magazine. He has been covering federal marine parks issues for several years.