FISHO headed west on the weekend to assess the impact of a 40km long pipeline Orange City Council wants to construct in order to suck water from the Macquarie River.
There are strong fears amongst local anglers, landowners and conservationists that this pipeline will soon be approved by the relevant government authorities, potentially destroying one of the last vestiges of pristine native fish habitat in central-western NSW.
Public submissions on the pipeline project are due to close on October 10 – find out how you can have your say HERE.
We set up camp a few miles downstream from the proposed pump site. This country is rugged, hilly and uniquely Australian. Back in the 1800s, the entire area was a hive of activity as miners searched for gold. Now wedgetail eagles soar in the thermals over the river valley, mobs of eastern grey kangaroos feed on the flats down by the water and the plaintive bleating of wild goats can be heard up on the ridgelines.
Ken Smith, a local resident and member of the Friends of the Macquarie, a grassroots activist group formed to oppose the pipeline, organised this exploratory trip in order to demonstrate to Fisho the impact the pipeline will have on this delicate and ancient environment.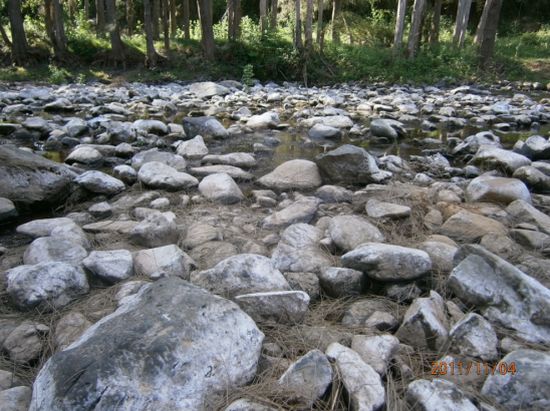 It was interesting to note that the river was flowing on the weekend at about 588 megalitres. This is a "steady" flow, according to Ken. It was no raging torrent, however. Water bubbled through rapids and meandered down the deeper holes. This sort of flow is described as "low to medium" and any pumping activity would more than likely have a negligible effect on the river as a whole. However, the proposed pipeline won't be used in these conditions – if approved, it will only extract water during drought periods when the flow is at about 40 megalitres – basically a trickle. Pumping then will result in the Macquarie fundamentally drying up, putting at serious risk the endangered native fish inhabiting this iconic waterway.
These native species include Murray cod, yellowbelly, trout cod, river blackfish, silver perch and catfish. Recent studies done by Orange City Council have concluded that there are few, if any, of these fish in the river. That's patently untrue. I've personally caught & released cod and yellowbelly here, and have seen documented evidence as to the existence of all the other species, including the critically endangered trout cod. Just yesterday morning we spotted a nice sized Murray cod swimming about in his snag near the riverbank (it's currently closed season for cod so we were just looking, not fishing) plus several yellowbelly.
Unfortunately feral carp also infest this river, putting even more stress on the natives. If the flow of the river is reduced by pumping, the carp will likely out-compete the natives and will be free to totally dominate the system.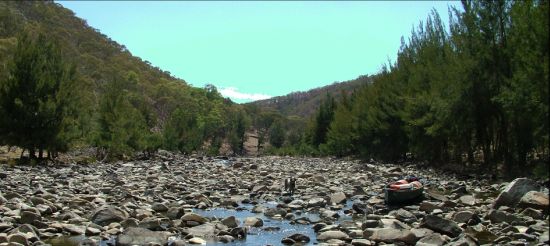 After having been lucky enough to have camped alongside and fished this magic river several times in the past year I personally find it immensely distressing that it is under threat from this pipeline. It's obvious that major regional cities like Orange need reliable water sources but the authorities should explore different options and leave the river – and its native fish – alone. If the pipeline goes in it will add further pressure to a river system already stressed by climate change and upstream development. The section of river we are talking about here is wild and relatively untouched. The fish and other native species inhabiting this area have only survived because access is limited. The pipeline will change all that.
It's easy to dismiss this issue as being a local affair. I can understand that if you live in Sydney or Perth or Cairns that what happens in a smallish river out in the middle of NSW is of little concern. But this issue should concern all anglers, especially those of us with an interest in native fish. If the pipeline goes ahead, an area of significant habitat will be severely compromised, possibly destroyed. We've already lost so many of our native fish species, we damaged and mistreated so many of our inland rivers – we shouldn't put the Macquarie in peril.
All anglers should have a say on this proposed pipeline. It doesn't matter if you live in Bathurst or Brisbane, Orange or Oodnadatta – if you're a fisho make sure the powers that be hear your voice and stop the pipeline!
You can find out more by checking out the campaign being run by Keep Australia Fishing at www.keepaustraliafishing.com.au.