ONE of the key issues currently facing the recreational fishing and boating sectors is how to get more people out on the water. This includes adults, of course, but the priority is seen as encouraging young people to experience the boating lifestyle.
The current thinking is that if young people don't get the chance to learn about boats and fishing, and thus never really experience the benefits of onwater activities, then it's more than likely that they'll end up ditching any nascent interest in boating in favour of one of the other myriad lifestyle options available to them. Research indicates that kids need to get involved with boats at a fairly young age if they're going to continue on and embrace the boating lifestyle as adults. If we as a society fail to give our youth the opportunity to experience boating, the upshot will almost certainly be that generations of young Aussies will miss out on the benefits of a life spent "messing about in boats".
As well as meaning that our society will likely become ever more sedentary and disconnected from the natural world, a generational shift away from boating has the very real potential to adversely affect all the various businesses involved with the marine and rec fishing industries, which has obvious implications for our national economy and jobs growth.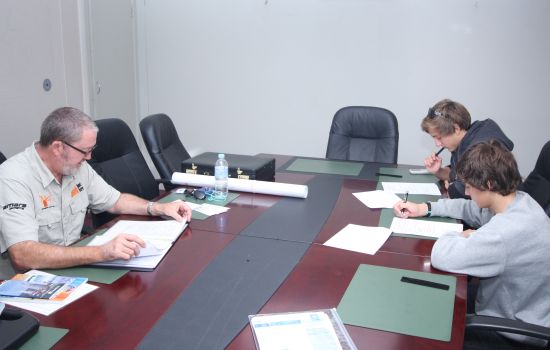 The classroom theory session.
Like many in the boating sector, Anthony Gelfius, who along with his brother Paul is a director and founder of the successful Boab Boat Hire company, is concerned that not enough young people are being given the chance to experience boats and boating.
Himself a father of young sons, Anthony realised that most kids have an inherent interest in and attraction towards boats, whether it be for fishing, water sports or just for exploiting the sense of freedom associated with being out on the water.
Research into the various training options available to would-be boaties, as well as an examination of regulatory trends, indicated to Gelfius that formal training was, or would be, a mandatory part of the overall boating experience.
Boab Boat Hire has franchise operators around most of the country, with a fleet of quality custom built alloy boats offering clients the chance to experience inshore and offshore fishing/pleasure boating.
In order to hire a Boab boat, you obviously need a current boating licence (unless you hire one of the smaller models which feature engine restrictions that limit speed to less than 10 knots). Gelfius and his business partners swiftly realised that many would-be clients were interested in boating but were held back by the lack of a licence. The Boab guys also realised there were plenty of kids out there who were dead keen to experience what boating had to offer.
With that in mind, Boab has introduced a boat-training component to its business plan. At present, this is available only at Boab's Wollongong-based operations, headed up by franchise owner John Lane. Boab's other NSW-based operations – based in Jervis Bay, various locations in Sydney and Lake Macquarie, Forster and Port Macquarie to the north – are expected to join the program soon, with other states to follow. The Boab Wollongong Powerboat Training Centre operates under the auspices of Yachting Australia, which has extensive boat training experience.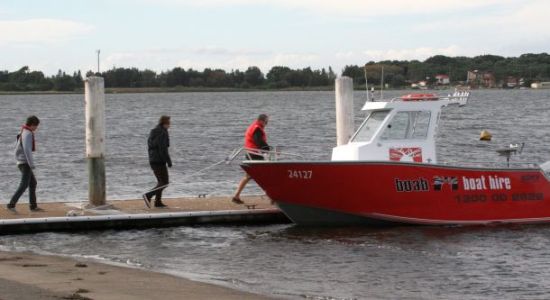 In order to check out this new boat-training course, I booked my sons Jack (16) and Harry (13) in for a session last Saturday. Both boys are keen fishos and Jack in particular had been bugging me to get his licence so he could go off in a boat with his mates.
The first part of the course, which was staged at the Illawarra Yacht Club, was a brief theory session discussing basic navigation and safety equipment followed by a multiple-choice exam. I was impressed with John's patient and thorough explanation of the sometimes complex subjects and also by the way he encouraged the boys to think about their answers, even when they got them wrong!
After this 30-minute theory session, we trooped outside to where John had his 6m Boab centre cab moored up at the wharf. As far as I can see, the difference between the Boab training course and those run by other marine training organisations is the amount of time spent in practical on-water demonstrations. We spent a good four hours out on Lake Illawarra where the boys – and I! – learnt a heap of practical and useful info relating to boat handling, safety, mooring, navigation and regulations (classes usually consist of groups of four and run for eight hours in total). It was all excellent hands-on information which John delivered and demonstrated extremely professionally.
Teenage boys sometimes aren't the most focused individuals – although my young fellas are pretty good – and it was impressive to see how John engaged with both boys and encouraged them to learn from their mistakes. It was also interesting to see how the structure of the course operated. Information was delivered in blocks which, as the practical demonstrations continued, formed a solid base on which future boating experience can be further built.
At the end of the practical component, John delivered a wrap-up of what had been covered and presented both boys with certificates enabling them to get their boating licences via NSW Maritime. As Jack is 16, he automatically receives a General Licence, which allows him to drive any vessel (apart from a PWC) at 10 knots or more. Thirteen-year-old Harry can get a General Young Adult Licence. He automatically upgrades to a General Licence when he turns 16.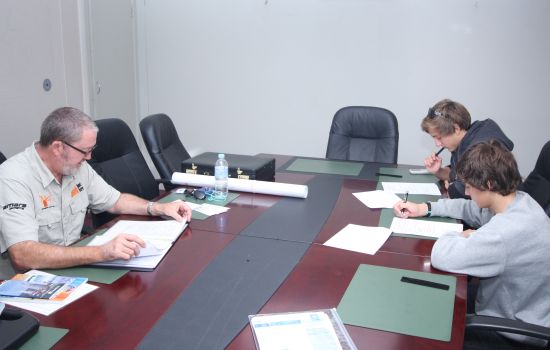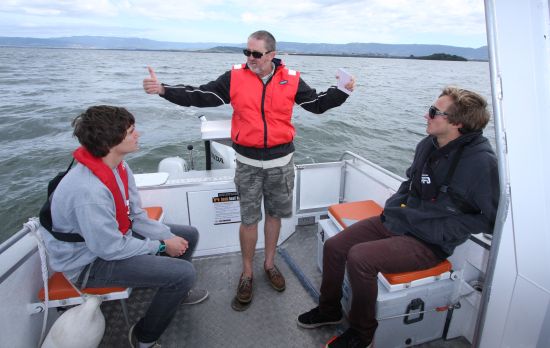 John Lane running the boys through a practical on-water training session.
As stated, various other organisations offer boat licence training courses, and they no doubt do a good job at it. Personally speaking, I was impressed with the Boab formula because of its strong focus on practical demonstrations out in the big orange Boab centre cab. While theory is important, actually driving a boat out on the water has to be, to my mind anyway, be a far more useful learning experience for any would-be boatie. John Lane proved to be an excellent instructor who managed to make complex subjects both easy to understand and interesting. I've been driving boats for nearly 30 years but picked up quite a few handy tips while observing John deliver the course. A newcomer to boating would find all of John's lessons to be illuminating to say the least.
It's great to know that would-be boaties of all ages can now utilise the Boab Powerboat Training Course in order to embark on a lifetime of boating fun!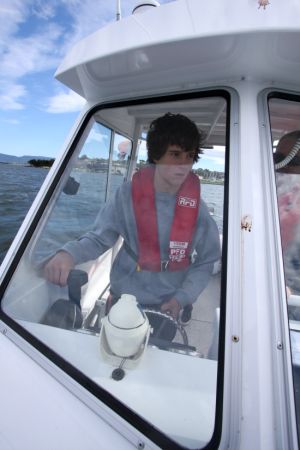 Thirteen-year-old Harry Harnwell at the helm.
For more info on the Boab Wollongong Powerboat Training Centre, contact John Lane on mobile 0417176906, email wollongong@boabboathire.com.au or check out boabboathire.com.au.