Early this week Fishing World attended the launch of Stacer's 2010 boat model range.
The southeast Queensland-based tinny manufacturer appears to be following the trend shown at Stacer launches in recent years: that is, refining existing models that work, adding models to some lines and discontinuing others.
Stacer's director of marketing and sales, Damien Duncan, says the company has looked at boat registration trends around Australia and has put more emphasis on refining its 4.5-5m line-up. Boats of this size are what Aussie fishos seem to want, judging from the rego data. Duncan says Stacer has heeded requests from dealers and customers and added features and introduced models where required.
The most notable refinement on some Stacers in 2010 is the new generation EVO "Advance" hull design, set to feature across the brand's runabout, bowrider, cabin and Nomad ranges. The inspiration for the new hull can be attributed to Stacer's big sister, the Yellowfin range.
The new Stacer hull, like the aforementioned plate boats, features a sharper bow entry for improved ride and water cutting ability, and redesigned transom sections for added cockpit space. The bow section on EVO Advance hulls has also been reworked so as not to negatively impact on stability.
Aesthetics too have been reworked across Stacer's range with improvements to side pocket storage, redesigned rear lounges and new paint designs.
Most notable to fishos is the release of some new models with familiar names – the 449 Northern Fisher, 479 Nomad and the 589 Ocean Runner. These three represent a good cross section of the various segments of the fishing boat market: the Northern Fisher is a stripped back centre console; the 479 Nomad is a refined version of this well established side/centre console; and the 589 Ocean Runner is an offshore capable cabin boat.
The 479 Nomad is the new kid on the block in a now 11 model range. The tested Nomad 479 at the launch was configured as a side console but Fisho was told on the day that buyers can opt for a centre console. Notable on the boat, and others with the Advance hull, is a redesigned transom that has been pushed further astern to provide more cockpit space. The boat still features a pod, albeit a smaller one that can be used as a mini duckboard. The transom mid-section is hinged for cockpit access from the stern.
Its new design hull offers an improved ride thanks to a sharper entry cutting through chop and wakes we encountered on the Gold Coast's busy Broadwater.
The Nomad 479 comes standard with pedestal seating with four deck mount positions, bow casting platform, 77 litre underfloor fuel tank, four gunwale rod holders, VHF radio, extended sidepockets and a live well. Factory options include a bimini top, removable cutting board, twin batteries, sounder and, for those inclined, a ski pole. Serious fishos would most likely look at a sounder for the console and a bow-mount electric. The Nomad 479 should make a versatile rig for inshore estuary and impoundment work, open bays and the occasional offshore outing. Fitted with a range of power from the standard 50hp two-stroke Mercury through to a maximum rated 75hp it is expected to be priced in the sub $30,000 range, fitted on a factory aluminium trailer.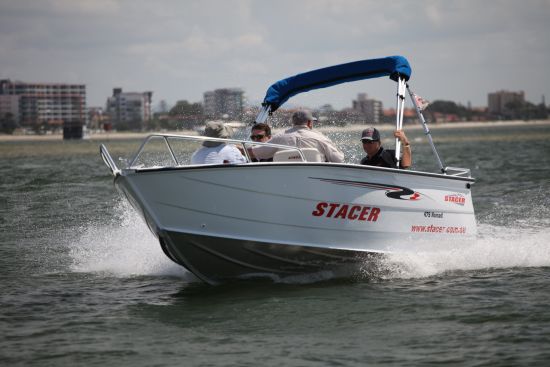 Acting directly on dealer requests has resulted in Stacer producing the new 449 Northern Fisher. The smaller sibling to the existing 489 and 529 models, this bare bones centre console is sure to appeal to fishos looking for a no-frills package that can be bought for around the $20,000 mark (with a 50hp Mercury two-stroke). It can be used to cover most inshore fishing options and the occasional good weather offshore trip. The 449 NF features good storage, a 70 litre underfloor fuel tank, a transom bait prep station with rod holders and a neat above deck engine well battery box. This particular boat lends itself well to owner customising.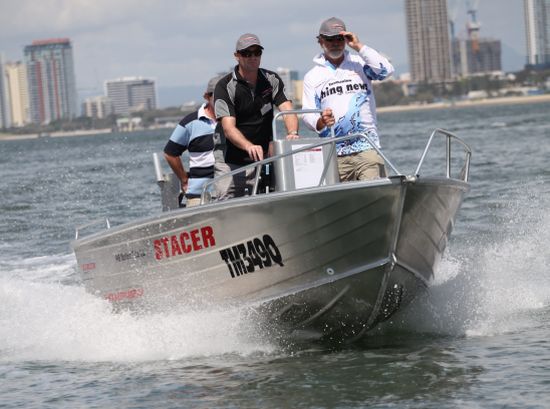 Stacer's 589 Ocean Runner is designed for bay and offshore fishing, while offering a good compromise option for family days on the water. A cuddy cabin design, it features the EVO Advance hull and is constructed from 4mm alloy bottom and topsides. It boasts a fairly solid hull weight of 822kgs. Fitted with a maximum rated 150hp Optimax outboard, the Ocean Runner with four on board displayed plenty of get up and go. Taking out a few mates and a pile of their fishing gear shouldn't be a problem on this boat. Standard fit-out includes pedestal seats with bolster supports that proved their worth when driving standing, and a bimini top that when fitted with side clears would offer good weather protection.
The cabin itself features a couple of short padded V berths with storage space below and handy side pockets above. Access to the anchor well is via the cabin and a hinged windscreen mid-section and foredeck panels. The boat features good underfloor storage and a folding rear lounge.
Fishing features on the boat at the launch included an innovative removable bait cutting board that slots into a pedestal mount on the transom. The cutting board is hinged and below it is a plumbed bait tank. A rocket launcher and berley bucket are listed as factory options for this boat.
The 589 Ocean Runner looks to offer yet another choice for buyers in the market for an offshore capable boat that will also work well as a family fun machine.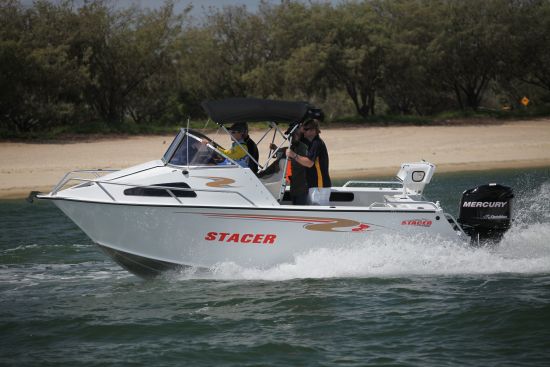 More information at www.stacer.com.au