LATE last week Fisho colleague Scott Thomas and I took a road trip to Lake Eucumbene in the Snowy Mountains, NSW. Alpine trout country. We'd planned to meet up there with good mate/long-time Fisho writer Pat Brennan who'd been experiencing some quality autumn fishing at Eucumbene.
This impressive manmade lake lies about half an hour from Cooma and first filled back in the 1960s. It has six feeder streams, the most significant being the Eucumbene River which winds its way high into snow country and is an important spawning stream for the region. Lake Eucumbene is a major link in the Snowy Mountains hydro-electric scheme, but more importantly for the purposes of our trip it's also one of the country's largest and best stocked trout lakes. It has for decades boasted a quality trout fishery which relies on recruitment from both wild brown trout and regular stockings of hatchery bred rainbow trout, via NSW Fisheries.
Scott and I rolled into the Buckenderra Holiday Village (www.buckenderra.com.au) after a roundabout five-hour drive from southern Sydney. Pat had sorted out our accommodation which consisted of a comfortable cabin perched above the lake. He'd also towed along his 4m Bluefin side console tinny which would give us easy access to the Buckenderra and Middlingbank arms, which dependent on wind direction and weather conditions could be a vital advantage. The region had been experiencing very mild autumn weather with temps in the low to mid 20s with nights dropping to low single digits.
Unfortunately, our arrival coincided with a change in wind direction from a northerly to south-east. This had Pat quite perturbed as it meant the bay he'd planned for us to fish that evening was blown out. Either way we had little time to venture to a Plan B spot before dark. Scott and I quickly donned the warm gear and waders and packed our fly gear into the Bluefin and Pat drove us to the ramp, a worried look on his face.
As we crossed the lake Pat's fears of our favoured bank being unfishable were founded. We quickly made the decision to head into another bay deeper into the arm that was less wind affected, but an unknown fishing prospect. Pat had fished his "first choice" bay on several occasions in recent weeks for good success on fat silver rainbows and quality brown trout to over 2kgs – all taken fly fishing. For some reason, trout had been congregating there and fly and bait fishers had experienced plenty of evening action. According to Pat though, the action had been switching on like clockwork right on dark for about half an hour before dropping away completely after an hour. For that reason it paid to be in position and ready for the bite, when, and if, it came.
Unfortunately, while we were at our Plan B spot well in advance of darkness Pat's fears of the negative affect of the south-easterly were spot on. Apart from numbers of six to eight inch rainbow trout rising close to shore, rises from bigger trout were few. We ended up heading back to camp after only accounting for a couple of these wrigglers on mudeye pattern flies. It hadn't been a great start to the trip, but a cold beer and a chinwag back at the cabin helped ease the pain.
The next day Scott and I decided to take a drive to the Thredbo River just past Jindabyne in the hope of hooking a stream trout or two. Descending into the town on a sunny windless morning Lake Jindabyne shone like a mirror, its edges reaching high into the surrounding countryside. At around 80 per cent capacity the lake was the highest I'd seen it in years. As we wound our way around the lake memories of past fishing trips soon flooded back.
The Thredbo River runs into Lake Jindabyne at the edge of the Kosciusko National Park. It's an important tributary to the lake as it provides prime spawning grounds for wild brown trout that enter the river from the lake to spawn. The area offers easy access and as a result the area sees fishing pressure and resident fish tend to be quite educated to the ways of anglers. Mid-April too is still early to find many spawn run browns in the river but Scott and I spotted a few. They were obviously more intent though on pairing up than eating our flies. Scott drifted a nymph several times down a run at the tail of a pool where a couple of kilo-sized fish were stationed facing upstream. They totally ignored Scott's offerings before slowly swimming away into darker water.
That was basically how our few hours on the Thredbo went. We polaroided quite a number of trout ranging from small wrigglers to others well over a kilo. Apart from the odd fish that followed our nymphs and a missed take on a nymph fished under a dry fly for me, things were looking tough in trout town.
Back at Buckenderra, Pat was feeling more positive about our chances for another assault on the lake. The wind direction was a favourable light north-wester and a threatening front – the only one on BOM radar – looked to have skirted around us. After a quick feed we again loaded up the boat and launched out onto the lake. Bad news wasn't far way though as we neared our favoured bay. Another boat was beached smackbang in the middle of the bank we'd planned to fish. Pat understandably let out an expletive or two as we motored in closer to survey the situation.
We beached opposite to weigh up our options and finally decided to fish a pocket at the end of the bay that would give us wading access within casting distance to clean water; the lake had been steadily dropping and muddying the shallower sections along the lake's margins. Pat reckoned the bay was around 15cm lower than when he'd visited the week before. Considering the size of Eucembene which reportedly holds six times the water of Sydney Harbour that's quite a drop.
Pat was super keen to fish this particular bay, as he knew it had produced plenty of trout in the past. He decided to have a pow-wow with the boatie on the other bank, just to see how far we could venture without getting in each other's way. It turned out the fishos in the boat were bait fishing and they were also waiting for another boatload of mates to arrive. The bloke Pat spoke to said we could have the end of the bay to ourselves. He also said the party would be indulging in a bit of drinking and other shenanigans, and apologised in advance. We were set.
As Pat had predicted, the breeze died away to nothing on sunset. It also signalled the start of a frantic bite opposite us as the bait fishing boaties enjoyed red-hot action more akin to beach tailor fishing. Their mudeye baits had rod bells ringing left right and centre as trout took to the air amongst a cacophony of whooping and cheering. Torch beams darted around the bank and shone over the water like a laser show as trout were hooked, netted or lost during a crazy half hour. "How's the serenity?" I asked Pat with a laugh.
The bait bite eventually dwindled and things fired up near to our little "beat". In the fading light, rises from fish within casting range were visible, and audible. Pat was first to hook up to a jumper in close that came unpinned after a quick tussle. I had a couple of swirling boils around my floating mudeye fly but failed to connect. Pat hooked up again and stayed hooked. I left the water to find my camera and get a shot of the fish which was a typically well conditioned rainbow of around a kilo. Behind me in the dark Scott had hooked up briefly to a strong fish that unfortunately quickly broke off. My camera ready to go, the flash frustratingly wouldn't fire. I later found the batteries were on the way out … Scott managed to get a few photos after we mucked around for a few minutes, missing valuable fishing time in the process.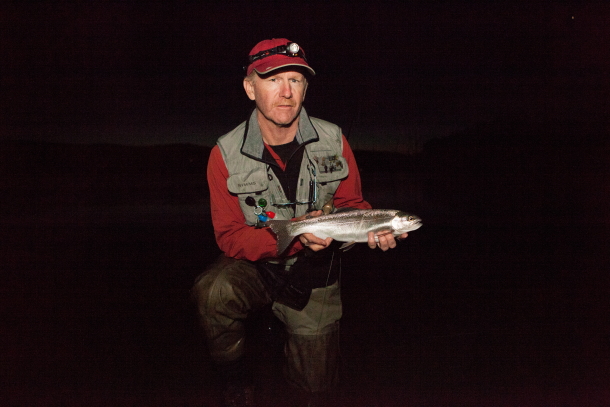 Back fishing and soon after the fly line tightened in my hand as a trout took to the air ten metres away. It charged straight at me before zipping away to my left. Line shot through the fingers as the fish made for a tree stump still clearly visible in the low light. I turned the fish which made it jump again and charge to the right where I eventually got it under control and led it to the bank.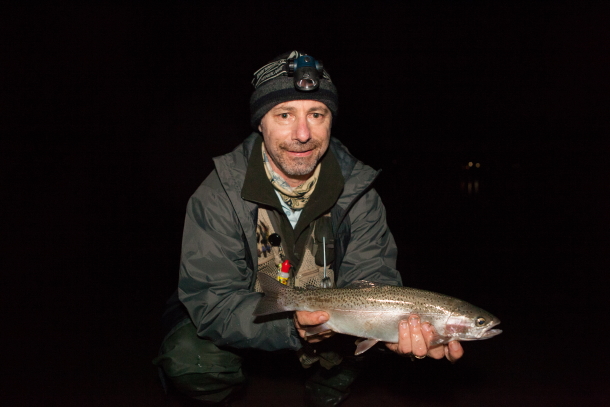 As Pat had also predicted, the bite was over almost as quickly as it had started. He'd hooked a few more that unfortunately came unstuck, while Scott and I only managed a few more takes between us. Interestingly, while the fish were happy to take mudeye flies, they hadn't been actually feeding on the dragonfly larvae our flies represented. Cleaning two fat rainbows revealed their stomach contents were made up mostly of green and orange Jassid beetles and daphnia (water flea). Not a mudeye to be seen, as had been the case for some time according to Pat. Such are the mysteries of fly fishing for trout, a pursuit which throws up many challenges.
Despite our fairly meagre results it was a lot of fun and great to get back to the Snowy Mountains, which is a part of Australia and a fantastic place to wet a line. I personally can't wet to get back there again.
Check out an image gallery from the trip HERE.