Without question catching a barramundi is the reason many fishos head to northern Australia. The iconic sportfish is a drawcard in tourism terms for the Northern Territory in particular, and why fishing camps like the Arnhemland Barra Nature Lodge continue to stay busy during barra seasons.
Having left the Fisho office last week to spend a few days at the aforementioned lodge I stepped off a plane at Maningrida and was whisked straight to the local boat ramp. I was fishing two hours after leaving Darwin. I shared the boat that morning with my new mate Murray Kenward of Perth – it doesn't take long to bond when barra fishing – who'd landed in Maningrida a day before. Murray had landed 18 barra while I was still in the air.
If a Territory fishing guide tells you your fishing spot is an hour's run up river he might be being conservative – guide boats get a good workout in the Top End's massive river systems, outboards often run non-stop. Mick Eddy manned the wheel as we wound our way up the snaking Liverpool River to fish the last of the run-out tide. We had the luxury of neap tides, meaning a minimal differential between high and lows and in theory cleaner water for lure fishing and the possibility of sight casting to cruising barra.
A sixty minute run up a remote Territory River is an experience in itself. The amount of birdlife is often mindblowing – brolgas, brahminy kites, jabirus, egrets, magpie geese, cockatoos, plovers by the flock – it's a birdwatcher's paradise and no surprises that the lodge runs regular birdwatching charters. We spotted a couple of big shy crocs too that were only visible as the last of their massive tails submerged on our approach.
Casting lures at snags is one of my favourite ways to fish. Despite being baitcaster rusty it didn't take too long to get into the groove. We ended the session with about 35 barra (including Murray's earlier 18). They weren't big with most around the 60cm mark and a scattering to 65cm – even so it was satisfying, fun fishing.
We had to concentrate on getting our casts right into the snags for regular strikes. We used a variety of hard-body shallow running minnows – Classic F18 Manta Rays, Halco 3m Scorpions, Classic Barras, Tropic Angler minnows, Killalure Barras and more. Very slow retrieves with lots of rod action to get the lure darting like a wounded baitfish was key for maximising the strike rate.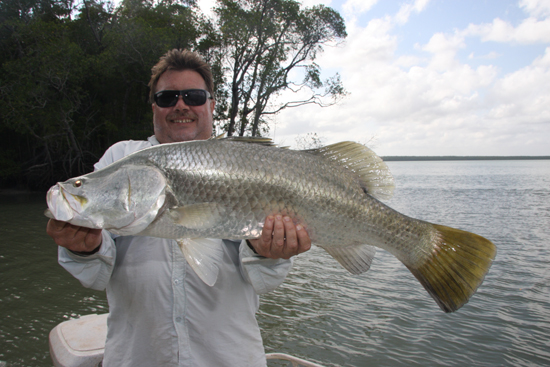 Murray Kenward of Perth with a healthy 80cm barra that took a cast lure in a creek on the run-out tide.
The next day was something special. As much fun as fishing the Liverpool River was it was just an entrée to the main course a neighbouring system served up. The Blythe River is a 45 minute drive from the Arnhemland Barramundi Nature Lodge. On the way there we saw groups of water buffalo that mostly ran into the scrub as we passed. A billabong visible through the trees had a number of the big beasts frolicking around in mud and having a fat time. Magpie geese filled the skies and brolgas danced on the floodplains before taking to the air with clumsy flaps of massive wings.
The vegetation changed radically as we made our way downstream into the Blythe River from where two Ocean Master pontoon guide boats were moored in the Cadell River, a tributary of the Blythe. Freshwater made way for salt, thick bankside vegetation to huge expanses of floodplain and eventually mangrove. Jabirus patrolled the river banks as we zoomed by, a young water buffalo swam across the river, seemingly doing its best to attract the monster crocs that apparently inhabit the Blythe.
Our guide Ben Boulton originates from Narooma on the NSW South Coast where he'd skippered a bluewater charter boat. Ben's now three years in to a working holiday around Australia with partner Jasmine and has been a lodge guide for much of the year. As it turned out he knows barra and how to catch them.
The day was also the start of a local Maningrida barra tournament and Ben suggested we might see other boats on the water – a rarity in that part of the world. We only saw one other boat, at our first stop at the start of a troll run our guide had planned to fish. We left the matching fluoro shirt crew to it and duck into a creek to cast at snags. Second cast Murray hooked and landed an 80cm barra that looked like it had been dripped in chrome.
When we slotted into the troll run it was soon a fish a pass, and good fish they were. Murray's 80cm fish was soon old news as we scored 87cm, 89cm and 93cm fish – all released in good condition. We ended the session with 15 or more barra over 80cm and Murray lost one that as it leapt a metre from the water next to the boat looked all of a metre or more.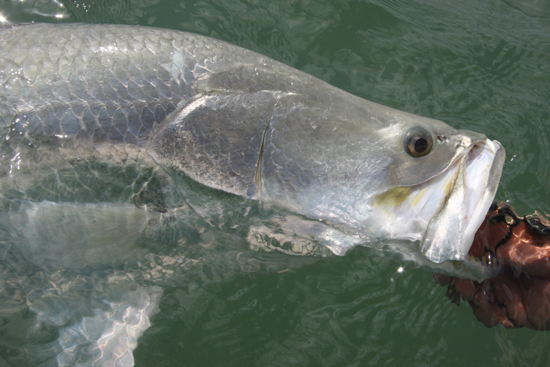 A couple of other clients at the lodge, Greg Payne and Bill Suapopo from Sydney had a fairly slow morning on the barra but more than made up for it in the afternoon. Mick Eddy had taken them up the Cadell where he hoped it would fire on the dregs of the run-out. They found barra stacked like firewood at a small creek mouth, ferociously smashing popeye mullet trying to flee the draining creek. In an hour an a half they scored around 50 barra to 99cm on hard bodies, soft plastics and an 87cm on a fizzer. Bill hooked and lost a monster barra he reckoned would've easily made the magic metre mark.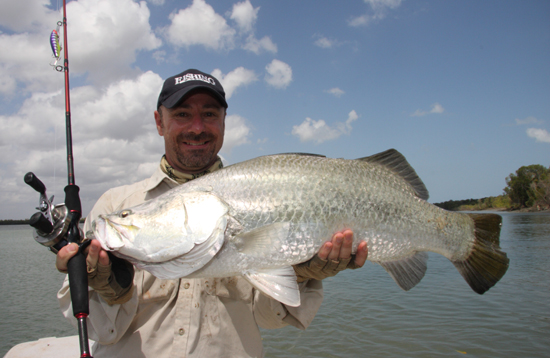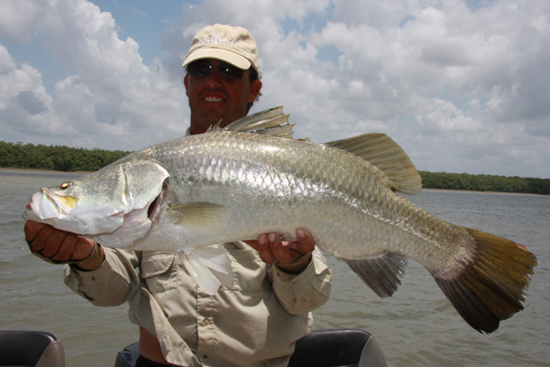 Guide Ben Boulton and a Blythe River saltie.
For more information on the Arnhemland Barramundi Nature Lodge go to: www.barralodge.com.au
March Fishing World magazine will feature an article on fishing Arnhemland – click below for video.