Fishing boats have been a big mover at this year's Sydney International Boat Show.
A welcome surprise for some exhibitors Fishing World spoke to has been the "recession busting" attitude of many buyers who seemed only to willing to part with well earned cash at this year's show.
Fishing World spoke to a number of exhibitors of boats and marine engines including Sportfishing Boats Australia's Peter Jacovides who was very pleasantly surprised by buyer response to his line of Scout – and recent introduction to Australia – Fin Craft boats.
"It's the first time ever I've walked out of the show having made a profit." said an excited Jacovides.
"They've just about cleaned us up…I'm pulling my hair out deciding what to re-oder now." He adds.
Jacovides told Fishing World he signed eight new boat contracts during the show and is expecting more follow on from booked boat tests and overall interest in his boats.
"People were there to buy a boat this year." Concluded Jacovides.
Another exhibitor rating 2009 as his best SIBS is Jon Wilshire of Northern Beaches Marine, dealer of Aquamaster and Hooker boat lines.
"It's been the best show yet. Last year took two months [to see direct flow on sales]" said Wilshire.
Having sold an 8m model Hooker boat, four Aquamaster tinnies and several Suzuki outboards Wilshire like other dealers, has reason to believe things are looking up for the boating industry.
Other dealers Fisho spoke to who sold boats during the show included newly appointed Sydney Webster's Twinfisher dealer Webbe Marine who had sold two 4.9m Websters by Friday morning, JD's Boat Shed with a healthy sales of Tournament boats and Wallrock Marine who reportedly enjoyed good pre-show sales and followed it up with several on water test sessions as a result of the show.
Human powered fishing craft were well represented at SIBS with many kayaks and canoes on show. Popular 'yak brand Hobie was well represented by Sydney dealer Sailing Scene who had an impressive and popular stand at the show. Kerli Corlett of Sailing Scene told Fishing World the Hobie dealer had equalled its best ever show sales this year.
"We almost doubled our sales estimate." said Corlett.
The rise in popularity of fishing kayaks was highlighted by strong sales of Hobies throughout winter, according to Corlett. The brand's new flagship boat, the Mirage Pro Angler, was Sailing Scene's biggest seller at the Sydney show.

Hobie Cat Australia MD Steve Fields
Electronics buyers had plentry to be excited about at this year's show, especially with the official release of Lowrance's new StructureScan. This impressive piece of marine electronics is designed for use with Lowrance High Definition Systems (HDS) and features a combination of SideScan and new DownScan Imaging technology. Navico director sales and marketing, Damien Weber, said calls were already flooding in to the Navico office about Lowrance StructureScan on the first Monday after the show. Many keen fishos are already pre-ordering the units, which are due out in November.
The organisers of the 2009 Sydney International Boat Show have also been buoyed by healthy sales and attendance figures, which surpassed last year's levels despite one day less trading. Roy Privett, General Manager for the Boating Industry Association, who own and run the show, said almost 72,000 people attended the five-day event.
"The boating industry was pleasantly surprised and delighted with the attendance figures considering the tough economic times," Privett said.
"1000 more people attended the show this year in a sign the recession may have turned a corner."
Visitors to this year's show not only arrived in a positive state of mind, but also showed it by opening their wallets."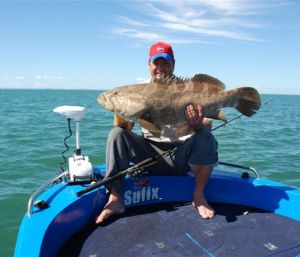 Andrew "ET" Ettingshausen

The exhibition halls were well populated by show goers.

Honda Marine's NSW sales manager Mark Suttle.