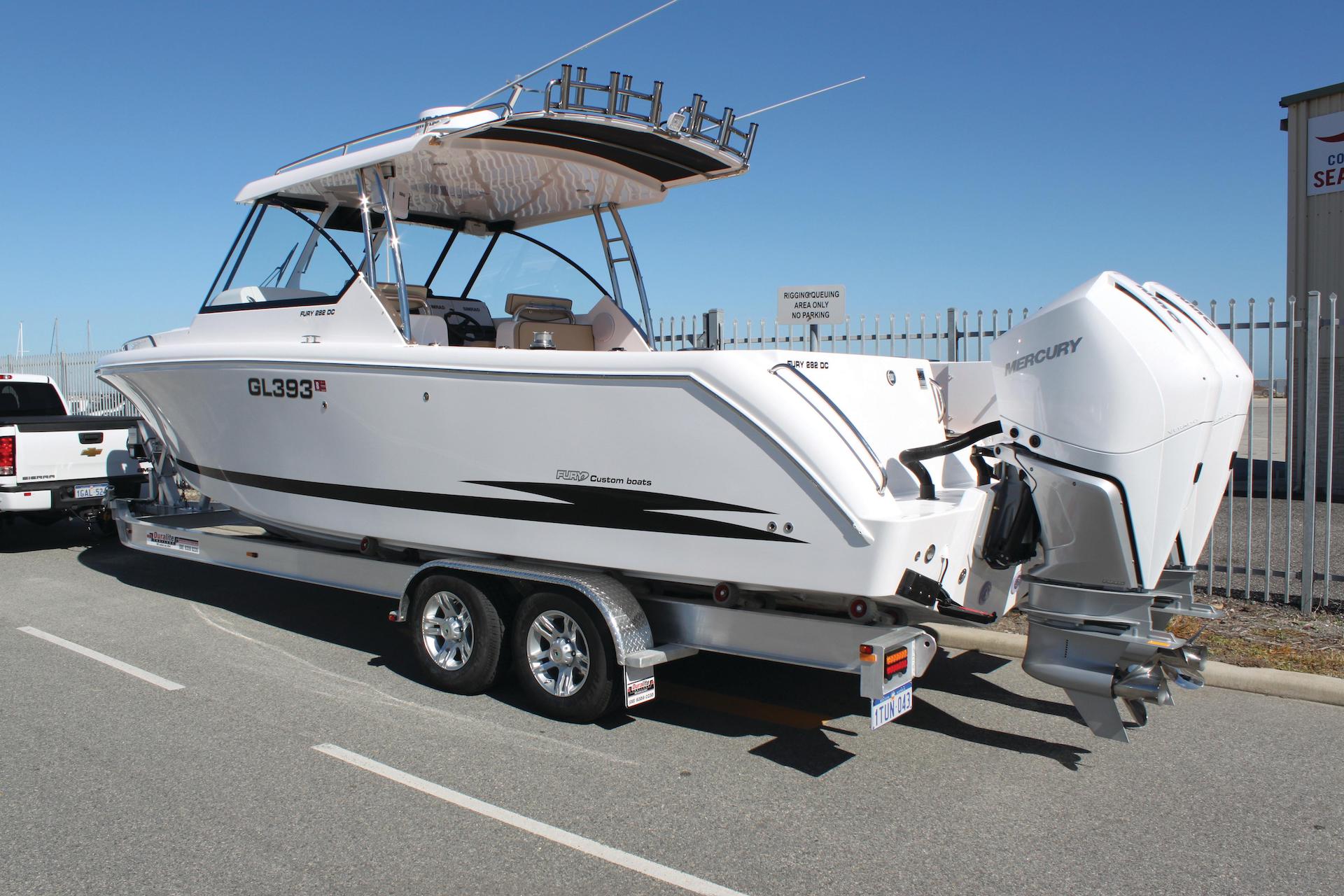 WITH so much at stake it's probably not surprising that not all professional footy players go out as winners. One exception is Mark LeCras, recently retired forward for the West Coast Eagles Football Club. After experiencing the lows of losing a grand final against Hawthorn in 2015, the 32-year-old one club man finished his career on the ultimate high after West Coast took out the 2018 AFL Premiership in a thrilling game against Collingwood. LeCras' Eagles took the lead in the last few minutes to win the game 79-74.
"I couldn't be happier after playing in a winning grand final with so many blokes who will be mates for the rest of my life. The last few weeks have been something really special and I'll never forget the feeling when the siren sounded," LeCras told The Australian after the 2018 premiership win.
So what does a professional AFL footballer do when he retires from the game? In the case of LeCras, who grew up cray fishing in the coastal town of Cervantes and has a lifelong love for the water and fishing, you buy a locally built custom boat and start planning trips away to remote Western Australian sportfishing destinations with family and friends. Mark LeCras told Boat Fishing the last boat he owned was a six metre Polycraft centre console.
"We do a lot of beach launching and stuff where I'm from. It was a good little boat but it was time to upgrade with the kids getting a bit older," he explains.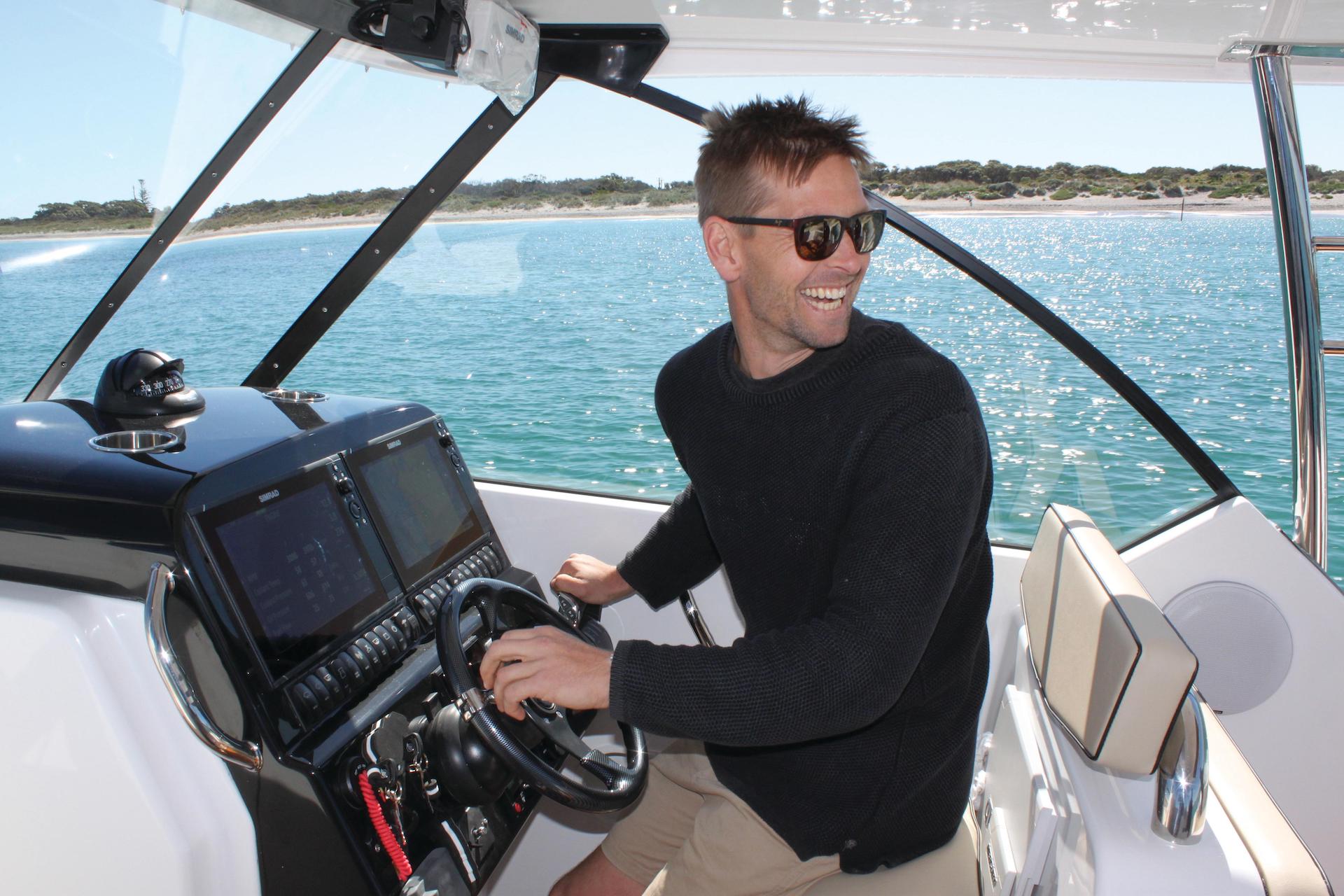 Fishing was a big part of LeCras' life growing up and he regularly targeted reef fish species like snapper and dhufish.
"I do a lot of demersal fishing over here where I grew up. I grew up in Cervantes, which is about two hours north of Perth and it's great fishing there. I do amateur cray fishing…a bit of everything fishing wise really. I'm hoping this new boat will open up a few more fisheries I haven't been able to get to in the smaller boat in the past.
I want to get out and possibly reach some of the (areas) they're doing the deep dropping stuff over here at the moment. I want to do a bit more sportfishing as well."
That shouldn't be a problem for LeCras' new boat, a WA-built custom fibreglass Fury 282 Dual Console, one of three 28′ models in the manufacturer's range. Built by skilled second generation boat builder Scott Fury, the 282 DC is loaded with standard features and in the case of the LeCras boat, is optioned to the max. Designed and built to be a crossover style boat that lends itself to leisure day boating, overnighting and serious fishing duty it looks to have all bases well covered. With the capacity to sleep up to four on board, seating for 10, and toilet, shower and electronics packages included, the West Australian boat looks to offer a lot.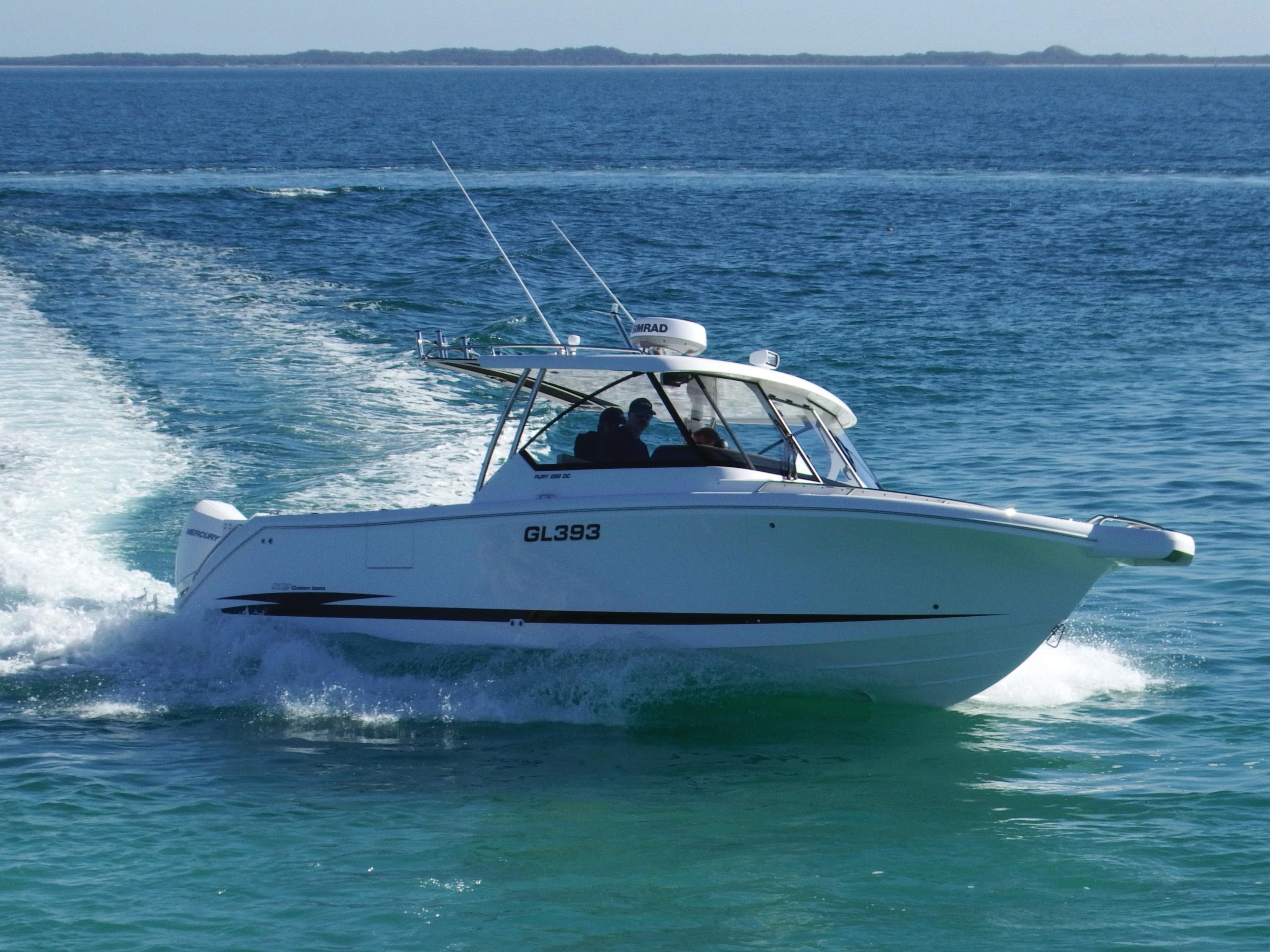 Designing the 282
"With the hull we originally started from scratch with the 28," Scott Fury told Boat Fishing.
"We didn't base it on anything, we wanted our name stamped on it so we didn't flop any moulds or take anything from any other boat. In 2006 we started the original plug work and in 2008 we put in the first consoles.
The first one I sold was to an existing owner. I'd built a 26 for him. He heard about the project (when) we were almost complete and he jumped straight in."
Looking at the boat's design it's clear a lot of effort has gone into maximising on board space and functionality. The DC model with its two helm stations houses all the controls and electronics on the starboard side – two big screen Simrad NSS units in the case of the LeCras boat – and also boasts a fully adjustable skipper's chair with bolster seat and handy flip out step for shorter drivers. The steering wheel is also adjustable. Underneath the helm station is a toilet, which is sure to be a hit with family boaters, and alternative storage space. On the opposing side there's also a slide adjustable seat and notably, a single berth below the helm station which makes for a great place for a nap, the odd overnighter, or more storage.
The dual console has a walkthrough to the bow, which doubles as a big area for lounging, or with the in-fill section fitted, overnighting. A canvas cover with insect protection clips in place for protection from the elements. Pull the cushions out though and the bow is transformed into a casting platform for fishos. There's also under deck storage up front.
The boat's design has been a hit since its inception, according to the builder.
"We've probably built around 30. We only really build two to three a year because we're only very small and most boats are custom built," says Fury.
Repeat business is a healthy indicator that he's on to something.
"We have probably three or four customers now that we've built a second boat for," Fury explains.
He says that while some of the smaller boats in his range take around four months to build, bigger dual console models like Mark LeCras' boat require more extensive work due to split mouldings and careful finishing that add up to around seven months to completion.
"We really had to come up with a versatile boat because he's got a young family…we needed to cater for both, full-on fishing, crayfishing, it's got pot tippers and everything."
The LeCras boat has also been fitted with extras such as overhead Simrad NSS7 sounder unit, autopilot and side deck door for hauling in large fish.
"We've put in a lot more rod holders for Mark as well," Fury adds.
Rockingham's Midway Marine was involved in the project as well, supplying the boat's power by way of new twin 250hp Mercury Verado outboards.
Warwick Rann of Midway Marine was on hand for water testing the new Fury 28 DC and left impressed with its performance and on water behaviour.
"Unbelievable. Had really good fuel range and performed perfectly with the props (21" Inertia 3-blade stainless steel) we'd put on," he says.
"We got 49 knots out of it at wide open throttle and the tone of the motors was just beautiful at around 3000 revs."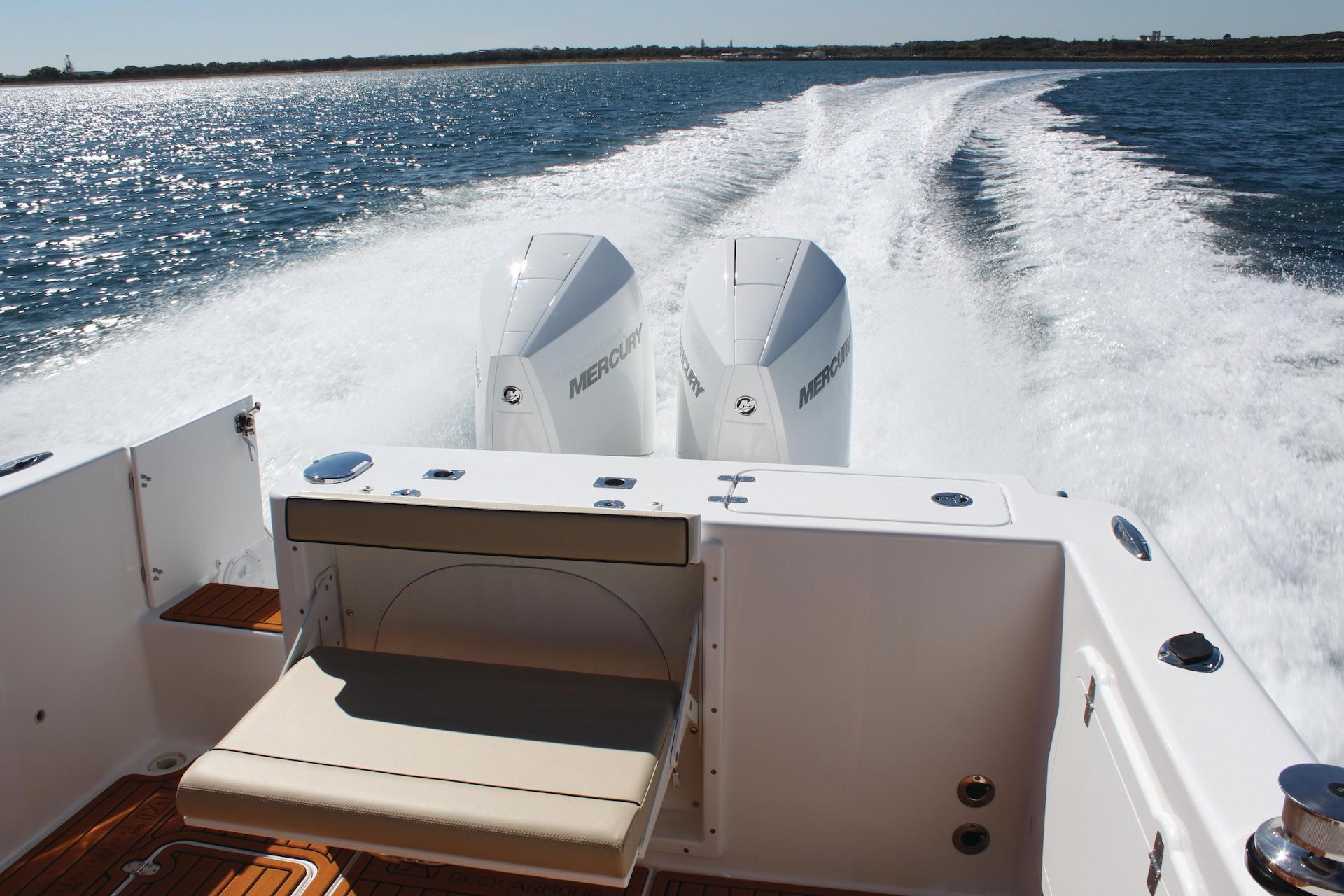 Testing time
When Boat Fishing spoke to Mark LeCras after only initial water testing of his boat he was clearly already taken by it.
"Scott's done an amazing job of building a boat that encompasses the lifestyle of WA," LeCras said.
"Everything is just functional. The way the dash is set up, the Simrad gear is pretty special, the options you can go through, and sidescan and all of that as well that I haven't had before. The layout is perfect.
A lot of my boating in the past has been based around fishing, this is going to cater for that perfectly but also (give) the ability to park up in one of the bays we've got around here and (enjoy) the leisure side of things as well. It's a huge benefit."
He describes the new Fury as a surefooted and surprisingly fast craft.
"It just feels like a tank on the water…rides really well at cruise speed but also it's got the ability to get up (and go). I think we got 49 knots out of it on the trial. I don't think I'll be going that fast too often, but it's good to say you can," he laughs.
He's also got himself the serious fishing rig he wanted.
"We've made a lot of modifications to this one so that we can turn it into a pretty dedicated hardcore fishing boat as well. We can rip the cushions off the front put in an in-fill and it becomes a full casting platform, so the front's really versatile for fishing as well."
The 282 DC's cockpit too offers plenty of working space for fishing, with big open deck area, kill tank, bait tank, underfloor/side storage and transom fitted with sink, hot and cold water and shower. For family fun there's a stern swim platform accessed via the rear starboard door.
LeCras is now aiming to hit the road to visit some of the sport fishing destinations he's wanted to fish for a long time, with the Abrolhos and Montebello Islands and Exmouth high on the list.
For more information: furycustomboats.com.au; midwaymarine.com.au