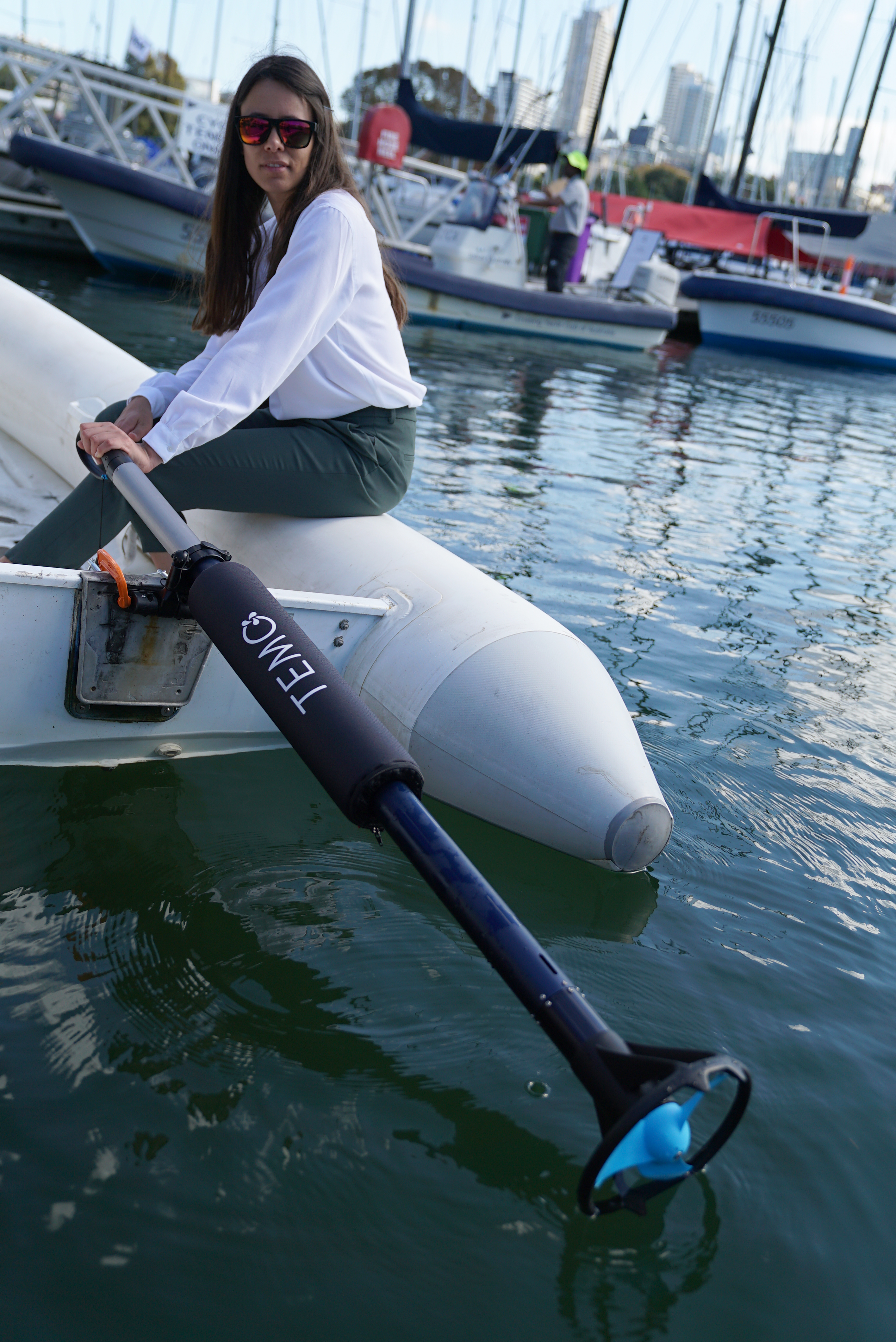 FISHING World recently got a hands-on display of an innovative new electric motor 
to hit our shores. Temo is a French brand with an interesting electric motor suitable for small boats, canoe and kayaks.
Unlike most electric motors that are powered by an independent, and usually quite heavy battery, the Temo is powered by an internal battery and can be charged directly via 240 or 12 volt. You simply plug it in and charge, just like charging your phone.
The internal battery, besides being convenient, also gives the Temo electric motor its main appeal – portability.
The Temo 450 Fishing World tested weighs a mere 5kg and can be carried in a bag over the shoulder. It attaches via a simple connection on your boat/kayak and is easy to operate.
The electric itself looks like a long pole with a prop at one end. Its a simple design. Once fitted to the boat, you control the Temo via a switch on the handle.
Steering is achieved by turning the Temo to either side, just like you would with a tiller steer outboard.
The pole itself is telescopic and extends from 130to 170cm, so it's suitable for a wide range of users.
This particular model features a 450W motor and offers 200W of propulsive power. It draws only 20cm of water, which makes it ideal for shallow water boating and kayaking.
Temo's manufacture claims it can be used on boats up to 500kg and tenders up to 2.5m long.
Fishing World tested the Temo on a small inflatable tender and found it simple to use and more than powerful. Turning and reversing was also easy!
The Temo would make an ideal electric motor for a tender, but would be very useful on small one-person fishing craft. Small dingies, canoes and kayaks would be ideal! As long as you can attach a simple mounting bracket, you can use it on any small watercraft. Most fishing kayaks and canoes would be easy to steer given their flat bottoms and lack of keels.
The biggest hurdle for mounting an electric motor to a canoe or a kayak is weight and portability. The Temo takes care of this in its simple, yet clever design.
Temo has also released a larger version, the Temo 1000. This larger model is more suitable for bigger boats or canoes and is definitely one to check out.
There's no doubt electric motors are the way of the future and Temo proves that combining this technology with a simple and clever design will produce a very handy item for fishos.
The Temo retails for about $2990 and is available across Australia.
More info at rwbmarine.com.au.